Fertitta credits Ali for UFC's road to success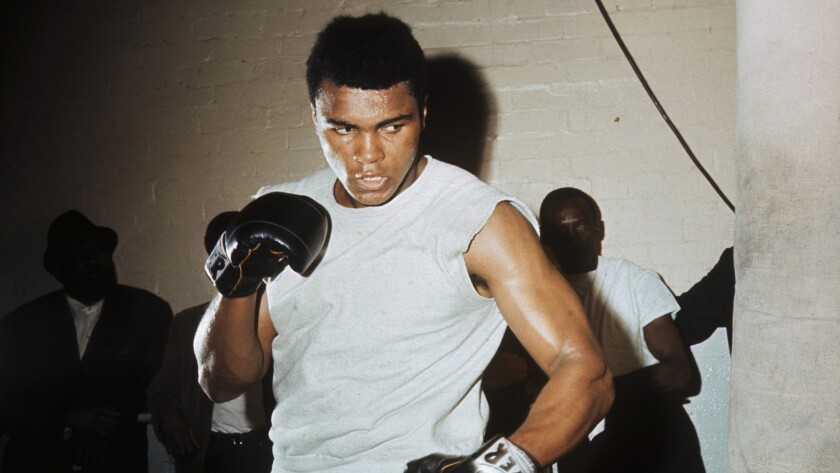 Muhammad Ali's influence on boxing is unquestioned, and the shadow he's left on mixed martial arts is also profound, a UFC executive says.
Ultimate Fighting Championship Chairman Lorenzo Fertitta said Saturday morning that the first fight he ever attended in person was as a 10-year-old watching Ali's stunning Feb. 15, 1978, loss to Leon Spinks at the Las Vegas Hilton.
"There's no question he inspired me to fall in love with the fight game," Fertitta said. "He clearly did that. Those experiences, of watching those fights with my father and my brother and gaining a love for the sport, led me to be involved in combat sports. And the thing he obviously contributed in a massive way was the showmanship and the entertainment that goes along with combat sports.
"He's definitely, clearly created the road map for our promotion."
Fertitta and his brother, Frank, first lost millions with the UFC before building it to a giant currently valued by Forbes at $1.65 billion.
"When we bought the UFC in 2001, it was obviously a broken sport and a broken business," Fertitta said. "Getting together with [UFC President] Dana [White] and my brother, it was, 'How do we reinvigorate this product? How do we reinvigorate this show so it can be entertaining?' We always strived to take it to the next level, to create something that can be larger than life.
"While you can never compare anybody to Muhammad Ali and what he did and what he achieved from a social standpoint, clearly, what he did was he brought excitement to the sport of boxing that had never been there before, and quite honestly hasn't been there since."
And UFC fighters — from brash Irishman Conor McGregor, who immediately after winning the UFC's featherweight belt in December humbly praised Ali's style and greatness, to Ronda Rousey and Jon Jones — don't mind stirring the pot to inspire greater interest in their fights.
At Thursday's UFC 199 news conference at the historic Forum, where Ali defeated Ken Norton by split decision in the second bout of their trilogy on Sept. 10, 1973, champions Luke Rockhold and Dominick Cruz spent most of the 30-minute session engaged in a war of words with their respective opponents, Michael Bisping and Urijah Faber.
Fertitta attended a fund-raising event with Ali in Las Vegas in 2012 for the city's Cleveland Clinic Lou Ruvo Center and Alzheimer's research.
There, Ali's gloves from his 1965 technical knockout victory over Floyd Patterson at the Las Vegas Convention Center were being auctioned.
Fertitta started bidding, then noticed the man in the table next to him, Dallas Cowboys owner Jerry Jones, was bidding, too.
"I thought having those gloves would be pretty cool, but the prices got pretty high, and then Jerry Jones started bidding on them, so it became, 'OK, how bad do you want it?'" Fertitta said. "I ended up winning the auction and the gloves are sitting in my office at Red Rock."
The winning bid was $1.1 million.
"All of the proceeds went to the Alzheimer's charity in Las Vegas. Obviously, it was going to a good cause and he represented so much more than just sport. He transcended humanity in a lot of different ways, on a national and international scale."
The effects of boxing on Ali's health led to a Parkinson's diagnosis in 1984, and his spokesman said Friday night that the ravaging disease obviously played a role in his passing.
Fertitta has sought to consider that part of Ali's legacy, too. He routinely gives to the Lou Ruvo Center, extending a partnership to study the brains of UFC fighters with a $1-million donation in February.
"Safety is the most important thing. Safety has to come in the way of information and transparency. We've always operated that way," Fertitta said. "We want our fighters to know from a health and safety standpoint exactly where they stand. That's why we participate in this program and encourage everyone to go to the Cleveland Clinic and get annual check-ups – MRIs, tests from the latest technology they have to study what's going on with the fighter's brains. We think it's a very important element not only in this sport, but all contact sports."
Fertitta also struck a close friendship with Ali's daughter, Rasheda, whose son, Biaggio Ali-Walsh, is a nationally ranked running back on the Las Vegas Bishop Gorman High team that won the mythical national championship two years ago with Fertitta's now Notre Dame-based son, Nicco, on the roster.
"They played in Reno to clinch the mythical national championship and Muhammad Ali attended the game," Fertitta said. "That's something no one at Gorman will ever forget -- him coming to watch his grandson play football."
---