Sochi Games: Hockey semifinalists ready to put NHL friendships on hold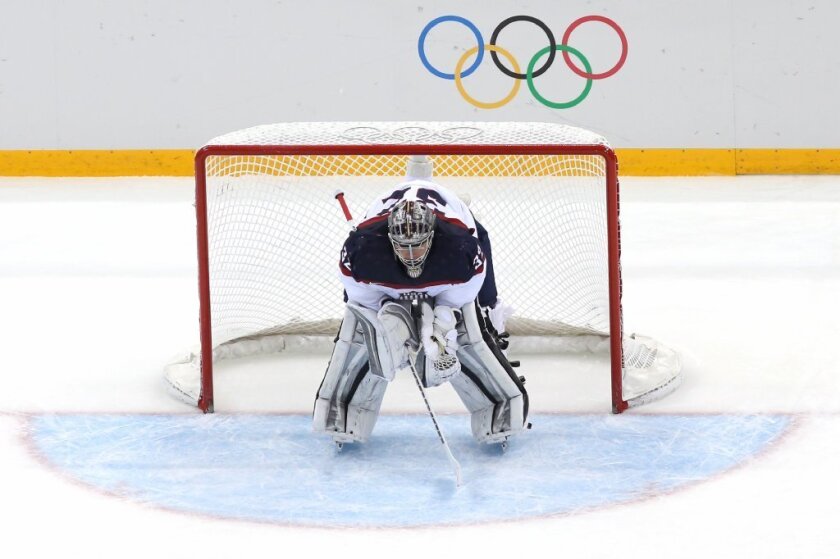 SOCHI, Russia -- Drew Doughty threw down the gauntlet as far as who wins bragging rights should he and Team Canada defeat his Kings teammates Jonathan Quick and Dustin Brown of Team USA in Friday's Olympic tournament semifinal, but Quick wasn't taking the bait.
Though Doughty said he hoped to confront Quick in a shootout, the Kings and U.S. goalie said neither would have an advantage if it came down to that.
"He's seen me go a lot of times in the shootout. I've seen him go a couple times," Quick said Thursday after the U.S. team's practice. "We both have a pretty good read on each other."
But Quick said it will be easy to put aside his NHL friendships when the U.S. and Canada face off at Bolshoy Ice Dome.
"We came here to win a gold medal," he said. "And in order to do that we need to win [Friday], and that's our focus 100%."
U.S. center David Backes of the St. Louis Blues and U.S. defenseman Kevin Shattenkirk will face two of their NHL teammates, Canadian defensemen Jay Bouwmeester and Alex Pietrangelo. Backes said the Blues' Olympians prepared for that in advance.
"We had that conversation before we left, that we're going to wear our country's colors and play as hard as we can for our countries and we'll figure out those relationships when we get back to our respective teams," Backes said.
"And maybe it takes a cold beverage and someone's got to buy dinner, but we'll smooth that out afterwards."
Other teammates who could be opponents in that semifinal:
Ducks: Cam Fowler (U.S). vs. Ryan Getzlaf and Corey Perry (Canada)
Chicago Blackhawks: Patrick Kane (U.S.) vs. Duncan Keith, Patrick Sharp and Jonathan Toews (Canada).
Colorado Avalanche: Paul Stastny (U.S.) vs. Matt Duchene (Canada).
Montreal Canadiens: Max Pacioretty (U.S.) vs. Carey Price and P.K. Subban (Canada).
New York Rangers: Derek Stepan, Ryan Callahan and Ryan McDonagh (U.S.) vs. Rick Nash (Canada).
Pittsburgh Penguins: Paul Martin and Brooks Orpik (U.S.) vs. Sidney Crosby and Chris Kunitz (Canada).
San Jose Sharks: Joe Pavelski (U.S.) vs. Patrick Marleau and Marc-Edouard Vlasic (Canada).
Vancouver Canucks: Ryan Kesler (U.S.) vs. Roberto Luongo (Canada).
The first semifinal, between Sweden and Finland, also will have
some NHL teammates facing each other:
Ducks: Teemu Selanne and Sami Vatanen (Finland) vs. Jakob Silfverberg (Sweden).
Boston Bruins: Tuukka Rask (Finland) vs. Loui Eriksson (Sweden).
Phoenix Coyotes: Lauri Korpikoski (Finland) vs. Oliver Ekman-Larsson (Sweden).
ALSO:
Canada escapes with 2-1 victory over Latvia
U.S.-Canada semifinal to turn Kings' Olympians into rivals
Olympics: U.S. men's hockey team beats Czech Republic, 5-2
---