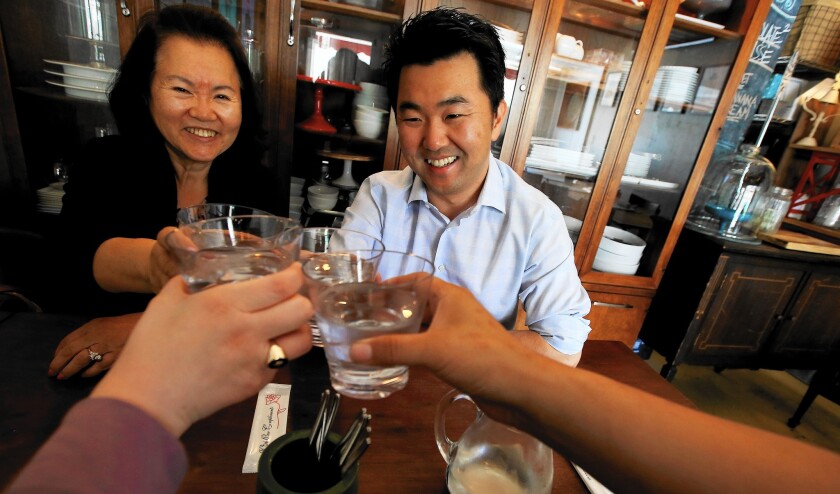 David Ryu went up against the biggest names in Los Angeles City Hall on election day — and won.
Branding himself as a City Hall outsider, the City Council candidate defeated a rival backed by Mayor Eric Garcetti, Council President Herb Wesson and a glut of other local political heavyweights, making history as the first Korean American ever elected to the council.
Ryu, 39, a health center executive, cruised to victory in his Sherman Oaks-to-Silver Lake district three years after Koreatown activists lost a bitter battle with Wesson over Asian American political representation during redistricting.
His triumph Tuesday over former council aide Carolyn Ramsay was propelled, in part, by mobilizing a small but energized Korean American electorate in the majority white district. A Times analysis of the voting shows that Ryu won by huge margins in precincts near Koreatown on the district's southern end. But his campaign was also fueled by a diverse array of neighborhood activists and others who were fed up with Ramsay and her former boss Tom LaBonge, the longtime councilman and civic cheerleader who is termed out this year.
Choosing Ryu "was a seriously strong message to City Hall that we've had it," said Ryu supporter James O'Sullivan, president of the Miracle Mile Residential Assn.
At an election night party on the Sunset Strip, Ryu jumped up on a chair to address the ecstatic crowd. "All the big names, all the established players were not with us," Ryu told them. "But we had something more important, something stronger — it was the community leader, it was the block captain."
"And today, it's historic not because I'm Asian American. It's historic because we are finally telling City Hall that we do not like 'business as usual,' " Ryu said.
Far beyond the areas of the district abutting Koreatown, Ryu beat out Ramsay across Hollywood and in the San Fernando Valley neighborhoods of Toluca Lake and Sherman Oaks. In some areas, residents complained that LaBonge and Ramsay had neglected or dismissed neighborhood complaints. Anger over out-of-scale real estate development surging in the wake of the recession led many to vote for a candidate who promised not to take campaign money from local developers and billed himself as a break with the status quo.
"City Hall right now is a group of ingrown toenails — I mean, really, it's such an inside club," said Harriet Diamond, 82, a Sherman Oaks resident who supported Ryu.
"There's a tremendous amount of development, and the council approves every big, giant problem that comes along," Diamond added. "Do they ever ask us what we want?"
Sherman Oaks was eyed by both candidates as a key battleground because neither received many votes there during the crowded March primary. The area, which was added to the district when boundary lines were redrawn three years ago, "was always lukewarm for Tom LaBonge," said Dermot Givens, a political consultant not tied to either campaign.
Voters there had less experience with the longtime councilman, and "suspicion of City Hall in the San Fernando Valley could have easily been a factor there," added Raphael Sonenshein, executive director of the Pat Brown Institute for Public Affairs at Cal State L.A.
In addition, Ryu had a straightforward message — that he was an outsider who would shake up City Hall — while Ramsay was making a more complicated pitch, that she had City Hall experience but was also a neighborhood advocate, said Bill Carrick, a political consultant who did not work for either campaign. The two ideas were "hard to reconcile," Carrick said.
Ryu "had one message and it was the right message," said Derek Humphrey, a political consultant who worked for candidate Steve Veres during the primary. "And they were relentless with it."
Humphrey added that it was a message that played well in an election with generally low turnout, dominated by older and more politically attentive voters. Roughly 14% of registered voters in the district turned out, according to unofficial results that do not include provisional and late vote-by-mail ballots. If Ryu had been running in a race with higher turnout, Humphrey said, "I'm not sure the influence of developer money is the No. 1 thing on people's minds when you grab them at the Sherman Oaks Galleria."
Despite his strong showing — 54% of the vote according to unofficial totals — a newly elected Ryu will face skepticism from many voters who thought Ramsay was better equipped for the job after years working in the council office. At the election night party for Ramsay, Sherman Oaks resident Charles Puree said that Ryu "came out of nowhere."
"You don't know him, you don't know his record," Puree said.
Although Ramsay got many other big endorsements — including those of the county labor federation and the Los Angeles Area Chamber of Commerce — Ryu won over the county Democratic Party, which plugged his candidacy in mailers and phone calls to voters. All in all, Ryu and Ramsay were closely matched in campaign money: Ramsay reaped more in matching funds from the city, but Ryu got more help from outside groups such as the Democratic Party that independently spent more than $130,000 to promote him.
Ramsay campaign strategist Doug Herman argued that such spending, which was not controlled by the Ryu campaign, played an important role in his victory. He was skeptical of the "outsider" label that Ryu embraced so successfully, calling it a gimmick, "not a long-lasting strategy for getting stuff done."
"He's an outsider yesterday," Herman said of Ryu. "He's an insider today."
Times staff writers Soumya Karlamangla, Laura J. Nelson, Alice Walton and Ben Welsh contributed to this report.
Follow @LATimesEmily for breaking news from L.A. City Hall
---