Parking for Rams games hits $200 and up — good news for mass transit backers
One by one, Fred Easter ushered a steady stream of cars festooned with gold and blue Los Angeles Rams flags into a lot behind a two-story apartment duplex just a half-mile walk from the Los Angeles Memorial Coliseum.
For the fans heading to the team's first home game of the season, the price he was charging to park was a steal: $50.

For the record:
5:15 p.m. Dec. 3, 2023An earlier version of this story incorrectly said that the NFL had been absent from Los Angeles for 37 years. The Raiders left Los Angeles almost 22 years ago.
Along nearby Martin Luther King Jr. Boulevard and Vermont Avenue, parking lot operators Sunday were asking up to $180 for a single parking spot that didn't even allow tailgating.
Online, the prices were even higher. One parking pass a short walk from the stadium was going for $1,000 on StubHub. Others wanted $200 to $300 for spaces more than a mile away.
Parking price inflation is nothing new in car-dominated L.A., but the Rams have brought the sticker shock to new heights.
The return of NFL football to L.A. after an almost 22-year absence has also turned the Coliseum area into an unlikely laboratory for a way of thinking about traffic, parking and mass transit.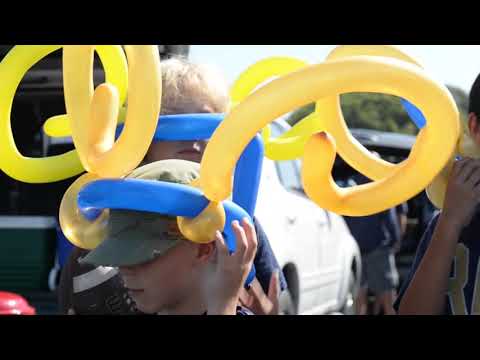 Long-time fan Edward Riviera reflects on the history of the Los Angeles Rams.
A group of urban planners have long supported hefty parking rates as well as high road tolls as a way of encouraging motorists to get out of their cars and use public transportation.
Some cities -- especially those with extensive mass transit systems -- have adopted these "congestion pricing" concepts. L.A. is a tougher case because rail service is limited and so many people still get around by car.
But backers say the Coliseum offers a good test case because it's close to the Expo Line and several bus lines and it's also served by ridesharing services such as Uber and Lyft.
Donald Shoup, an urban planning professor at UCLA and parking policy expert, says sky-high parking prices could be exactly what L.A. needs. Price gouging could motivate otherwise reluctant Angelenos to embrace the many mass transit alternatives to the Coliseum.
"You can avoid paying $100 if you're willing to take transit to the game," he said. "I don't think we should feel really sorry for people who drive to a game and want to park.... They have the alternative of bicycling or taking transit or walking."
The reaction from fans ran the gamut Sunday, including feelings as varied as resignation and outrage. But the prices were cheered by some local residents able to make a quick buck from the deluge of fans choking neighborhood streets.
"It's an enjoyment to know that we can benefit out of this, instead of just sitting around watching others take all the money," said Easter as he waved cars into the lot along Browning Boulevard. Easter, who lives about a mile away, said he was splitting the profits with several people who were flagging down drivers as well as with the owner of the apartment duplex.
You can avoid paying $100 if you're willing to take transit to the game. I don't think we should feel really sorry for people who drive.
— Donald Shoup, urban planning professor at UCLA and parking policy expert
Fans of both the Rams and the Seattle Seahawks found themselves on the same side as they tried to find the best parking deal as close as possible to the Coliseum before the game.
On Martin Luther King Jr. Boulevard, traffic was initially slow at one lot — priced at $180.
Even the attendants seemed to lack faith in the price.
Jose Perez, a parking lot attendant, watched as passersby took one look at the amount and kept driving. The lot that morning was mostly empty.
"Honestly, that's too high," said Perez, who didn't set the price. "I wouldn't pay for this. And there's no tailgate, it's ridiculous.… I wouldn't want to drop two bills on parking."
Less than two hours later, the price had dropped to $140 and the spaces were beginning to fill.
Terri Morales paid $160 online ahead of time to park in the lot. She and a group of Seahawks fans spent that much because they wanted to be close to a tailgate next door put on by other Seattle fans.
"It's freaking hugely pricey here," said Morales, a title officer who handles foreclosures. "I can't wait for them to get the new stadium built, because it's going to be so much better. But you know what? I am so happy that the Rams are back. It's great for L.A."
A few cars away, Rams fan Lawrence Ortega didn't think too much of the cost. He said he had paid $575 per ticket to the game for each member of his family of four.
"This is their first game, people are willing to spend a little bit more money I think," said Ortega, a senior account manager for an engineering firm. "I wish it would have been a little bit cheaper, but I'm ... excited to see some football back in Southern California, I guess at any price."
Ian Gillis, a Costa Mesa resident, pulled up to a store offering parking places in its customer lot. When he had parked in that same lot for a USC game last year, it cost $50, he said.
Gillis, a Rams fan, had spent about $2,800 on season tickets for himself and his wife. He said he didn't want to pay an additional $500 or so to add a parking pass.
The parking attendant at the store Sunday quoted him $150 for a space.
"A hundred and fifty? Oh no, no, no, no, no. I will just go down the street," he said, before heading off in search of a better deal.
Many found bargains offered by residents holding cardboard signs advertising parking down small side streets.
Tim Behan and his friends followed one man on a bicycle to the building where Easter was helping guide cars to available spots.
"When you hear $200 and you hear $180 and then you hear $50, it's like, 'Oh, that's a deal,'" said Behan, a resident of Orange.
Before 8 a.m., Hector Carrillo of Sylmar was waiting to head into one of the Exposition Park lots, relieved that he had purchased a parking pass along with his season tickets.
It comes out to about $60 a game, he said, and he can tailgate.
"I knew it would be crazy," Carrillo, who wore a Rams shirt and hat, said of the prices.
Others got an even better deal, opting to take public transportation or Uber or Lyft.
Trains arriving at the Expo and Vermont station were packed. Rob Campion, 31, and his friend Rob Frings, 33, parked for free downtown and took a train to the game. The total cost of the trip? $3.50 each.
"This is a net win," Campion said.
"We are thrilled. We heard those same crazy prices and were like, that's ridiculous," Frings said. "It's good that this got people in L.A. to embrace public transit."
Glenn Smedley said he and his family were laughing about motorists battling traffic as they sat on the train.
"They're going to have to fight the traffic when they leave," he said. "Their fun has just begun."
On game days, the city tries to ease traffic by placing temporary no parking signs on most streets around the Coliseum where there is metered parking, an L.A. Department of Transportation spokesman said.
But Shoup said the city should be deterring drivers, not making conditions easier for them. He said the city could start charging event pricing during games at street meters, similar to how San Francisco raises rates at meters around AT&T Park when the Giants are playing.
If Los Angeles followed suit, the city could dedicate that revenue for the neighborhood around the Coliseum to fix sidewalks and make other improvements, Shoup said.
"The parking lot operators raise the price and keep the money for themselves," Shoup said. "The city is just not taking advantage of an opportunity."
For more California news, follow @brittny_mejia
ALSO
How a pension deal went wrong and cost California taxpayers billions
Lawsuit seeks millions in fines from 5 coastal commissioners, alleging 590 transparency violations
A girl with two graves: The past haunts a city that evicted its dead
Sign up for Essential California for news, features and recommendations from the L.A. Times and beyond in your inbox six days a week.
You may occasionally receive promotional content from the Los Angeles Times.