Charges filed against passenger who complained of allergies on Southwest flight and was forcibly removed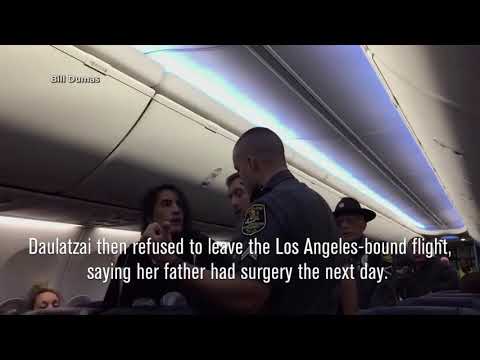 Anila Daulatzai of Baltimore was taken into custody and charged with disorderly conduct, failure to obey a reasonable and lawful order, disturbing the peace, obstructing and hindering a police officer and resisting arrest. (Sept. 28, 2017)
A 46-year-old college professor who complained of life-threatening allergies was arrested Tuesday after being forcibly removed from a Southwest Airlines flight that was bound for Los Angeles and carried dogs in the cabin.
The incident, which was captured in jumpy cellphone video, occurred at Baltimore-Washington International Airport after a passenger asked that two dogs be removed from the aircraft, according to a witness. Instead, the flight crew asked the woman to leave, and she refused.
Anila Daulatzai of Baltimore was taken into custody and charged with disorderly conduct, failure to obey a reasonable and lawful order, disturbing the peace, obstructing and hindering a police officer and resisting arrest, said Lt. Kevin Ayd of the Maryland Transportation Authority Police.
Daulatzai was transported to the Anne Arundel County District Court, where she was released on her own recognizance, Ayd said. She had been removed from the plane at the request of its captain.
Bystander video shows two officers struggling to get Daulatzai from her seat and down the aisle.
"What are you doing?" she protests as one officer stands in front of her while the other pushes her from behind.
"My dad has surgery tomorrow!" she says.
At one point, the officer behind Daulatzai wraps his arms around her chest.
"Walk!" he shouts again and again.
Southwest spokesman Chris Mainz issued an apology that said the airline was "disheartened by the way this situation unfolded" and would be reaching out to the customer.
Daulatzai, he said, indicated she had a life-threatening animal allergy. An emotional support animal and a pet were aboard the aircraft.
Mainz said the woman was unable to provide the medical certificate necessary to continue with the flight. He said she demanded an EpiPen and was uncooperative. "We do not have or administer shots," he said.
Law enforcement became involved after Daulatzai refused to deplane, he said.
According to a policy on its website, the airline can ensure that a customer with severe allergies is seated far away from animals if notified of an allergy at the departure gate. The airline cannot provide advance notification of animals traveling on a particular flight.
Daulatzai teaches at the Maryland Institute College of Art, a spokesman for the school confirmed. According to her online bio, she is a socio-cultural anthropologist in the Humanistic Studies department. She previously was a visiting assistant professor at Harvard Divinity School.
Los Angeles resident Bill Dumas, 61, recorded the video and said Daulatzai was seated toward the back of the plane. He said passengers became uneasy when police arrived.
"It went from this very quiet conversation and suddenly erupted into this big physical confrontation," he told The Times.
Dumas, who has a background in documentary film, said that Daulatzai put up fierce resistance.
"People really got the sense that the officers didn't have another option."
In the video, passengers appear to be attempting to film the incident and are asked to put their phones away.
Daulatzai tells the officers that they have ripped her pants and she needs to close them.
As the male officers surround her, she says, "I will walk off. Don't touch me!"
Then she tells them, "I'm a professor. What are you doing?"
At that point, an officer pushes her.
"Oh, my God," one passenger says.
A woman can be heard trying to calm Daulatzai down. "Show them that you're walking," she urges.
"I can't walk! He's got my leg!" Daulatzai says.
Others on the plane were less sympathetic.
"Jeez, lady, get off the plane. Make the complaint later!" one man says.
The flight landed in Los Angeles at about 11:30 p.m., 10 minutes after its expected arrival time.
ALSO
United Airlines to let passengers on overbooked flights bid on price to give up seats
Even after a brutal hurricane season, airlines are doing just fine
Off-duty LAPD officer suspected of DUI in crash that killed 3 in Whittier
One arrested in connection with shooting of rapper Young Dolph in Hollywood tourist district
---
UPDATES:
5:30 p.m.: This article was updated with quotes from Bill Dumas, who shot the video.
2:15 p.m.: This article was updated with additional details about Daulatzai.
This article was originally published at 1:45 p.m.
Sign up for Essential California for news, features and recommendations from the L.A. Times and beyond in your inbox six days a week.
You may occasionally receive promotional content from the Los Angeles Times.