Column: Living in a parking lot amid Santa Barbara's wealth is a kind of middle-class homelessness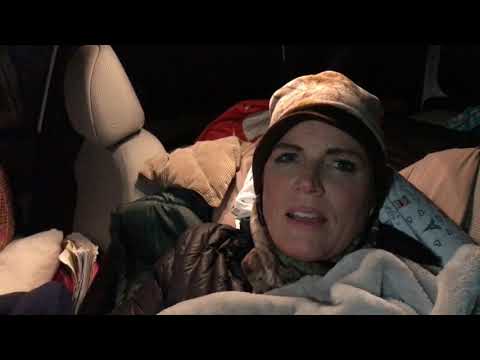 Marva Ericson, 48, sleeps in her car in Santa Barbara, Calif.
Reporting from SANTA BARBARA —
Kathy is a senior citizen, Marva is a nurse, Santiago is a chef and Luis is an eighth-grade student.
All of them live in Santa Barbara with one thing in common.
When night falls, they head to designated parking lots and sleep in their vehicles, all clients in the region's Safe Parking program.
"I was always into December and making the house wonderfully warm and beautiful," said Kathy, whose holiday celebration is somewhat more austere these days. "I've got some little lights on the ceiling of the RV, and I got out my mom's old snow globe, with a music box on it."
Kathy is 65 and her longtime companion and RV-mate Phil is 74. Like so many others, they live on the edge in California, where high housing prices have pushed thousands of people to un-imagined extremes.
Living in a vehicle is obviously better than living in a tent or a box — it's a kind of middle-class homelessness. But in affluent Santa Barbara and elsewhere, the ever-present convoys are another sign of growing income inequality and one of the state's most vexing problems — even working people can barely afford to live in many parts of California.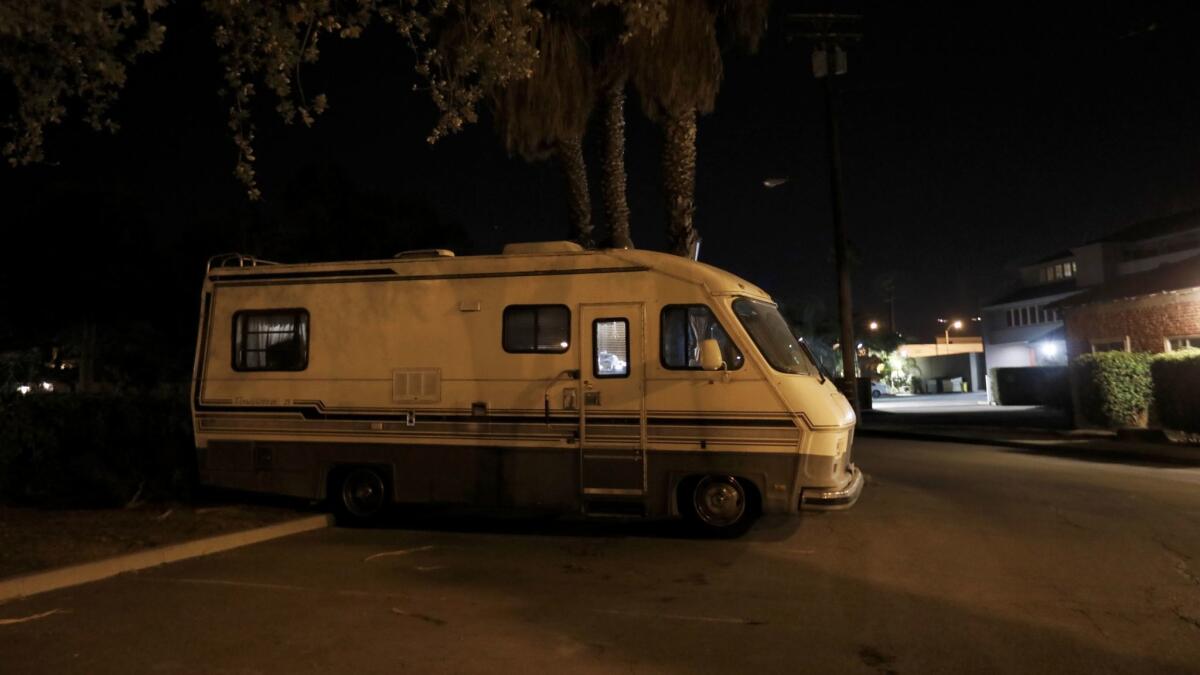 You might ask why people of lesser means don't head to less expensive areas than Santa Barbara — it's a fair question, and I've written about people who eventually did make such a move. In Santa Barbara, the answers I got were the same ones I've heard elsewhere in coastal California. People hold open the option of leaving, but many are connected to specific places by history, family and employment connections, and they're not quite ready to give up on a turnaround, move to a place they don't know, and start over from scratch.
Besides that, local economies rely on those of lesser means, so where are they supposed to live?
"You know," said Phil, "there's a huge Hispanic population that does all the damn work around here. Every restaurant you go into, you can watch them slaving away. And they're taking care of people's gardens and everything else, and they wind up with eight or 10 people living in a one-bedroom place."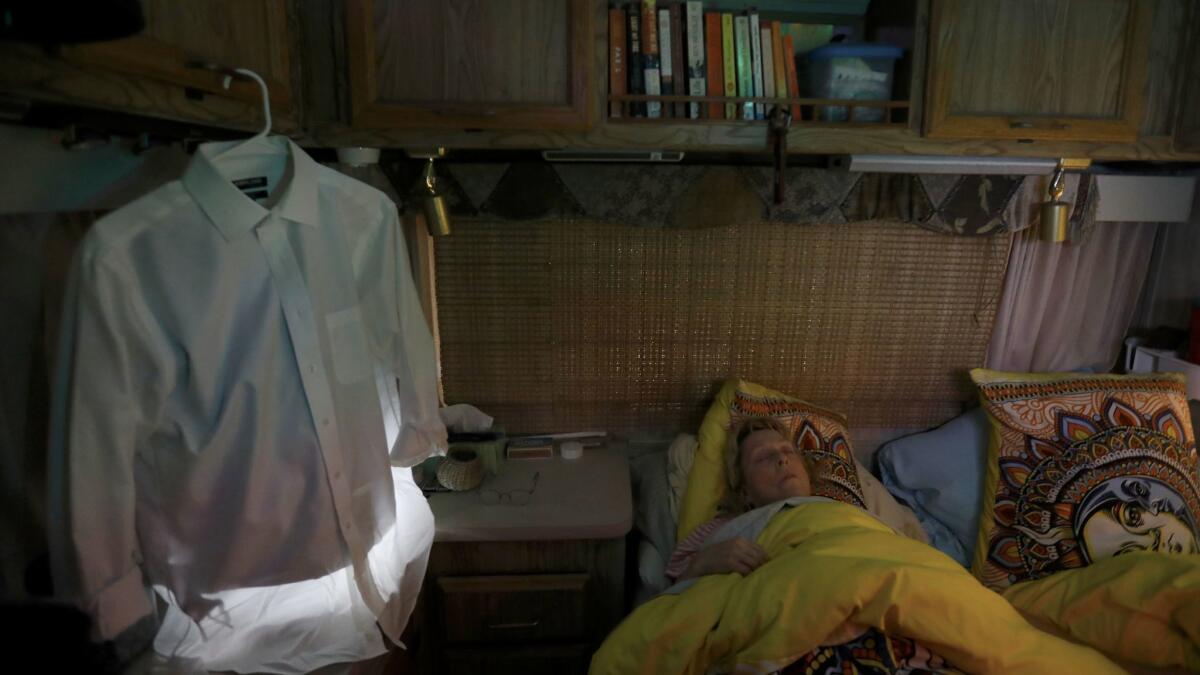 Phil said people may wonder why vehicle dwellers like himself don't move in with family. Well, good for those who are able, but easier said than done, said Phil. His son is already sharing space because of the high cost of housing.
Phil and Kathy described a middle-class life that fell apart for a variety of reasons, including an adjustable rate mortgage Kathy regrets buying into. Her paralegal career sputtered and she had several back surgeries while Phil lost his photo lab business, and their ages didn't help.
In 2013, they lost their condo and Phil invested in an old but serviceable RV, so they and their standard poodle would still have a roof, if not an address.
"My American dream was gone, and it broke my heart," said Kathy, who's living on a disability check, but that and Phil's Social Security income aren't enough to crack the housing market.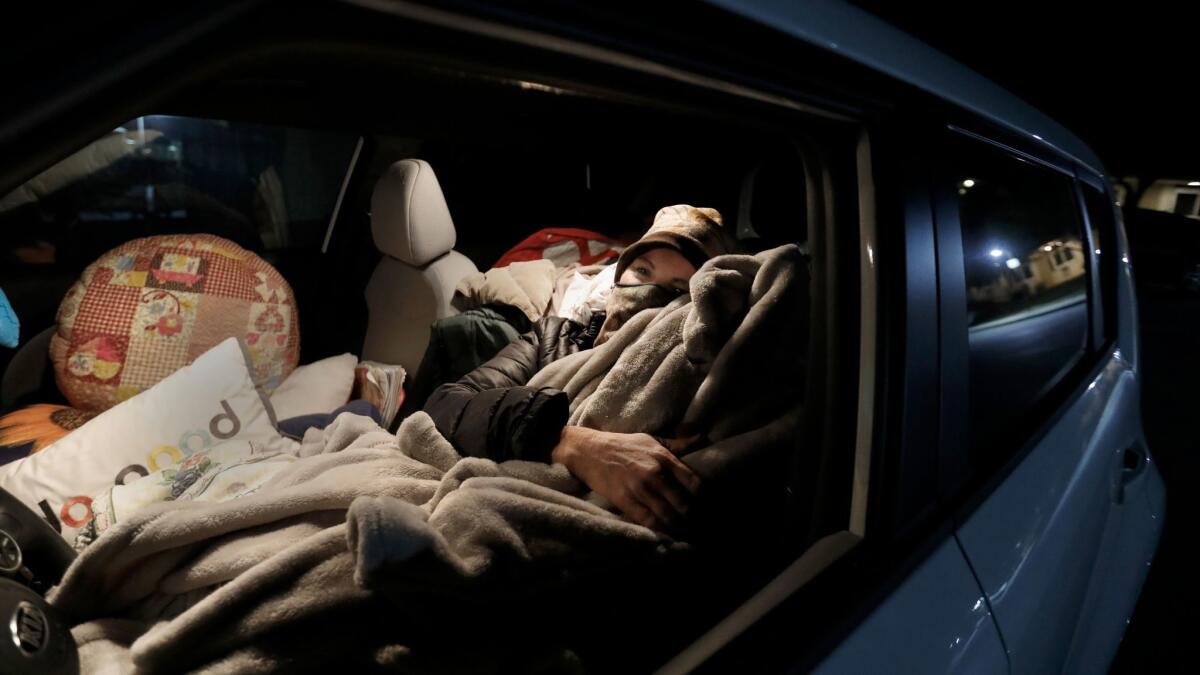 Marva Ericson, a certified nurse assistant, is another client in the Safe Parking program. She wore scrubs and was on her way to work when I met her. Her troubles began with a scare about three years ago.
"I was working full-time and studying to be a nurse and I collapsed at work and ended up in the ER, not knowing what happened," she said.
In California's economy, one bad break is tough to handle. Ericson had several. She suffered a series of seizures, had to quit her job, took care of her dying mother and was eventually diagnosed with a brain tumor. She fought her way back to health and to work, stayed with friends, lived in apartments that ranged from $1,000-1,600 a month, but lost the last one when she fell behind on the rent despite working two jobs. Her pay, she said, has been in the $12-$14 an hour range.
Ericson has been living in her Kia for three months, settling each night in a church parking lot in the neighborhood where she grew up. Christmas trees are for sale in the parking lot.
"I wake up and I say, 'Thank you God for keeping me safe last night, and thank you for the Safe Parking program,'" said Ericson.
She is one of 150 clients who stay overnight in the parking lots of churches, nonprofits and government offices in a 12-year-old program run by New Beginnings Counseling Center.
The clients can park after 7 p.m., but have to clear out as early as 6 a.m. The benefit is that the vehicles are no longer parked on city streets, which riles some residents and merchants. And because the lots are monitored by New Beginnings, the clients, who all go through a screening process, can at least feel safe while they sleep.
Santiago Geronimo works in the kitchen of a high-end Santa Barbara restaurant and until recently, he, his girlfriend and her son Luis lived in a two-bedroom apartment shared by four adults and three kids. But the girlfriend, Luisa Ramirez, lost her retail clerk job because of a back injury, and they've lived in a Ford Explorer since September. Their new home is a church parking lot on the Goleta border.
On Monday, these folks all caught a break. The winds shifted, the smoke and ash from two weeks of raging wildfires subsided, and they could be outdoors and sleep without masks.
In the 18 months since my colleague Gale Holland wrote about the Santa Barbara program, the number of parking lots has grown from 20 to 23. The spaces are all filled, with a waiting list of 40 people, and there's been a slight increase in the number of people who work, but still can't afford an apartment.
Cassie Roach, the program coordinator, said 40% of the clients are employed, 35% are seniors and 30% are disabled. Six families live in vehicles with at least one minor, and only 25% of the clients have RVs, so the others are sleeping in smaller quarters. In downtown Santa Barbara on Monday night, two white-haired men prepared for another night of slumber in the back of their station wagon, one of the men already stretched out in the cramped space.
Los Angeles, by the way, has a far greater and increasing number of people living in vehicles — more than 8,000 by the latest estimate. And city and county officials have been trying, so they say, for at least 18 months to develop a safe parking program modeled after Santa Barbara's, or another one in San Diego.
So what's the problem?
There's one so-called demonstration program running in South L.A., with a capacity of 15 vehicles, and a smaller operation is in place at a Westside temple. One local advocate for more safe parking told me there's been a disappointing lack of support for the concept by business and faith groups. An L.A. Homeless Services Authority official confirmed that, telling me faith organizations have been worried about liability and vandalism.
Well, shame on them. If Santa Barbara can handle the challenges, and deliver an important service at a low cost (the budget is $400,000 a year), why can't leaders of the homeless capital of the nation show a greater sense of urgency?
Even if business and faith leaders choose to behave like grinches, Los Angeles officials have identified dozens of unused and underutilized city-owned properties. If council members and Mayor Eric Garcetti can't turn at least some of those into safe parking lots for the growing homeless convoy, they're not trying hard enough.
In Santa Barbara, the benefits go well beyond having a safe place to park for the night. The clients are linked to services, and 40 of them have moved out of vehicles and into apartments in the last year. But like elsewhere along California's coast, there just isn't enough affordable housing to meet the demand, said New Beginnings Executive Director Kristine Schwarz. Even for those with jobs essential to the local economy.
"I can barely afford to live here," said Schwarz. "Rents have gone up significantly and wages haven't … and I don't see that changing any time soon.… I have staff paying more than two-thirds of their income on rent, and they're gainfully, steadily employed. And they don't even have their own places."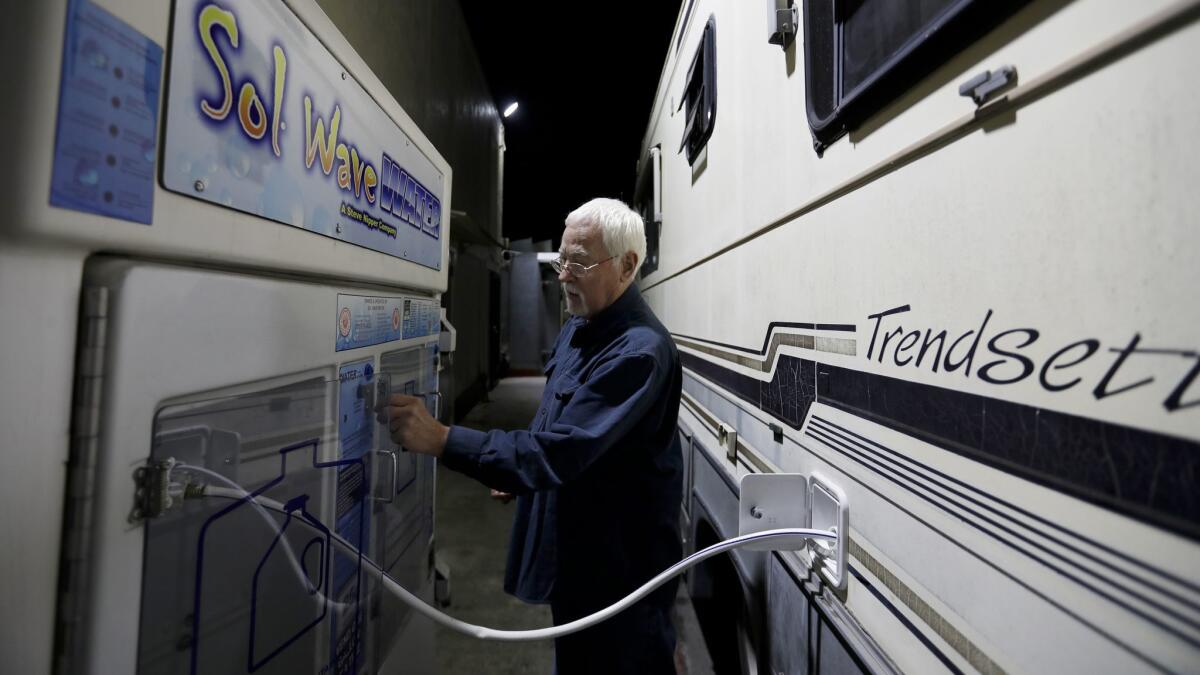 Phil and Kathy asked me not to use their last names, at least partly because they already feel targeted and looked down upon for living in a vehicle. They're lumped in with drug addicts or derelicts, they said. Surely there are such folks living in vehicles around the state, but Phil and Kathy have tried to hold on to a sense of pride, purpose and community involvement. Both have served as volunteers at local arts events.
On Monday night, after ushering at a theater, Phil drove to a water station to fill the RV tanks before proceeding to his designated parking lot for the night.
Across town to the north, at about 10 p.m., Luisa Ramirez and Santiago Geronimo began laying down the bedding and unpacking blankets for another night in the back of their Ford Explorer.
"It's been difficult," said 13-year-old Luis, who told me he's getting all A's and Bs at school, and math is his favorite subject.
It gets really cold in the truck, he said, shivering. But the way he looks at it, this is temporary, and sometime after the holidays, they'll be back indoors.
Get more of Steve Lopez's work and follow him on Twitter @LATstevelopez
Sign up for Essential California for news, features and recommendations from the L.A. Times and beyond in your inbox six days a week.
You may occasionally receive promotional content from the Los Angeles Times.