An overdose, a young companion, drug-fueled parties: The secret life of a USC med school dean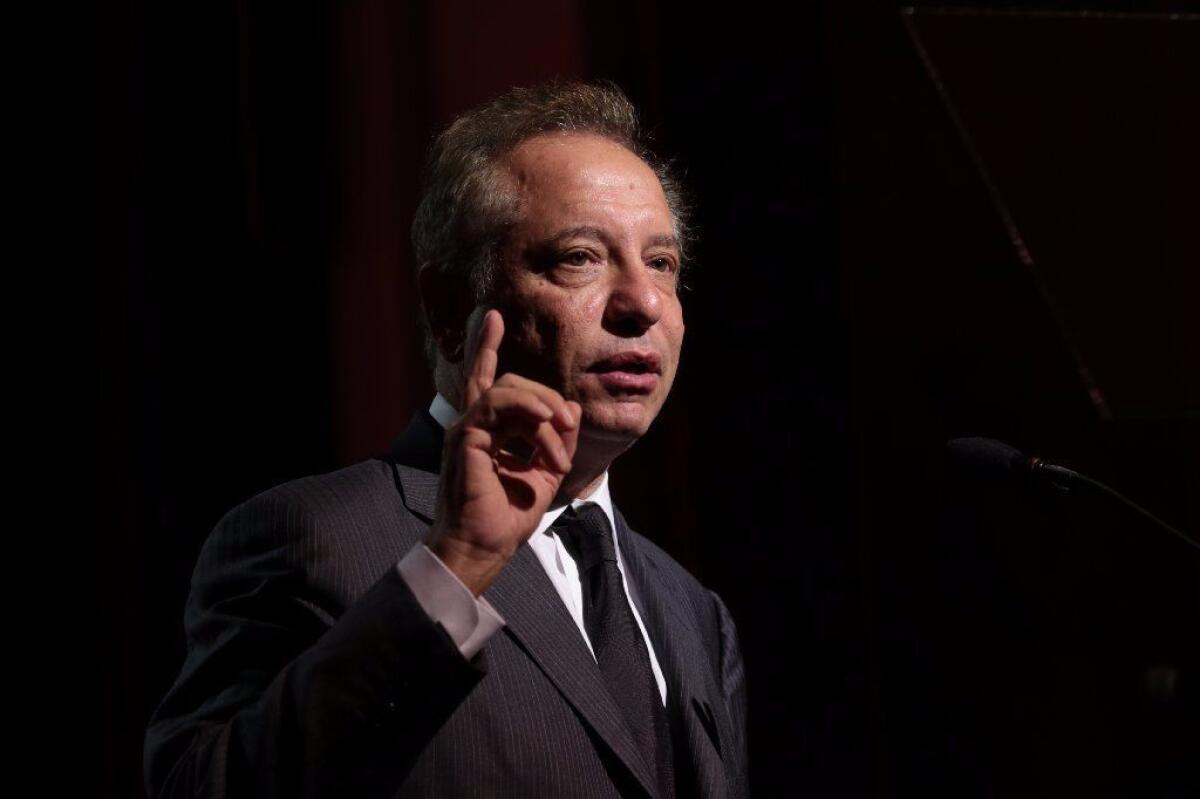 In USC's lecture halls, labs and executive offices, Dr. Carmen A. Puliafito was a towering figure. The dean of the Keck School of Medicine was a renowned eye surgeon whose skill in the operating room was matched by a gift for attracting money and talent to the university.
There was another side to the Harvard-educated physician.
During his tenure as dean, Puliafito kept company with a circle of criminals and drug users who said he used methamphetamine and other drugs with them, a Los Angeles Times investigation found.
Puliafito, 66, and these much younger acquaintances captured their exploits in photos and videos. The Times reviewed dozens of the images.
Shot in 2015 and 2016, they show Puliafito and the others partying in hotel rooms, cars, apartments and the dean's office at USC.
In one video, a tuxedo-clad Puliafito displays an orange pill on his tongue and says into the camera, "Thought I'd take an ecstasy before the ball." Then he swallows the pill.
In another, Puliafito uses a butane torch to heat a large glass pipe outfitted for methamphetamine use. He inhales and then unleashes a thick plume of white smoke. Seated next to him on a sofa, a young woman smokes heroin from a piece of heated foil.
As dean, Puliafito oversaw hundreds of medical students, thousands of professors and clinicians, and research grants totaling more than $200 million. He was a key fundraiser for USC, bringing in more than $1 billion in donations, by his estimation.
Support L.A. Times journalism. Not a subscriber? Join today. »
Puliafito resigned his $1.1-million-a-year post in March 2016, in the middle of the spring term, saying he wanted to explore outside opportunities.
Three weeks earlier, a 21-year-old woman had overdosed in his presence in a Pasadena hotel room. The woman was rushed to a hospital, where she recovered. Police found methamphetamine in the hotel room, according to a police report, but made no arrests. Puliafito has never spoken publicly about the incident, which is being reported here for the first time.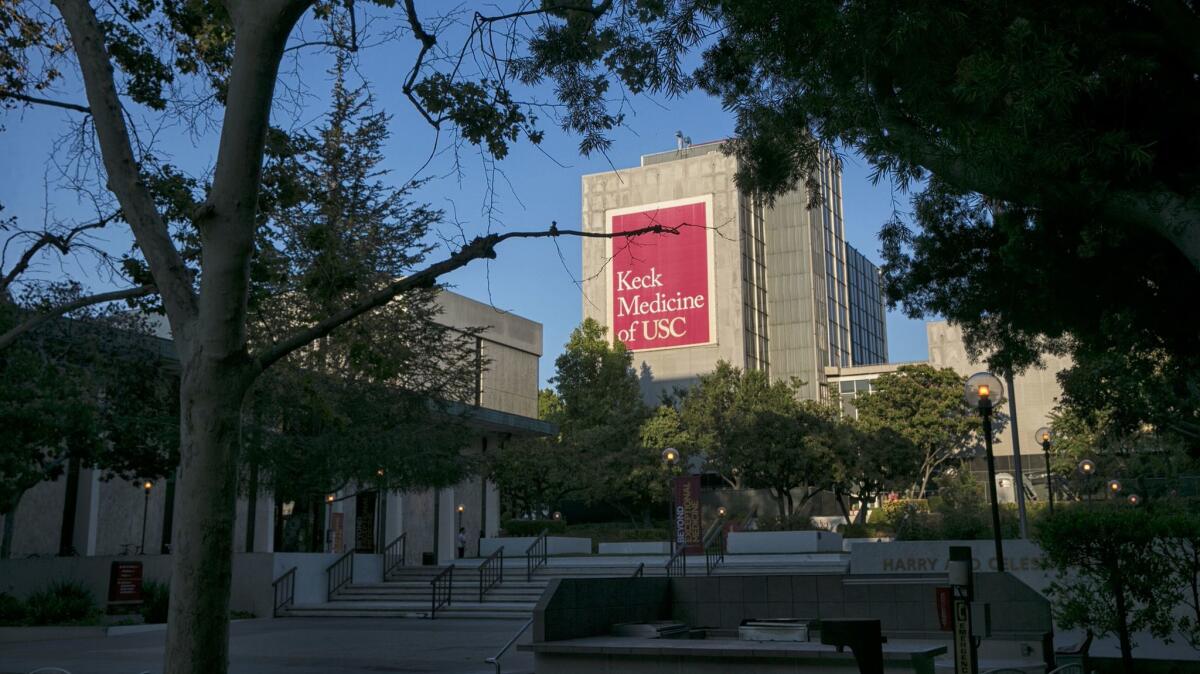 After he stepped down as dean, USC kept Puliafito on the medical school faculty, and he continues to accept new patients at campus eye clinics, according to Keck's website. He also is a central witness in a $185-million lawsuit in which the University of California has accused USC of misconduct in its hiring away of a star researcher.
Puliafito did not respond to interview requests or written questions. Reached by phone last week, he hung up without commenting after hearing a brief summary of The Times' reporting.
Earlier, in an email he sent to the newspaper shortly after resigning as dean, Puliafito said he made the move voluntarily in order to pursue a biotech job.
"Bottom line, I was dean for almost a decade. It was great, but I was ready and open to jumping on these opportunities when they came along," he wrote.
USC President C.L. Max Nikias and Provost Michael Quick, who was Puliafito's boss, did not respond to repeated requests for information about the circumstances surrounding Puliafito's resignation. Nor did the university press office.
UPDATE: Pasadena officer who investigated overdose was skeptical of USC med school dean's story, recording shows »
When reporters visited Nikias' office to ask about the former dean, his chief of staff, Dennis Cornell, told them: "The president will not be speaking to The Times on this matter."
The Times interviewed six people who partied with Puliafito in Pasadena, Huntington Beach and Las Vegas, as well as at USC. They ranged in age from late teens to late thirties. None were USC students.
One, Sarah Warren, was the woman who overdosed in the Pasadena hotel room. She told The Times she met Puliafito in early 2015 while working as a prostitute. She said they were constant companions for more than a year and a half, and that Puliafito used drugs with her and sometimes brought her and other members of their circle to the USC campus after hours to party.
"He would say, 'They love me around here. The medical students think I am God,'" Warren said.
---
Puliafito has no known criminal record, and public records show no blemishes on the medical licenses he holds in California and three other states. A review of court records in those states found no malpractice claims against him.
He is highly regarded in the field of ophthalmology and regularly addresses doctors at national conventions and training seminars. Over the last decade, he has coauthored more than 60 medical journal articles on retinal disease and other topics. Since 2008, he has served on the governing board of the California Institute of Regenerative Medicine, the state agency that oversees stem cell research.
It was a tip about the incident in the Pasadena hotel that led The Times to discover Puliafito's other life.
Just before 5 p.m. on March 4, 2016, an employee of the Hotel Constance, an upscale Colorado Boulevard landmark, called 911 to report that a guest had suffered an apparent overdose.
The hotel employee transferred a Fire Department dispatcher to a third-floor room. A man answered, identified himself as a doctor and said his companion's condition was not serious, according to a recording of the call.
"My girlfriend here had a bunch of drinks and she's sleeping," he told the dispatcher. Asked whether the woman had taken anything else, he replied, "I think just the alcohol."
After the ambulance arrived, another hotel employee placed a 911 call to ask that police be sent, too.
"I got somebody in one of the rooms, they [were] doing drugs in the room," the employee told an emergency operator, according to the 911 recording. He added, "I think they [were] doing crystal meth."
Paramedics took the woman to Huntington Memorial Hospital. Authorities did not release her name. The Times identified her as Warren through interviews, social media and property records.
Warren, now 22, has been in an Orange County drug treatment program since November, and said she no longer has contact with Puliafito. She talked about their relationship in a series of interviews.
Do you have information about USC's former med school dean? We want to hear from you »
She said she and Puliafito had been partying at the hotel for two days. Then she "took too much GHB" — gamma-hydroxybutyrate, the so-called date-rape drug that some users take in lower doses for its euphoric effect. Warren said the drug left her "completely incapacitated."
After she awoke in the hospital six hours later, Puliafito picked her up, and "we went back to the hotel and got another room and continued the party," she said.
The videos reviewed by The Times are consistent with Warren's account.
A recording made the night before the overdose shows Puliafito and Warren in a room at the hotel. Warren asks him to help her crush methamphetamine in preparation for doing a "hot rail," a method of snorting the drug.
"Absolutely," Puliafito replies. Warren is later shown bending over a tray with several lines of white powder.
In a separate video of Puliafito and Warren, recorded at another hotel about a day after her overdose, she blames the Hotel Constance episode on GHB.
"Carmen saved my life," she says on the video.
Puliafito is seen with what appears to be a meth pipe in his hand and, later, in his mouth.
Sources with access to these and other videos and photos of Puliafito allowed The Times to view the images on the condition they not be published.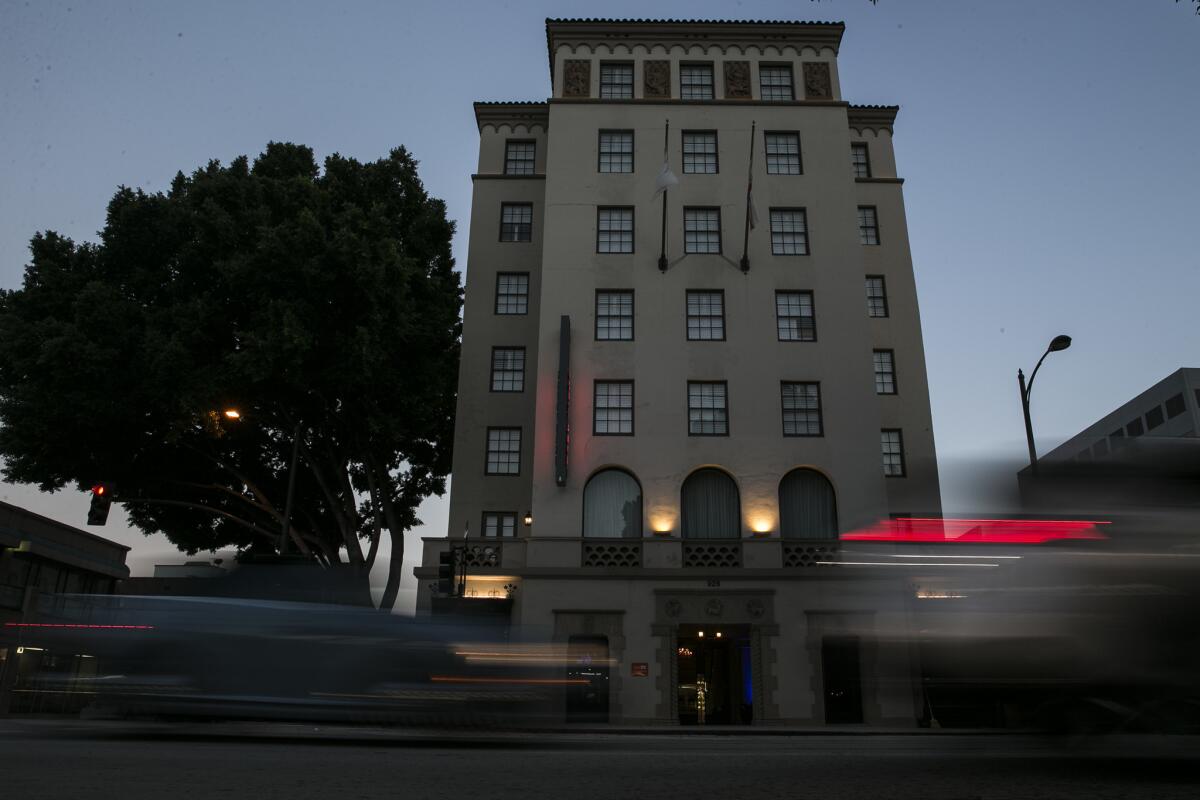 A week after the hotel overdose, a witness filed an anonymous complaint through a city website urging Pasadena authorities to investigate Puliafito and the police handling of the incident, according to a copy of the complaint obtained through the California Public Records Act.
Three days later, the same witness phoned the office of USC president Nikias and told two employees about Puliafito's role in the hotel incident. The witness spoke to The Times on the condition of anonymity.
Phone records confirm that the witness made a six-minute call to Nikias' office on March 14, 2016, 10 days after the overdose.
UPDATE: Alleged conduct by former USC dean 'horrible and despicable,' med school head tells angry students »
A week and a half later, Puliafito resigned as dean.
Concerned that Pasadena police were not investigating, the witness then approached The Times. The newspaper asked the Police Department for its report on the overdose.
Initially, a department spokeswoman said there was no report, apart from a call-for-service log. After The Times made repeated requests for additional information, the department acknowledged that an officer at the scene should have prepared a report. The officer was ordered to do so in June 2016 — three months after the incident.
In the report, Puliafito is identified as a witness to the overdose and a "friend" of the victim. The rest of the document is heavily redacted.
The department also released an evidence report that shows officers seized a little over a gram of methamphetamine from the hotel room. The name of the drug's "owner" is redacted, and the Pasadena address listed as that person's residence does not exist.
Under state law, possession of methamphetamine could be charged as a misdemeanor. Asked why no one was charged, Pasadena police spokeswoman Tracey Ibarra said officers would have had to determine who was "responsible" for the drugs. She declined to answer questions about the extent of the officers' investigation. Warren said they never interviewed her.
Although Puliafito told the 911 operator he thought his companion was under the influence of alcohol alone, Ibarra said the woman was "obviously under the influence of narcotics — the same narcotics that were in the room."
---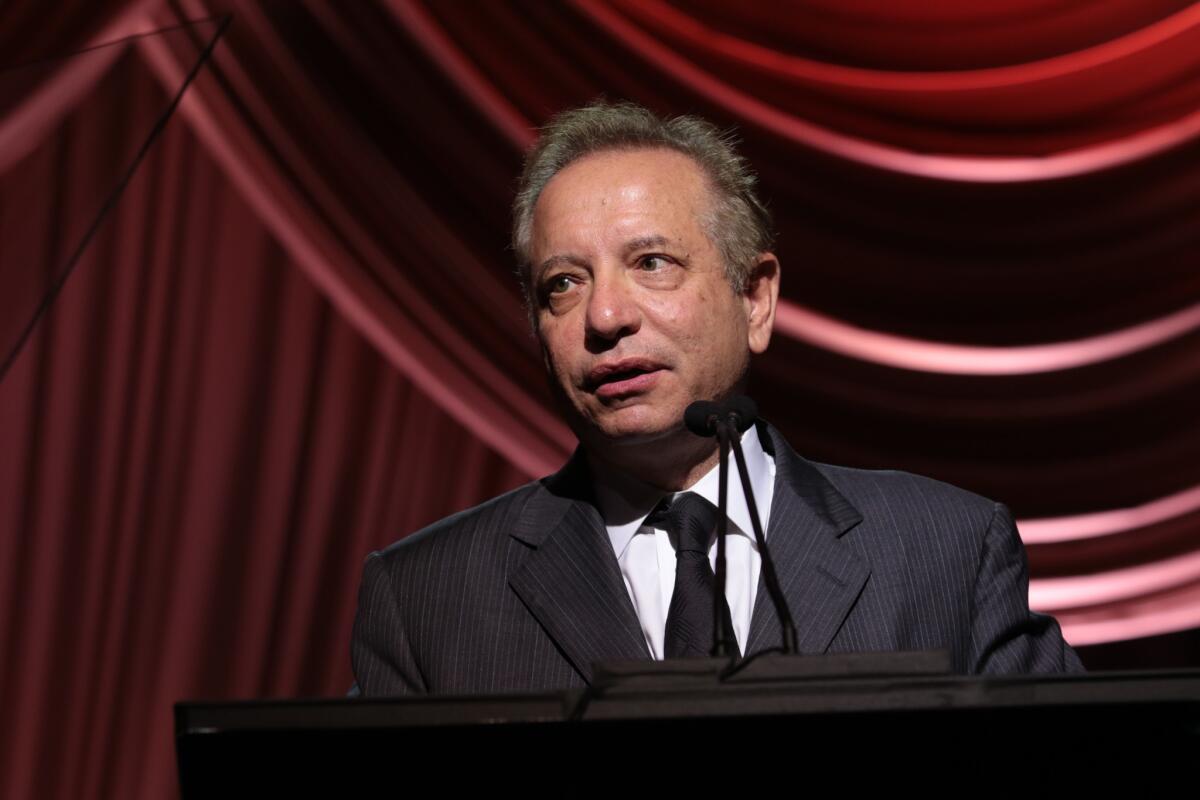 Ten years ago, USC went looking for a transformational leader for its medical program. U.S. News & World Report, in its annual report on the best American medical schools, ranked Keck 25 spots below UCLA in research. That was too low for USC leaders, who saw a top-rated medical school as crucial to their national aspirations. They needed a dean who could deliver the money and marquee researchers to make Keck an elite institution.
"Someone who could take a great school and make it even better," then-USC President Steven Sample said at the close of the 2007 search process. "We found that person in Dr. Carmen Puliafito."
Puliafito, a native of Buffalo, N.Y., who graduated magna cum laude from Harvard Medical School, had helped invent a laser technology — optical coherence tomography — that revolutionized the way doctors around the world diagnose and treat eye disease.
He had a track record of building institutions and raising their profiles. At Tufts University Medical School in Boston in the 1990s, Puliafito was founding director of the New England Eye Center. A complimentary 1993 profile in the Boston Globe described Puliafito's "in your face" personality and likened him to "one of those Yellowstone Park mud pots: placid on the surface for a few minutes, then erupting for a moment, then calm again."
Puliafito left Tufts to serve as director of the University of Miami's Bascom Palmer Eye Institute from 2001 to 2007. There, he presided over a doubling of faculty and tripling of research funding, according to school news releases.
His time at Miami was not trouble-free. Marc Brockman, an optometrist at the institute, filed a lawsuit against Puliafito in 2006 for assault and battery and accused the university of negligence in hiring him.
Brockman alleged in sworn testimony that Puliafito, in a profane "tantrum" over an inoperable piece of medical equipment, grabbed him by the collar of his lab coat and choked him.
Puliafito denied wrongdoing.
During the case, it emerged that the university had investigated separate complaints of sexual harassment against Puliafito, according to sworn testimony and court filings in the lawsuit. The records do not reveal the outcome of the investigation, and a university spokeswoman said in response to questions about the probe: "We don't have anything to provide."
Puliafito and the university reached a confidential settlement with Brockman in June 2007.
Two months later, USC hired Puliafito.
---
When Warren first met Puliafito in early 2015 she was a 20-year-old college dropout who had recently moved out of her parents' Huntington Beach home and was advertising on an escort website.
She offered him meth, she said, and he accepted. She said it was clear he was comfortable around drugs.
Warren said that after that first encounter, they began seeing each other regularly.
After a few weeks, she said, she Googled his name and learned that he was USC's medical school dean.
"I thought, 'This is wild,'" she recalled.
The images viewed by The Times reflect an easy familiarity between Warren and Puliafito. In the video that shows him smoking from a large glass pipe while she heats a piece of foil and inhales, Warren calls Puliafito "Tony," short for Anthony, his middle name.
Looking into the camera, Warren says she and Puliafito are making a "good old-fashioned doing-drugs video" to send to a friend.
Law enforcement officials who watched the video at The Times' request said that what it showed was consistent with smoking meth and heroin.
In another video, Warren takes a drag from a meth pipe, and as she exhales, Puliafito inhales the smoke from her mouth, a technique known as "shotgunning."
In a separate series of photos, Warren sits on Puliafito's lap as she smokes meth.
Puliafito rented apartments for her in Huntington Beach and near his home in Pasadena so she would always be available, she said. He gave her spending money and covered her legal bills, she said.
During their time together, Warren was arrested four times on charges that include drug possession, drunk driving and petty theft, court records show. She pleaded guilty or no contest in each case and was placed on probation, given community service or ordered to pay fines.
She said Puliafito told her he was taking care of her, but she came to view the money he gave her as "a trap."
"It was never enough for me to save up and leave," she said.
She said it seemed odd that someone with Puliafito's responsibilities could devote so much time to her. She said he would spend the night with her in apartments or hotel rooms he paid for, leave early in the morning to go to his home and then return to her with breakfast.
"He was always with me," she said. "It was as if he had nothing else to do."
---
USC fundraising galas can be glittering affairs with movie stars and billionaire donors rubbing elbows in Beverly Hills ballrooms. Puliafito glided confidently through these events, posing for photos with Gwyneth Paltrow and Pierce Brosnan and chatting up tech mogul Larry Ellison and mega-developer Rick Caruso.
In these circles, Puliafito presented himself as an architect of USC's rising reputation as a research institution. When asked about his extracurricular pursuits, he mentioned his award-winning stamp collection and spending time with his wife, a Harvard classmate, and three adult children.
Don Stokes was not part of that world.
Stokes, 39, is an Orange County karaoke deejay with multiple convictions for drug possession. Contacted by The Times, Stokes said that Warren introduced him to Puliafito, and that they would spend hours drinking and using drugs in bars and hotel rooms with a group that included addicts and prostitutes.
Stokes said Puliafito gave him meth, including while he was living at New Life Spirit, a Huntington Beach sober home for recovering addicts. Warren said she saw it happen.
Stokes said that Puliafito seemed to believe that showering the group with cash and gifts was a way of "tying into this generation."
"He would say, 'Money is not an issue,'" recalled Stokes, who recently completed another stint in rehab. "There was hardly a day when he wasn't around."
Another member of the group was Kyle Voigt, 37, an Iraq war veteran with a criminal record that dates to at least 2009 and includes convictions for possession of heroin for sale.
The Times reviewed numerous photos and videos of Voigt and Puliafito with other members of their circle.
A series of September 2015 photos show Voigt and Warren in Puliafito's office at the USC health sciences campus. The time stamp indicates the photos were taken around 3 a.m.
In one shot, Warren, wearing a USC shirt, stands next to Puliafito's desk. A portrait of the dean and his wife is visible, and framed Dodgers and Red Sox jerseys can be seen on the wall.
In another photo, Voigt is wearing an inflatable Trojan hat and a white Keck School lab coat embroidered with the dean's name. Both he and Warren are holding pieces of aluminum foil with darkened patches in the middle. The Times showed the image to law enforcement officials, who said the patches were consistent with the marks left by smoking heroin. In the photo, Warren has a lighter in her hand.
Other photos, shot the same year at a Pasadena gas station, show Voigt at the wheel of Puliafito's vintage Mercedes, with the dean seated in the rear. Voigt is holding a piece of foil in his lap.
At one in a string of court appearances in 2015, he was asked to provide his address on a legal form. He listed Puliafito's residence, a $5-million Tudor Revival mansion in Pasadena.
In a brief interview this spring at the L.A. County jail, where he was being held on suspicion of identity theft, Voigt declined to explain why he provided Puliafito's address as his own and would not discuss whether he used drugs with the doctor.
He did say that Puliafito frequently socialized with him, Warren and other young people.
"Carmen's always there," he said.
Puliafito twice scheduled visits to the jail to see Voigt, although records show the visits were canceled. On a May 13, 2016, reservation form, Puliafito said he had a "professional" relationship with the inmate.
On a Feb. 16, 2017, form, he described himself as a "friend."
---
Warren said her younger brother was part of the group that hung out with Puliafito and used drugs with him.
Charles Warren, who lives with his parents in Huntington Beach, confirmed his sister's account. He said in an interview that he was 17 and had little experience with drugs, beyond marijuana, when his sister introduced him to Puliafito in the spring of 2015.
Sarah and Charles Warren said Puliafito wrote them prescriptions for asthma inhalers to soothe lungs raw from smoking marijuana and methamphetamine. Charles Warren, now 19, provided The Times a copy of a CVS prescription history, dated Dec. 30, 2015, for an Advair inhaler that shows Puliafito as the prescribing physician and Charles Warren as the patient.
In early 2016, about a year after she first met Puliafito, Sarah Warren sought help for her drug problem. She spent time in two different rehab programs, and completed the second one, at Michael's House in Palm Springs, in February 2016.
Less than three weeks later, she and Puliafito checked into the Hotel Constance in Pasadena.
---
On a sunny afternoon in June 2016, dozens of Puliafito's colleagues gathered on a lawn at USC's health sciences campus for a catered reception in his honor. It had been three months since he'd announced his resignation, and the school's top administrators took turns lauding his accomplishments as head of the medical school.
Keck had climbed in national medical school rankings: U.S. News & World Report ranked it 31st in research last year, seven rungs higher than when Puliafito became dean.
"Today, we have one of the, not just the area's, but the nation's preeminent medical schools and medical enterprises — and, in many ways, thanks to the leadership of Carmen," Nikias told the crowd.
Key to Keck's rise in stature was Puliafito's ability to headhunt the type of big-name researchers who brought grant money and prestige. He recruited more than 70 professors to Keck, according to a campus publication.
One of those coups was under intense scrutiny at the time of Puliafito's resignation. In a court battle that is still playing out, the University of California filed suit in July 2015 against USC over its poaching of a leading Alzheimer's disease researcher.
Puliafito was the self-described "quarterback" of efforts to land UC San Diego professor Paul Aisen, a star in the state university system.
Curing Alzheimer's is a top priority for government agencies and pharmaceutical companies, and Aisen's lab was overseeing groundbreaking research, including drug trials at 70 locations around the world. More than $340 million in funding was expected to flow to his lab, according to court records.
UC contended in its suit that its private school rival went beyond the bounds of academic recruiting by targeting professors and labs based on grant funding. The suit accused USC of civil conspiracy, aiding and abetting breach of fiduciary duty and other misconduct.
USC denied any wrongdoing and countersued for defamation and other claims. At the time Puliafito stepped down, UC had yet to question him under oath.
A UC lawyer deposed the former dean in September 2016, and asked about his resignation. A USC attorney objected to the question as "vague" and "overbroad." Puliafito ultimately answered that he had a "unique opportunity" to work in private industry and that he was on sabbatical from his faculty position.
He had accepted, in April 2016, a position as chief of strategic development at Ophthotech, a New York pharmaceutical company run by friends Puliafito had known since his time at Harvard. The job did not last. The company announced in December that a drug it had been developing failed in clinical trials.
Puliafito, along with 80% of the workforce, was laid off, a company spokeswoman said.
He continues to represent USC in public. On Saturday, he spoke at a Keck-sponsored program at the Langham Huntington Hotel in Pasadena — one of the hotels Sarah Warren said she frequented with him.
Steve Lopez: Yet another USC scandal requires blunt talk about money culture and values on campus »
Lead photo credit: Alex J. Berliner / Associated Press
Sign up for Essential California for news, features and recommendations from the L.A. Times and beyond in your inbox six days a week.
You may occasionally receive promotional content from the Los Angeles Times.