Weather delivers blow to La Tuna fire's spread: 'Mother Nature kicked in'
Less than 24 hours after Gov. Jerry Brown declared a state of emergency in Los Angeles County, weather helped take the fight out of a more than 7,000-acre brush fire that officials said is the city's largest in decades by acreage.
The La Tuna fire, which has raged in the Verdugo Mountains since Friday, is 30% contained, according to fire officials. There is "really no active fire left," said Los Angeles Fire Chief Ralph Terrazas, although he noted that the wind could help kick the fire back up.
Temperatures Monday were projected to reach 86 degrees, with winds at three to 10 mph and a relative humidity of 40% to 45%. But that was a far cry from the heat wave temperatures that had helped the fire's spread.
"Very favorable to the firefighters making continued progress," Terrazas said. "As long as the weather continues to cooperate, I am very confident and convinced we'll be fine."
The La Tuna fire destroyed four homes, shut down the 210 Freeway and led to evacuations in Burbank, Glendale and the Sunland-Tujunga area. At the peak of the fire, more than 700 residents were evacuated throughout the region.
The evacuations have since been lifted and the freeway reopened. The cause of the fire is not yet known, but officials said there is no evidence of arson.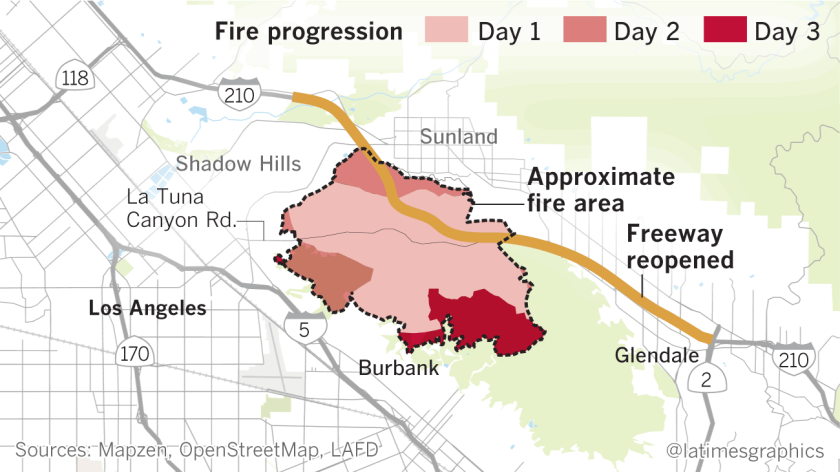 The governor's declaration came Sunday, at the urging of Los Angeles Mayor Eric Garcetti, who said it would ensure that state and federal assistance was provided as quickly as possible. Garcetti described the fire as the biggest in the history of the city in terms of sheer acreage.
Fire officials repeated that statement on Monday.
"We're confident back to 1961, the Bel-Air fire, that this is the largest fire by acreage in the city of Los Angeles," Terrazas said.
Relief from the heat wave came for firefighters on Sunday , when temperatures dipped a bit and rain fell in some burn areas as monsoonal moisture from Tropical Storm Lidia moved into the region.
"The moisture that damped down the fire yesterday was from Lidia," said Jet Propulsion Laboratory climatologist Bill Patzert. "That was a gift from ... Lidia."
Because of concern over future rain and mudslides, bulldozers will be used to clear out basins, which could get clogged and lead to mud and water flowing into communities, Terrazas said.
Burbank police said they would continue to monitor the situation, but that their police and fire departments were initiating a demobilization plan.
"Mother Nature kicked in overnight," said Sgt. Derek Green, a spokesman with the Burbank Police Department. "We received some rain, some very welcomed rain."
Firefighters continued battling a 3,800-acre brush fire in Riverside County that forced more than 400 people to evacuate their homes.
The Palmer fire broke out around 1:30 p.m. Saturday west of Beaumont and rapidly spread by nightfall. The blaze is believed to have been ignited by fireworks, according to the California Department of Forestry and Fire Protection.
As of Monday, the fire was 50% contained. Evacuation orders and road closures were lifted Sunday afternoon.
Patzert of JPL said September is "the heat wave month" so the risk of other fires will persist as brush and grasses and other vegetation continue to become dry and desiccated.
"The simple formula is that fire equals fuel, plus ignition, plus meteorology," Patzert said Monday. After above-average rainfall last winter through February, March turned dry, he said.
"But the rainfall we did have really encouraged the brush and especially the grasses… So we were primed for fires all over the Southland. And we're definitely not done," Patzert said. "The fire season is the Santa Ana winds season and historically that's October, with November being the peak of the old fire season."
Times staff writer Emily Alpert Reyes contributed to this report.
Twitter: @brittny_mejia
ALSO
Palmer fire in Riverside County grows to 3,800 acres
Authorities urge islanders to prepare for Hurricane Irma
Where the border fence meets the sea, a strange beach scene contrasting the U.S. and Mexico
---
For reporting and exclusive analysis from bureau chief John Myers, get our California Politics newsletter.
You may occasionally receive promotional content from the Los Angeles Times.