Veterans and civilians are helping one another in former police station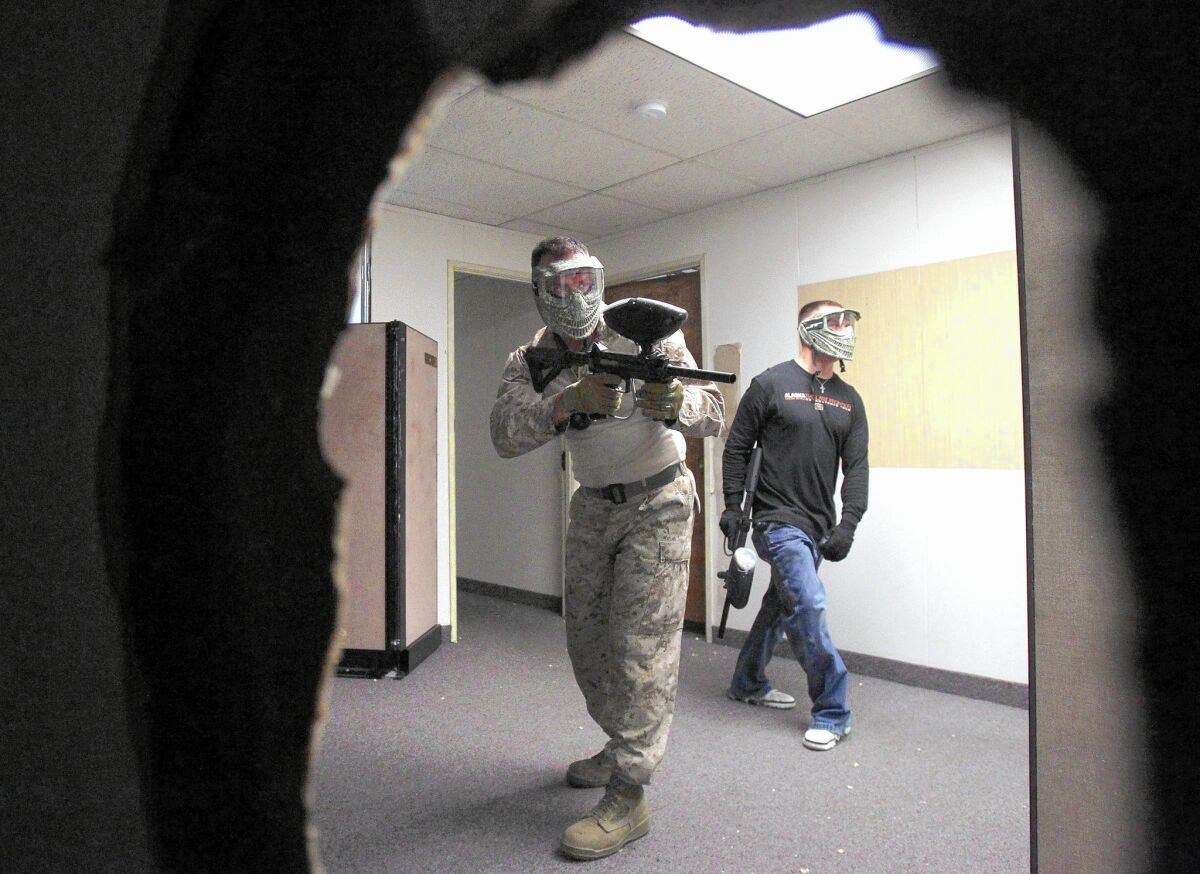 Inside what was once the cavernous Escondido Police Department headquarters, former Marines and Navy SEALs are using military training techniques to teach civilians self-defense — a relationship that benefits both students and teachers, participants say.
The newly opened training center — called the Warfighter Academy — is part indoor paintball facility, part mixed martial arts gym, and it offers civilians the chance to train in combat scenarios and other simulations, while helping veterans adjust to life after the military, co-owner Sonny Garcia said.
"It takes the experience of these prior-service combat veterans and allows them to repurpose it — to get their mission back and get back into the fight by training civilians who are concerned about self-defense and home defense and taking care of their families," Garcia said.
The building at 700 W. Grand Ave. in Escondido had fallen into disrepair after being left vacant in 2010 when the Police Department moved to new digs. It took Garcia and partner Dave Maynard about six months to bring the place up to code. Homeless people had been living inside, and thieves had stripped 90% of the copper wiring from the building and destroyed its electrical system.
It's pretty bare bones now, but Garcia and the trainers say it's perfect for what they are doing.
One room has become an indoor paintball labyrinth with movable obstacles, around which clients engage in simulated gun battles, honing their reflexes and shooting skills.
Another area — where the Police Department's top brass once had offices — has been reconfigured to look like the interior of a small house with a bedroom, kitchen and family room. Students are taught how to defend themselves in scenarios involving home invaders.
Another space looks like an office, where students are taught how to react if a live shooter appears.
The center officially opened in June, but Carol Bright — a 30-year-old mother of two young boys from Fallbrook — has been coming since the academy started offering a few pilot classes a couple of months ago.
"I'm here for my kids," she said. "They tailor the training to home defense. I need to know how to protect my home and my kids."
Steve Armstrong, a quality engineer from Oceanside, has been coming with his 17-year-old daughter.
"It's really interesting," Armstrong said. "It's not just paint balling. They actually train you how to support and sustain other people that you work with."
His daughter, Mary Tess Armstrong, said the training is also a lot of fun.
"I like paint balling, and I like that the guns are toned down a little so it only leaves light bruises and doesn't break the skin," she said. "That's a bonus.
"I get to learn how to sneak up on my brother (an active-duty Marine who is also a client) and shoot him before he realizes I'm even there."
Several of the instructors say the environment is something they've been looking for since getting out of the military.
Joe Smith, a 10-year Marine veteran who suffers from post traumatic stress disorder, said working at the center has helped him adjust to life beyond the service.
"Coming here, most people wouldn't think it's therapeutic, but it is," he said. "I'm interacting with people who come from my same background and kind of doing the things I did in the military. It's like a home away from home and a place to relax and have fun."
Perry Yee spent six years in the Navy, four on SEAL Team 7.
"I'm very lucky to have found this place," Yee said. "It brings the camaraderie back that I miss from the military. I've been out of the service for four years, and I haven't been able to find it anywhere else."
The Warfighter Academy has signed a two-year lease with the city that can be extended until Escondido decides to tear the building down and redevelop the land.
"This is very family-oriented," Garcia said. "Everybody wants to learn how to defend themselves a lot more. It seems like everybody's afraid these days of finding themselves in a situation, and there's nowhere in the civilian market to come and learn how to do that. We just want to give them that chance."
---
The stories shaping California
Get up to speed with our Essential California newsletter, sent six days a week.
You may occasionally receive promotional content from the Los Angeles Times.