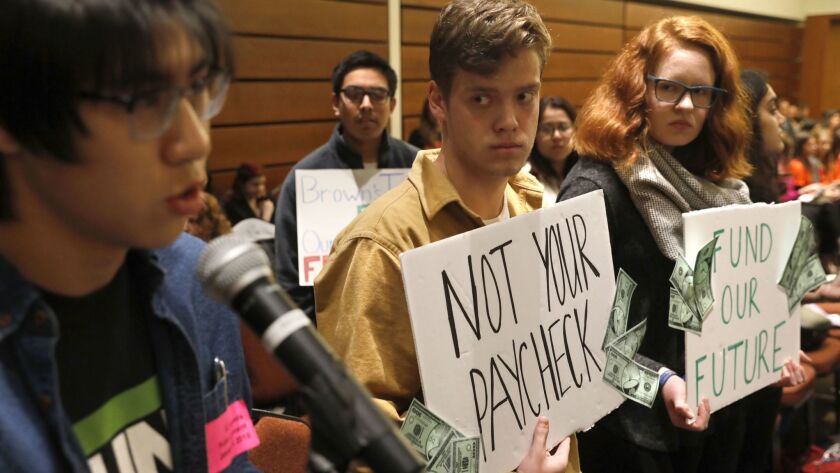 After months of fighting against higher costs, University of California students are poised for a pleasant surprise this year: a tuition decrease.
UC regents, who begin their two-day meeting Wednesday in San Francisco, plan to vote on an $8.7-billion spending plan for 2018-19 that includes the first tuition decrease in nearly 20 years. The proposed $60 decrease — the result of eliminating a surcharge added in 2007 to pay for legal bills — would bring down base tuition and fees to $12,570 annually.
In a massive organizing effort, students joined UC regents, faculty, staff and alumni to press for more state funding to avert a proposed 2.5% tuition increase this year. Their lobbying paid off when state lawmakers approved $117.5 million more for UC than Gov. Jerry Brown had initially proposed in January. The additional funding was enough to scrap the proposed tuition hike.
Ultimately, Brown and the Legislature agreed to increase UC's funding by nearly $347 million. But the governor, citing the need for fiscal prudence, insisted that two-thirds of the money be provided as temporary, one-time allocations rather than permanent funding.
The proposed budget includes money to add 2,000 California undergraduates and 500 graduate students this fall. It also provides $111 million for pay hikes and increases of $35 million to repair and maintain aging facilities, $15.5 million for financial aid, $4.7 million for mental health services, and contributions to the UC retirement plan and health benefits.
"After we fought so hard to increase state funding and stop a tuition hike, this month's tuition rollback is icing on the cake," said Varsha Sarveshwar, a UC Berkeley student and UC Student Assn. board member who helped lead the lobbying. "We'll continue to make the case that the state — and not students and their families — should fund our public higher education system."
UC President Janet Napolitano welcomed the extra money but said she was concerned that much of it is temporary.
"The students we enroll are here for more than one year, which requires us to hire faculty and staff and having classrooms and labs, which are more than one-year investments," she said in an interview Tuesday.
After years of managing one crisis after another — funding shortfalls and critical state audits on UC enrollment and budgeting practices — Napolitano said the university is poised to shift from reactive to proactive practices. The regents are set to begin discussions about crafting a four-year plan that would analyze what it would cost to enroll more students, help them graduate more quickly and find creative ways to accommodate them amid a space crunch on campuses.
UC enrolls 90,000 more students today than in 2000, but spending per student has dropped by 31% since then because state funding has not kept pace with the growth. Complaints about overcrowded classrooms and a severe shortage of student housing are widespread.
Ideas likely to be discussed over the next several months include accelerated three-year degree programs, greater use of summer school, online education and off-campus options for learning, including study abroad, internships and partnerships with other colleges.
George Kieffer, chair of the Board of Regents, said the state's high school population is not projected to grow in coming years, but more students are graduating with the coursework needed to qualify for UC admission. In addition, more adults of all ages are returning to college, he said
"There is continued pressure to increase enrollment," Kieffer said. "It's something we need to be prepared for. We want to inform ourselves, help campuses plan, and inform the governor and Legislature about where we're going."
In other matters, regents will discuss a recent state audit on UC's handling of sexual misconduct cases involving faculty.
teresa.watanabe@latimes.com
Twitter: @teresawatanabe
---