UC Davis veterinarian sees some of the world's most exotic patients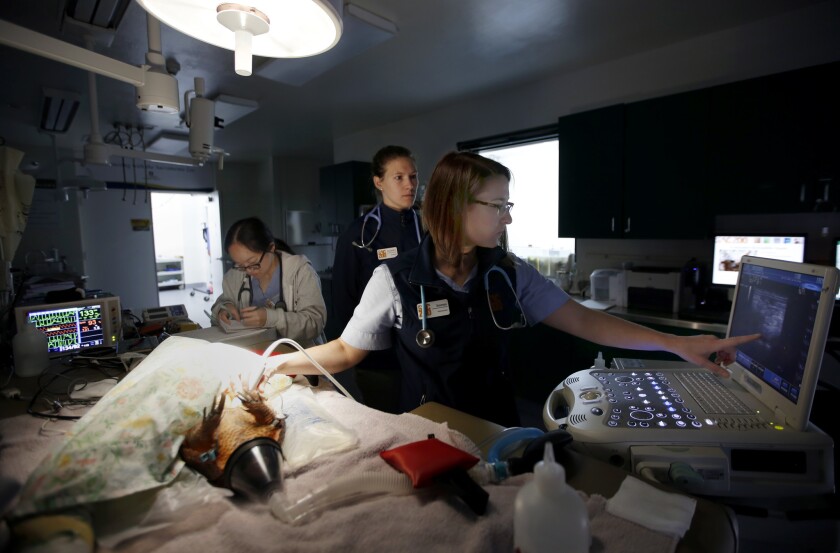 UC Davis veterinarian Dr. Jenessa Gjeltema opened her 7:30 a.m. staff meeting with a rundown of the day's patients:
An armadillo, a tarantula, a Western pond turtle, a thick-billed parrot, a flamingo, a baby bongo and a Wolf's guenon monkey.
Gjeltema doesn't treat the usual dogs and cats. Her veterinary practice is one of the most exotic in the world. A specialist in zoological medicine, she cares for the Sacramento Zoo's animals. There are about 575 of them, representing nearly 130 species — from tiny whiptail scorpions to 1,500-pound giraffes.
A key part of Gjeltema's care is prevention — so she examines all of the animals regularly.
It's no easy job diagnosing their diseases or figuring out how to treat them, she said. It often means heading into uncharted territory.
Sometimes, zoo vets face problems that no one has yet studied. Or they have to improvise tools to fix them. How do you find a medical instrument, for instance, small enough to do surgery on a hummingbird?
"You have to really be creative and think outside the box," Gjeltema said. "You've got to come up with your own tools and your own path."
The 35-year-old specialist proved her knowledge by passing the American College of Zoological Medicine's grueling two-day exam for board certification — a feat that fewer than 200 veterinarians worldwide have accomplished. Gjeltema also teaches at UC Davis' world-renowned veterinary medicine school and trains students in clinical practice.
The ties between UC Davis and the Sacramento Zoo are deep and historic. The late UC Davis veterinarian Dr. Murray Fowler was known as the father of zoological medicine because he created the specialty in 1967. He wrote its first textbook and chose the Sacramento Zoo as the site of the world's first zoological medicine residency program.
The partnership with UC Davis gives the zoo "the highest-quality veterinary care and access to the latest information and tools in zoological medicine," said zoo spokeswoman Tonja Candelaria.
On a recent visit, Gjeltema was assisted by the zoo's registered vet technicians, Alison Mott and Julie Clements, and UC Davis vet school students Weina Dai and Audrey Buatois.
First up was Ringo, a 17-year-old armadillo and popular zoo "education ambassador," tame enough to crawl into children's laps for ear rubs. Gjeltema previously had detected a mass in his gallbladder and begun medications to slow its growth.
As Ringo lay on his back — sedated, hooked up to monitors, with an oxygen mask over his face — Gjeltema talked the students through locating his internal organs with an ultrasound device.
The mass was probably a gallstone, she told them. The question was whether to just keep an eye out for changes or opt for surgery. Together, they decided to monitor the mass, since it wasn't expanding.
Next came Curly Sue, an 8-year-old tarantula with a lesion on her underside. The tarantula, about the size of Dai's palm, required especially careful handling and protective gear because of her ability to shoot out barbed hairs.
Dai sedated her by placing her into a small plastic container with a cotton ball soaked in an anesthetic. Then Dai poked her back end with a tiny needle to draw her blood, pushed down her legs to check her muscle tone and put an ultrasound device as small as a fingernail to her heart.
"Do you hear it? It's a little wave — whoosh whoosh," Gjeltema said.
When Dai nodded, the vet grinned. "Nice work! Your first tarantula heartbeat!"
Suzie, a baby thick-billed parrot, was the day's most serious case. The brightly colored parrot species is endangered. It's also the only surviving species native to North America.
When Suzie appeared to have contracted a fungal pneumonia, Gjeltema and her team had to decide quickly whether to separate the nestling from her family, which could complicate her return. They chose to take the risk and move her to an oxygen incubator. On this visit, Gjeltema fed Suzie formula through a tube and administered antibiotics, antifungal medicine and inhalants to open her airways.
Suzie improved enough to move to a regular cage, and Gjeltema is hopeful for a smooth family reunion.
"There are complex social structures in zoological medicine," she said. "You have to weigh the overall needs of the animal in the treatment plan."
Before leaving for the day, Gjeltema and her students also treated Sutter, a Western pond turtle with a lesion on its shell, and a flamingo named Tiki with an abnormally bowed leg. They checked in on Taylor Swift, a striped baby Eastern bongo antelope, and Rory, an infant Wolf's guenon monkey with a black face and bright, copper-colored tufted ears.
When she was growing up in North Carolina, Gjeltema loved playing with lizards. As a child, she dreamed of being a vet. In high school, she went to Sumatra to help care for orangutans, and in college she volunteered with a local Humane Society's dog rescue program. But at the College of Charleston in South Carolina, she decided to triple major in business administration, international business and philosophy.
A school career counselor prodded her to change her path by telling her she came alive when she talked about animals, not business. The passion only grew with time.
"You're always thinking: How do I help that animal?" Gjeltema said. "The answers are never straightforward, but that makes it fascinating and fun."
Poisoned pets, preemie foals, dogs with spina bifida: UC Davis' top-ranked vets see them all »
Twitter: @teresawatanabe
---
The stories shaping California
Get up to speed with our Essential California newsletter, sent six days a week.
You may occasionally receive promotional content from the Los Angeles Times.