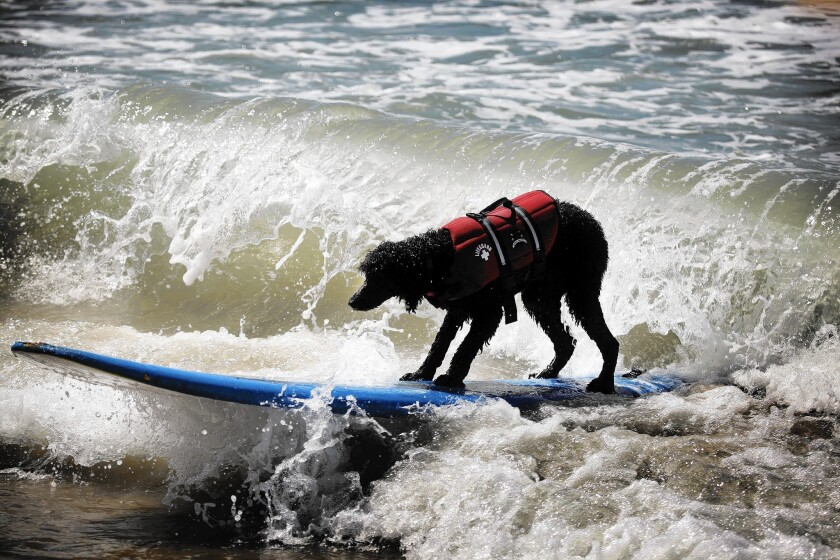 As soaring temperatures blistered Southern California for another day, tens of thousands of people headed to the beaches and pools for relief and schools planned special precautions to prevent students from overheating.
A high pressure system pushed temperatures Sunday to triple digits throughout much of the Southland's valley and inland areas, with a Los Angeles County high of 108 in Pomona. The heat tied or broke records for the date in Santa Barbara, Camarillo and Woodland Hills, while temperatures reached 98 in downtown Los Angeles — the third highest for a Sept. 14 in more than a century, according to the National Weather Service.
No relief is expected until Wednesday, when the high pressure weakens and allows cooler air beneath it to fan out. A hurricane brewing off the coast of Baja California could bring moisture to the area, with a slight chance of thundershowers by the end of the week, said Scott Sukup of the National Weather Service in Oxnard.
Officials urged the public to drink plenty of water and to avoid outdoor activities until the weather cooled.
"Hydrate, hydrate, hydrate," said Los Angeles County Fire Capt. Brian Jordan.
Jordan said county paramedics treated nine people for heat exposure, all of whom were taken to hospitals. They included a 2-year-old boy at a La Mirada aquatic center, a 47-year-old woman at Chantry Flat in the Angeles National Forest and a homeless woman in Cudahy. No deaths were reported.
The Inland Empire also recorded triple-digit temperatures, with a regional high of 109 in Riverside. But temperatures were expected to cool as severe thunderstorms that could bring wind gusts of 60 mph from Sage to Hemet arrived in the county's western area late Sunday.
National Weather Service forecasters urged residents to prepare for damaging winds and "deadly cloud to ground lightning."
All activities at Los Angeles Unified schools will be conducted indoors until the heat lessens, a district spokeswoman said Sunday. But one teacher, Ingrid Villeda, said she still worried about students because drinking fountains at her school, 93rd Street Elementary, were not working and some kindergarten classes at Miramonte Elementary did not have air conditioning.
The San Diego Unified School District announced a shorter day for more than 100 schools that lack full air conditioning.
Across the Southland, people flocked to beaches, pools and "cooling centers" equipped with sprinklers, splash pads and squirt guns to beat the heat.
At one such center at Bassett Park in La Puente, recreation leader Laurena Ruiz said about 60 people showed up by the afternoon — twice as many as usual — to drench themselves with water play.
At Los Angeles beaches, lifeguards were on alert for dehydrated beachgoers as well as dangerous ocean currents. Nearly every lifeguard tower from Marina del Rey to San Pedro was staffed to monitor the increased beach traffic.
"We have a lot of people out here due to the hot weather," said Capt. Adam Uehara of the Los Angeles County Fire lifeguards' southern section headquarters. "The water's still pretty warm — about 73 degrees — there are some rip currents and we have a lot of wind swell, so it provides dangers for swimmers in the water."
Uehara said they were also concerned that beachgoing cyclists using the bike paths would end up "overexerting themselves and not hydrating enough."
In Woodland Hills, where the 107-degree high tied the area's record for the date, shoppers at the Target on Ventura Boulevard bought up most of the store's water-related products: pool toys, water wings, Super Soakers.
The only fans left in the store were small and USB-powered, designed to plug into a laptop and sit on a desk. A Target store clerk said September was a waning month for fans, which are mostly stocked during the spring and early summer. By the end of the month, heaters would be on the shelves.
"But if you want a heater, you can just go outside," she said, laughing.
Monica Davis, 44, of West Hills and her two teenage sons spent 10 minutes circling the sports and toys sections of the store, looking for beach towels without much luck. They wound up buying regular towels.
Davis also picked out a black-and-white bathing suit, and her sons chose water guns. "We're going to the beach," she said. "It's too hot to stay home."
At Baskin-Robbins on Vanowen Street in Van Nuys, Jenny Harper's 5-year-old daughter was licking a cone of bubble gum ice cream. It was melting faster than she could eat it. Harper dipped a napkin in a cup of ice water and dabbed at her daughter's face.
"We're doing all the cold things we can think of," Harper said.
As temperatures soared past 100 degrees in Pacoima, four vans selling ice cream and other snacks parked outside the Hubert H. Humphrey Recreation Center, each hoping to attract the families headed to baseball games or the community pool.
Inside her un-air conditioned camper van, Maria Ramirez of Van Nuys reorganized a row of Fritos bags and sodas. Through the van's open hatch, she could hear scattered yells coming from the baseball diamond just feet away - but almost no one had come by.
"You would think that business would be good," Ramirez said, fanning herself with a magazine. "But it's been terrible." Maybe, she said, it was just too hot to walk 50 feet.
In some of the rare shade, Marisa Gonzales of Pacoima tied a pink Hello Kitty balloon to a picnic table. A few friends were joining her to celebrate her daughter's fourth birthday, a party she had planned before she knew the weather forecast.
"I think the cake is melting," Gonzales said. "I think I'm melting."
At Garfield Park in South Pasadena, Jackie Halpin said her family and friends gamely proceeded with a memorial picnic for her husband's deceased grandfather despite temperatures that soared to 106. She had reserved the picnic space months ago, she said, and kept apologizing to guests about the weather.
"We brought squirt guns, spray bottles, and lots and lots of water and ice," she said. "Everybody was a really good sport."
laura.nelson@latimes.com
Twitter: @laura_nelson
teresa.watanabe@latimes.com
Twitter: @TeresaWatanabe
Times staff writer Amina Khan contributed to this report.
---