With Baca's 'best remaining days' at hand, judge rules he should go to prison now. Baca vows appeal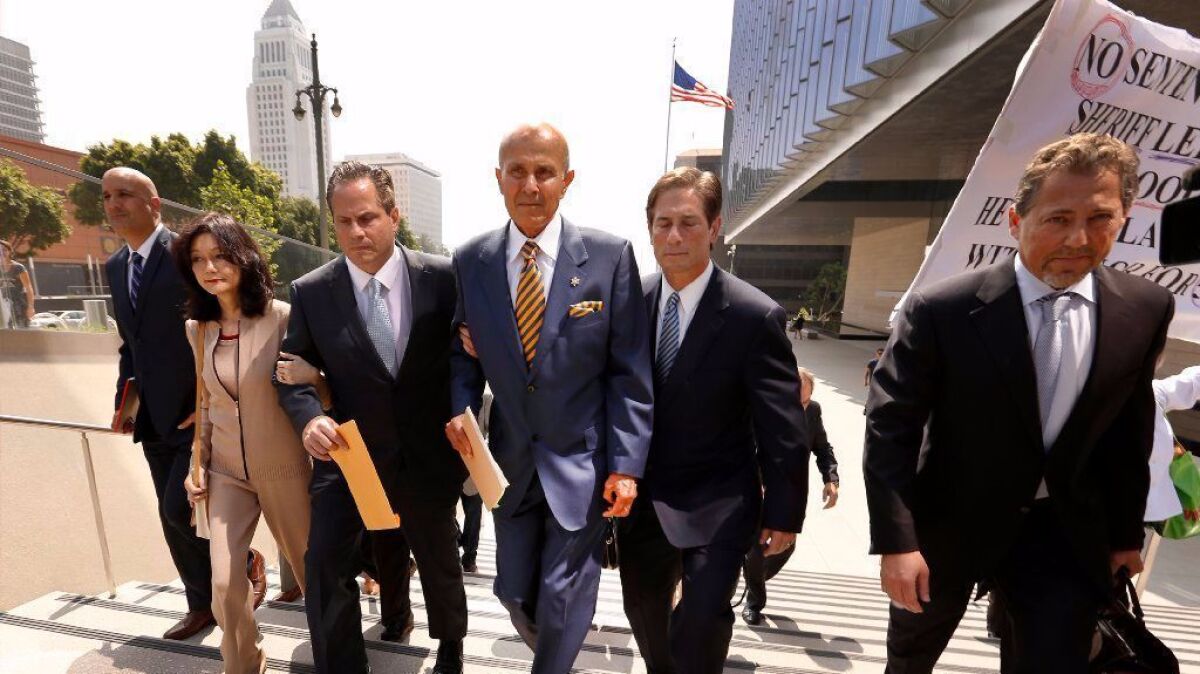 With Alzheimer's slowly taking his mind, former Los Angeles County Sheriff Lee Baca should spend "his best remaining days" in prison and not be allowed to remain free while he appeals his conviction, a federal judge has ruled.
In issuing an order for Baca to surrender to prison officials by Monday to begin serving a three-year sentence, U.S. District Judge Percy Anderson rejected for a second time arguments by Baca's attorney for why he should be granted bail until an appeals court can decide if he received a fair trial.
But despite Thursday's ruling, Baca is not facing imminent incarceration.
Nathan Hochman, Baca's lawyer, said he will ask the 9th Circuit Court of Appeals to overrule Anderson on the bail issue. Under court rules, Baca is permitted to stay out of prison while the appeals court considers the request. It is expected to be several weeks or perhaps a few months before a decision is made.
Baca was convicted earlier this year of obstruction of justice and lying to federal investigators for his role in a 2011 scheme by sheriff's officials to interfere with an FBI investigation into alleged inmate abuse and corruption by sheriff's deputies working in county jails. The guilty verdict capped a string of prosecutions in which 10 sheriff's deputies and supervisors were convicted or pleaded guilty to crimes stemming from the obstruction plan.
Hochman promptly appealed the verdict to the 9th Circuit, arguing that rulings by Anderson in the lead up and during the trial had unfairly disadvantaged Baca. And in July, when Anderson rejected Baca's first request for bail pending the appeal, Hochman looked to the 9th Circuit to overturn the judge.
A panel of judges from the appeals court declined to reverse Anderson's decision, agreeing with him that Hochman had failed to address the question of whether Baca's appeal was simply a ploy to delay his prison sentence. The panel invited Hochman to return to Anderson and try again.
Hochman did so, but Anderson was unconvinced. In a sternly worded eight-page ruling, the judge found Hochman had used "circular reasoning" and again skirted the question of whether Baca was stalling.
The question of delay tactics is particularly thorny in light of Baca's diagnosis with Alzheimer's disease, which doctors have said in court records is expected to progress significantly in coming years.
In his ruling, Anderson reiterated concerns he and prosecutors raised previously that if the disease worsens as Baca fights to overturn his conviction or to win a new trial, Baca's diminished lucidity could "complicate or prevent resentencing or further proceedings."
"Moreover, given the progressive nature of Alzheimer's disease," Anderson wrote, "the delays in this action, and any additional delay before defendant begins serving his sentence should defendant be granted bail pending appeal, would continue to allow defendant to spend his best remaining days on bail rather than incarcerated. In the face of these concerns, defendant has offered no evidence and precious little argument of a non-dilatory purpose for his appeal despite repeated opportunities to do so."
For more news on federal courts in Southern California, follow me on Twitter: @joelrubin
---
Life is stressful. Our weekly mental wellness newsletter can help.
You may occasionally receive promotional content from the Los Angeles Times.