'He's lost everything:' Fire burns into condo complex, and neighbors learn which units survived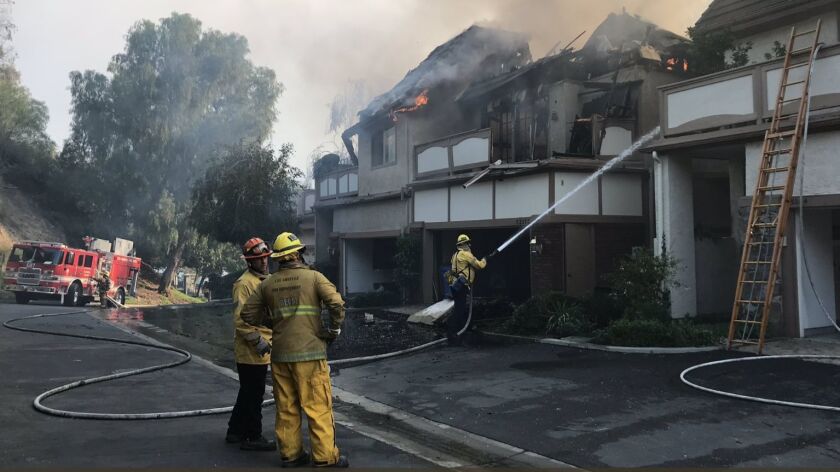 Standing along Canyon Ridge Drive, Guy Cohen watched as his neighbor's condo burned and firefighters battled the flames.
The fire torched the hillside off Ridgeford Drive early Friday, he said, and around 2 a.m. he noticed that the flames could reach his home.
"They came out with the evacuation order," Cohen recalled. "I wasn't going to leave, but around 5 or 6 they said the fire jumped the freeway."
At that point, he got into the car, but the freeway was closed. He decided to turn back.
Cohen, who lives with his daughter and fiancee, said the fire came as a shock.
"I told all the neighbors this morning there's no way the fire is gonna be here, then everyone left but me. Which was not smart but still," he said.
The firefighters working throughout the morning told Cohen that they are trying to save the rest of the homes in the community.
"They're the reason our whole row was saved," he said. "The fire was all over the hill — it was actually touching my house, but the firefighters put it out."
Several of the condos in his community were consumed by flames. One of his neighbors, a man named Howard, lost his home.
"He's devastated, he had so many collectibles and artifacts and he's lost everything," Cohen, 43, said. "Him and his wife are just completely sad."
Cohen was the one who had to break the news.
"They were bawling. they started crying they couldn't believe it they were seriously in shock," he said.
He sighed, thankful that his home was safe.
"I really thought it was gone," he said.
---
The stories shaping California
Get up to speed with our Essential California newsletter, sent six days a week.
You may occasionally receive promotional content from the Los Angeles Times.