Fast-moving fire erupts north of Redding, shutting down Interstate 5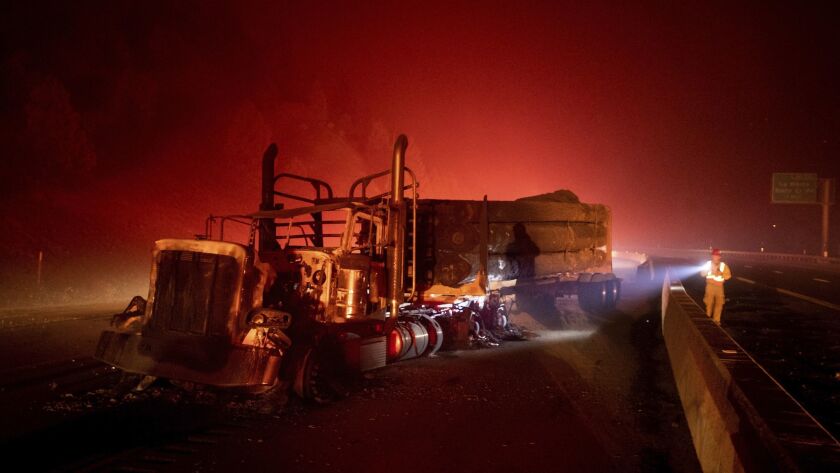 A fast-moving fire that started Wednesday afternoon north of Redding forced drivers to abandon their vehicles on Interstate 5 and authorities to evacuate several small mountain communities.
The Delta fire was reported about 12:51 p.m. north of Lakehead, a community of about 500 people near the Vollmers exit on I-5.
The fire quickly grew to at least 5,000 acres by late Wednesday, with no containment. About 600 firefighters and support personnel are working the fire, which is burning through timber and thick brush with no recent fire history on both sides of the freeway.
The Delta fire is about 10 miles from the Hirz fire, a 46,142-acre fire burning in the Shasta-Trinity National Forest. The Hirz fire is 75% contained.
I-5 is closed from 10 miles north of Redding at Fawndale Road to about four miles south of the city of Mount Shasta at Mott Road. The fire is burning north and northwest along the interstate on both sides of the freeway.
About 17 semitrailer trucks were abandoned on I-5, and at least four of them were on fire, said Lt. Cmdr. Kyle Foster of the California Highway Patrol's Mount Shasta office. The fire fully engulfed one truck, but U.S. Forest Service workers were able to help the driver to safety, Foster said. Other truck drivers were helped by firefighters, law enforcement and their fellow drivers, he said. The fire also damaged guardrails, culverts and other portions of the freeway.
When the fire started, law enforcement officers were diverting hundreds of cars and trucks to La Moine Road to turn around, but the fire started advancing rapidly toward that once-safe location, Foster said. Officers had to send cars and trucks through a 12-foot gap in the center median designed for emergency vehicles. Remarkably, they were able to get all vehicles turned around and away from the fire, he said.
"The positive side of this, Northern California has been very stricken by fires recently, and while it's catastrophic and heartbreaking, most of the citizens and agencies are well versed in these types of situations," Foster said. "The community acts very appropriately when we ask them to leave."
The fire's quick growth was fueled partly by warm weather — it's about 91 degrees where the fire is burning. The area is also dry with low humidity. Additionally, firefighters faced 8 mph winds with gusts in the teens.
Rob Elvington, evening meteorologist with KRCR News Channel 7, tweeted that the fire had caused a pyrocumulus cloud, or fire cloud. When this happens, fire officials become concerned that a wildfire will create its own weather, including dry lightning.
Fire officials have brought in large air tankers to battle the blaze, ordering them not to be diverted to other fires.
Whereas the Hirz fire is large but mostly within forestland, the Delta fire is threatening structures, including vacation cottages and gas stations.
"This is the priority fire," said Kerry Greene, a public information officer on the Delta fire.
Michele Riley, who works at Manfredi's Food and Gas Depot in Dunsmuir, which is just north of the blaze, said fire has sadly become routine in Northern California.
The community has been smoky, and at times, ash rained down as a result of the Carr fire, a 229,651-acre fire that was 100% contained last week, and the Hirz fire.
Riley said firefighters have been streaming in and out of the store while drivers remain somewhat stranded, unable to use I-5 until the fire is under control.
Riley and her co-workers were preparing in case the fire grew closer to them.
"Everybody is getting ready to evacuate if we have to," she said.
Times staff writer Alene Tchekmedyian contributed to this report.
Twitter: @jaclyncosgrove
---
UPDATES:
10:25 p.m.: This article was updated with new fire figures.
6:45 p.m.: This article was updated to include the latest acreage, comments from California Highway Patrol and local perspective.
This article was originally published at 4:20 p.m.
---
Must-read stories from the L.A. Times
Get the day's top news with our Today's Headlines newsletter, sent every weekday morning.
You may occasionally receive promotional content from the Los Angeles Times.