How a rare DNA match cracked open a cold case of two young women dumped on L.A. freeways
California's success using familial DNA searches to identify the so-called "Grim Sleeper" serial killer is winning over skeptics.
They were discarded near freeways, dumped in brush among the trash and leaves.
Michelle Lozano had disappeared Easter evening in 2011. Her body was discovered the next day. The 17-year-old was raped and strangled before being stuffed in a plastic container and left near the southbound 5 Freeway in Boyle Heights.
Nine months later, Bree'Anna Guzman, 22, was found along the Riverside Drive on-ramp to the 2 Freeway with blunt-force trauma to the head. Missing for a month, her body was so badly decomposed that her mother was kept from the scene.
The killings stirred up fear of a serial killer in Lincoln Heights — the northeast Los Angeles neighborhood where the two victims had lived, less than a mile apart. They had been strangers, but shared similar traits: long-haired Latinas with soft eyes and wide smiles.
In 2014, authorities announced that the homicides were linked by forensic evidence and two $50,000 rewards for information were offered to reinvigorate the cases. Three years passed. The families of the victims faded into that desperate population of those waiting for justice.
A break in the case
Last week, they were informed it had arrived.
Torrance resident Geovanni Borjas, 32, was arrested Thursday on suspicion of killing Lozano and Guzman, the Los Angeles Police Department said. Booking records listed his occupation as a "medical biller."
Police Chief Charlie Beck said Tuesday that investigators were unable to match DNA from the victims' cases to state and national DNA databases. They then went through "exhaustive protocols" to request a familial DNA search, a controversial method that looks for partial matches that indicate the relative of a suspect.
About a month ago, a familial match led detectives to a man who had previously been arrested on suspicion of domestic violence assault. He appeared to be a close relative of the suspect in the 2011 killings. After ruling out other family members, investigators eventually began surveilling the man's son, Borjas.
When Borjas was seen spitting on the sidewalk, the opportunity for a DNA sample struck. What was collected turned out to be an exact match in Lozano's and Guzman's killings, police said.
Beck said he did not believe that Borjas' name had been mentioned in the murders until the DNA hit. Although no other related cases came up in state and national databases, the police chief said he hopes that anyone aware of Borjas' role in other crimes will come forward.
A rare DNA hit
This was the second successful case the agency has had with familial DNA, Beck said. The first was Lonnie Franklin Jr., known as the Grim Sleeper, who detectives believe killed at least 25 women and was sentenced to death last year.
Los Angeles Police Capt. William Hayes told The Times that Borjas was acquainted with Lozano and worked at an Eastside medical clinic that Guzman visited. Public records show that Borjas previously lived a few blocks from Lozano in Lincoln Heights.
In 2014, a judge granted Borjas' ex-girlfriend a domestic violence restraining order against him. The woman alleged in court documents that the 6-foot-1, 265-pound Borjas was physically abusive throughout their 2 ½ year relationship and that he broke her nose, choked her and pushed her down the stairs. She added that he would follow her and that she lived in fear.
The restraining order prohibits Borjas from coming within 100 yards of the woman, her home or workplace.
At his Tuesday arraignment, Borjas appeared in a blue button-down shirt and a neatly trimmed beard. He pleaded not guilty to two counts of murder, two counts of rape and one count of kidnapping. Because of the circumstances of the crimes, prosecutors said he is eligible for the death penalty.
Asking the court to set bail, defense attorney Aaron Spolin told the court that Borjas has a full-time job, a fiancee and is a father. However, Los Angeles County Superior Court Judge Mark Hanasono rejected the request, citing the protection of the public.
Spolin would not offer further details about his client, and Borjas' family members who appeared in court declined to comment.
Deputy Dist. Atty. Beth Silverman, who also prosecuted Franklin, would only say that the case against Borjas was based on DNA.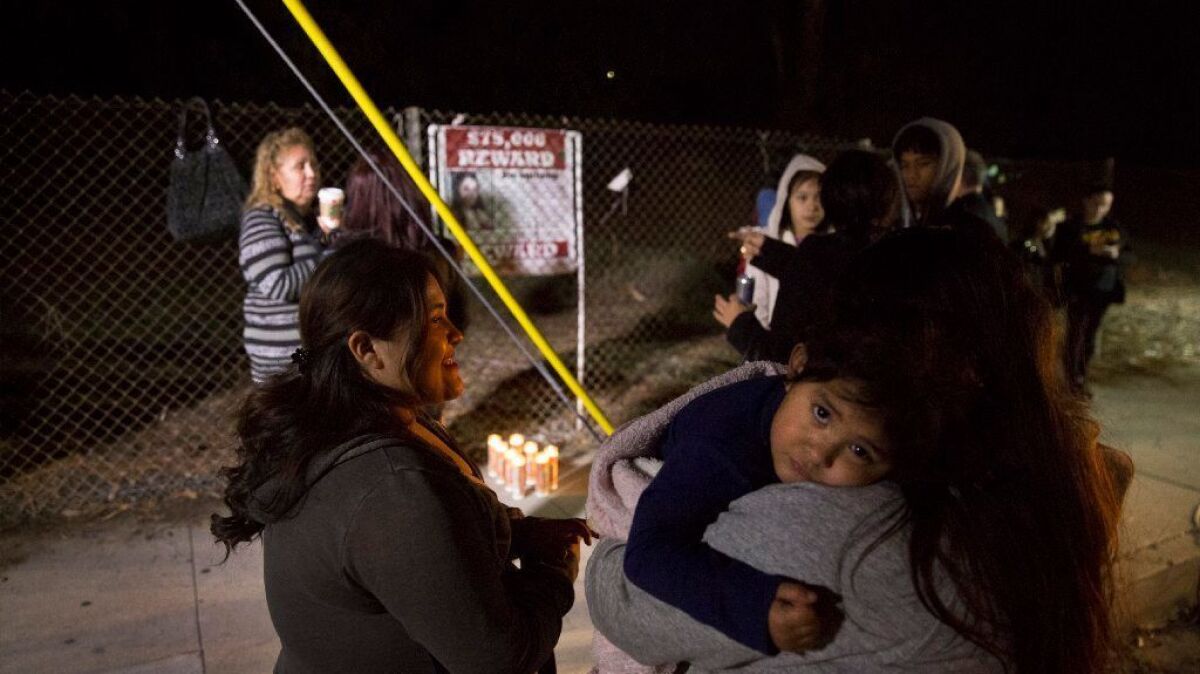 Two families' long wait for answers
On Tuesday, family and friends of the victims listened with emotion to statements about the case from the police chief and Mayor Eric Garcetti at LAPD headquarters.
Family members of Lozano declined to comment.
The Guzman family, who said they had never seen Borjas before, expressed gratitude to the LAPD for its efforts.
"All I wanted was to find somebody who hurt her," said the victim's mother, Darlene Guzman. "And we're there. We're there. I'm so happy. I'm overwhelmed with happiness. I mean, we'll never get her back, but he's arrested. He's arrested, and he won't hurt anybody. I won't know why – I'll never know why – but we're that much closer to closure."
Last week, she celebrated her daughter's birthday. Bree'Anna Guzman would have turned 28.
Her mother still remembers her saying she would return soon. That was on Dec. 26, 2011. Guzman said she wasn't feeling well and was going to head to the drugstore and do a quick meet-up with her boyfriend.
A month later, Guzman's body was found three miles away.
At the time, there was only speculation that the killing was related to Lozano's case.
A homeless person had notified police on April 25, 2011 about the body near State Street and Cesar Chavez Avenue.
Detectives concluded that Lozano had been wrapped in plastic bags and then shoved into a container. When the suspect dumped the container over a concrete barrier along the freeway, it cracked open, leaving Lozano's body among the brush.
Twitter: @LAcrimes
Twitter: @corinaknoll
Twitter: @JosephSerna
Nicole Santa Cruz contributed to this report.
MORE LOCAL NEWS
LAPD searching for missing teenage girl last seen in Boyle Heights
5 Inglewood officers who killed couple in parked car are now off police force
L.A. law enforcement on high alert after street gangs threaten officers
Deputies' union asks L.A. County sheriff to publish additional data on use of force
---
The stories shaping California
Get up to speed with our Essential California newsletter, sent six days a week.
You may occasionally receive promotional content from the Los Angeles Times.