Sam Iacobellis, Rockwell exec who led ambitious Cold War-era rollout of B-1 bombers, dies at 87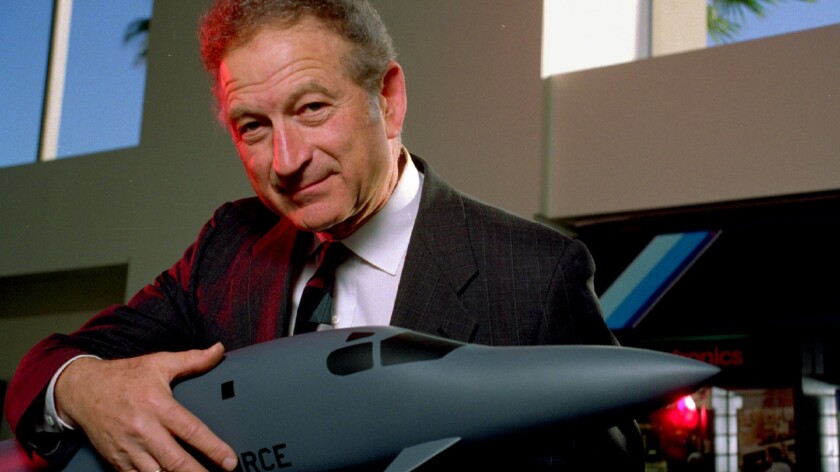 When President Reagan ordered 100 B-1 bombers built as fast as possible in the early 1980s to challenge the Soviet Union, he handed one of the toughest manufacturing assignments of the Cold War to a little-known engineer, Sam Iacobellis.
Iacobellis, a gregarious, charming and energetic manager, sweated six or seven days a week over every detail of the manufacturing program. In just six years, Rockwell International delivered 100 of the bombers below budget and on schedule, playing a key role in Reagan's plan to bankrupt the Soviets with a military buildup they could not match.
Iacobellis died Saturday at 87 from complications of a stroke, said his son, Sam Iacobellis Jr., a research scientist at UC San Diego.
"Sam was an icon of the aerospace industry," said Donald Beall, former Rockwell chairman. "He was so flexible, running our rocket engine business, our aircraft unit and even our division in Thousand Oaks that worked on cleaning sulfur from flue gases. But he was best known for the B-1."
Sam was the hardest-working, most dedicated company man I have ever known.
James McDivitt, Apollo and Gemini astronaut
The B-1 was among the most controversial weapons systems of the Cold War, derided by critics as a flying Edsel. It was first proposed by Richard Nixon in 1970 and then later cancelled by Jimmy Carter, only to be revived in 1981 amid high-stakes political battles.
War protesters tried to throw themselves under the plane's wheels during its ceremonial rollout.
Though the bomber was criticized at home, Russians were in awe of the B-1, designed to fly a few hundred feet off the ground near the speed of sound, and were unable to duplicate its capabilities, said Robert Cattoi, former chief engineer at Rockwell.
"A group of us from Rockwell were in Krasnoyarsk [Russia], having dinner with some of their astronauts and Air Force generals, when one of them asked me, 'Do you know Sam Iacobellis? If you see him, tell him he was far more responsible for ending the Cold War than he might realize. We didn't have the resources to match it,'" Cattoi said. "It was the straw that broke the camel's back."
To meet Reagan's plan, Iacobellis had to build an entire new assembly complex in Palmdale, create a supply network that extended to nearly every state and create a trained workforce of 40,000 within less than two years. It was the kind of buildup that typically would take an aerospace firm more than a decade to execute.
We worked like we were on the front line of the Cold War.
Sam Iacobellis, in 2001 interview
"We felt this was a national emergency program," Iacobellis said in a 2001 interview with The Times. "We worked like we were on the front line of the Cold War."
But the aircraft also was marred by problems with its electronic warfare system, a part supplied by the Air Force under a separate contract. The glitches were eventually fixed but dogged the B-1's reputation. And just as the B-1 entered service, Northrop Grumman was developing the B-2 stealth bomber, providing a new capability to evade enemy radar.
Iacobellis never shied away from defending his airplane. When critics said the bomber was slow and unable to carry a large payload, he took a page out of the playbook of Howard Hughes. He set up an acceptance flight for the Air Force that set 18 world speed records, carrying 66,900 pounds over a 1,242-mile course from Palmdale over the Pacific.
"This should communicate to the public that they got their money's worth in the B-1," he said afterward.
By the time he retired from Rockwell, Iacobellis was one of three chief operating officers, in charge of the company's rocket engines, aircraft and spacecraft operations, including the space shuttle program.
"Sam was the hardest-working, most dedicated company man I have ever known," said James McDivitt, the former Apollo and Gemini astronaut who worked closely with Iacobellis at Rockwell.
Iacobellis was born in 1929 in Fresno, the son of Italian immigrants. He graduated from Cal State Fresno, playing an end on the college's football team on his way to a degree in mechanical engineering. He joined North American Aviation, which Rockwell later acquired, starting as a draftsman. He later received a master's degree in engineering from UCLA and became an ardent Bruins football fan.
"He was very outgoing and gregarious," said his son. "We would go out to dinner and he would talk to the waitress."
Iacobellis is survived by his wife, Helene, his son, daughter Lee Ann Schantz and sister Anna Saladino.
---
For reporting and exclusive analysis from bureau chief John Myers, get our California Politics newsletter.
You may occasionally receive promotional content from the Los Angeles Times.