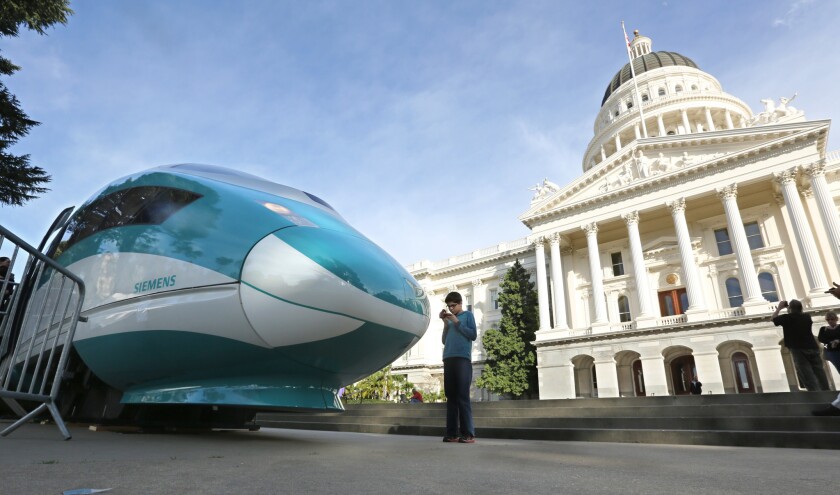 An Assembly Transportation Committee oversight hearing Monday on California's bullet train plan is expected to focus closely on shortfalls in funding to build the entire system.
The state's rail authority released a business plan last month, which proposed building the high-speed rail project's initial segment from San Jose to the Central Valley for $21 billion. While the rail authority can point to possible sources of funding to complete that segment, the plan did not address where the additional $43.5 billion needed to complete the 500-mile system from San Francisco to Los Angeles and Anaheim would come from.
Interested in the stories shaping California? Sign up for the free Essential California newsletter >>
The state's legislative analyst's office criticized the failure to address that funding gap. The rail authority's proposal also was rejected by Hasan Ikhrata, executive director of the Southern California Assn. of Governments -- a key player in representing local governments at the rail agency. Both the legislative analyst and Ikhrata will be witnesses at Monday's hearing.
The rail authority chairman, Dan Richard, said the proposal was a game changer because, for the first time, the agency has put forth a plan showing it can build a partial operating system with existing funds. Richard argued that the existing funding largely developed unexpectedly and future additional funding will evolve in the same way.
The Assembly committee is not expected to make any immediate decisions.
The next legislative action potentially would involve the rail authority's request to continue receiving a share of greenhouse gas fees beyond 2020.
The project can move along -- constructing about 118 miles of track in the Central Valley -- by virtue of its current access to greenhouse gas fees and $3.2 billion in federal grants, as well as several billion dollars in bonds that were approved by voters in 2008.
ALSO
Doubts about bullet train rising in Southern California
Fire at abandoned South L.A. church being investigated as possible arson
California's $15 minimum wage gamble brings risks and potential rewards
---