State will unveil specifics on drought water cuts soon
Beverly Hills will have to cut water use to comply with Gov. Jerry Brown's drought order.
(Mel Melcon / Los Angeles Times)
A gardener waters the front lawn of a home in Beverly Hills.
(Mel Melcon / Los Angeles Times)
A sign welcomes visitors to Newport Beach.
(Mark Boster / Los Angeles Times)
Newport Beach is one of the heaviest per-capita water using cities in the state.
(Mark Boster / Los Angeles Times)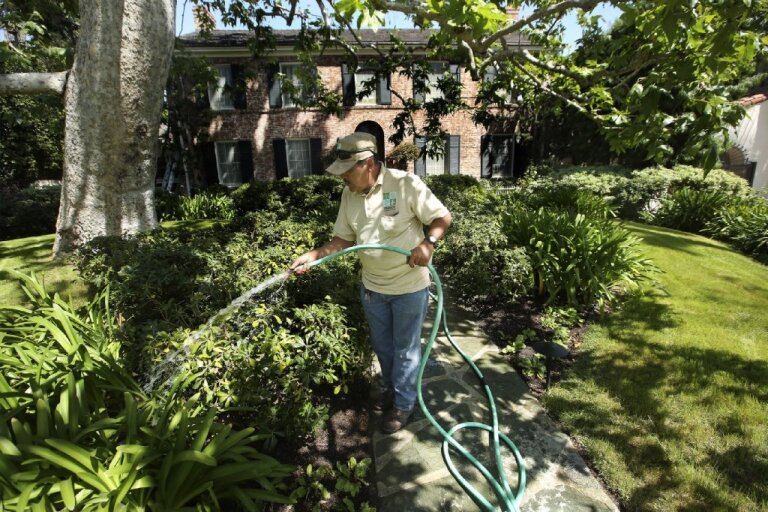 A landscaper waters the yard of a Beverly Hills home this week. Gov. Jerry Brown issued an executive order mandating that urban areas cut water use 25% by the end of February 2016.
(Mel Melcon / Los Angeles Times)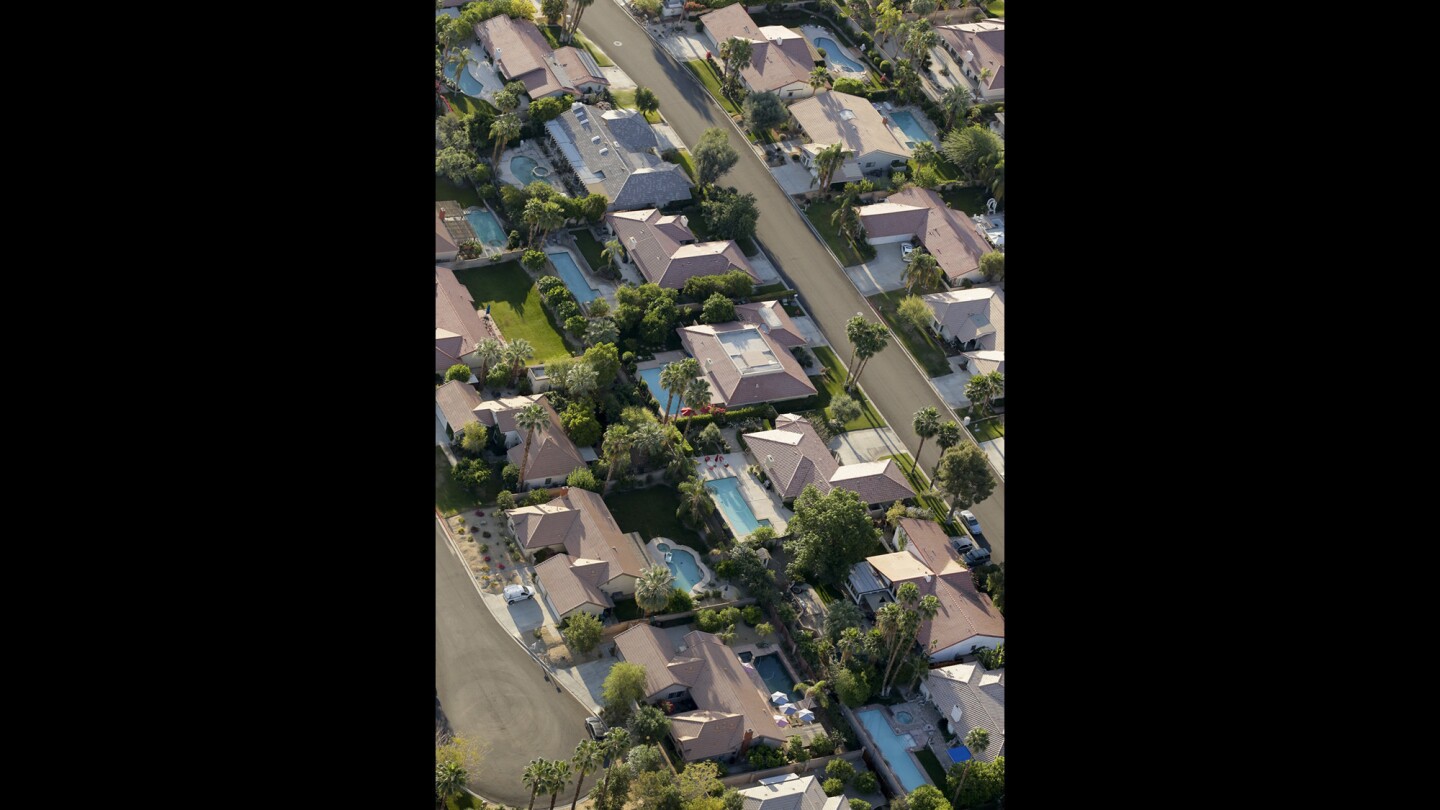 Homes with swimming pool line the streets of this neighborhood in Palm Springs.
(Chris Carlson / Associated Press )
A bicyclist rides by a Long Beach home that features drought tolerant plants.
(Genaro Molina / Los Angeles Times)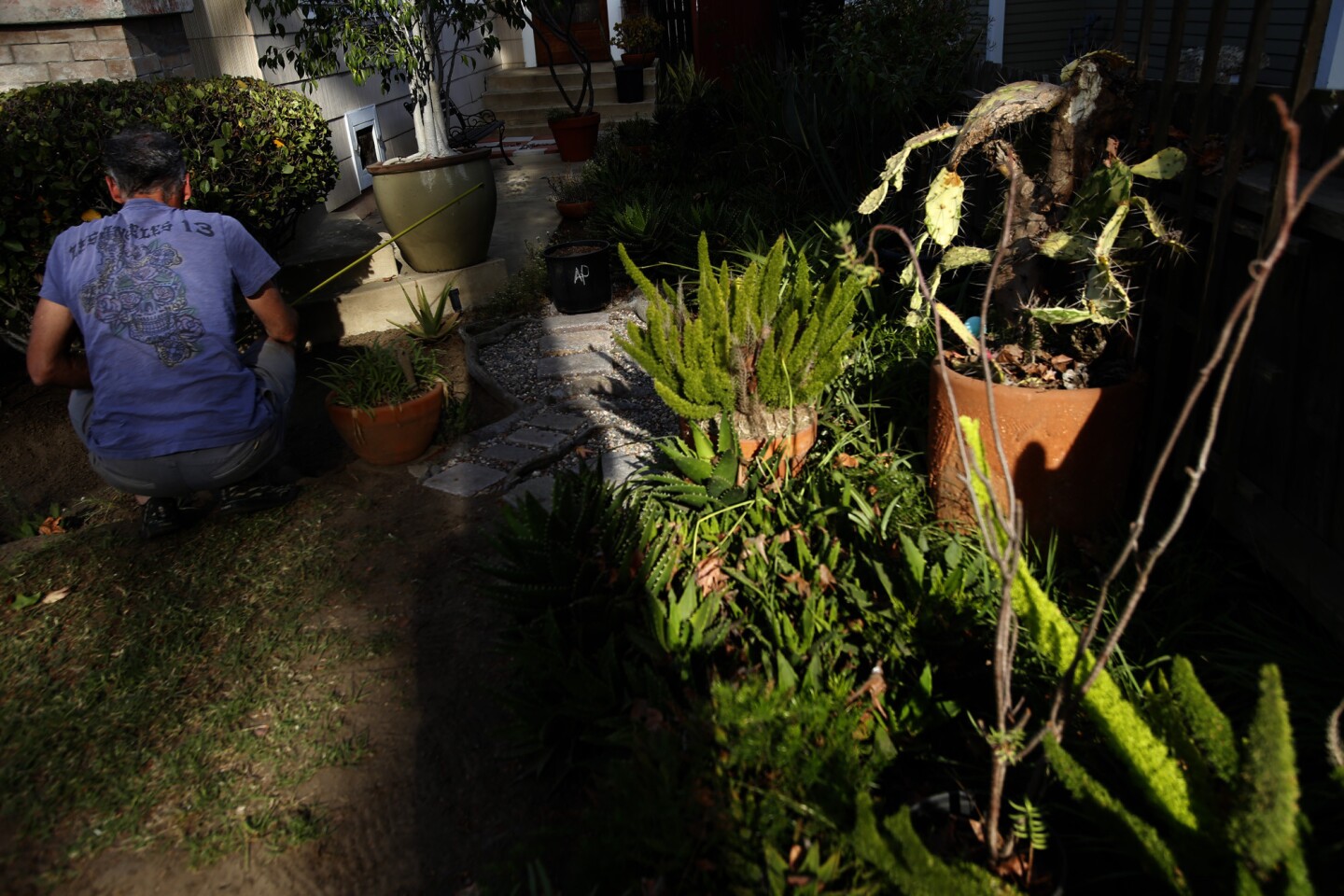 A Long Beach homeowner works in his frontyard alongside drought tolerant plants.
(Genaro Molina / Los Angeles Times)
The State Water Resources Control Board hopes to announce a preliminary framework by Tuesday that will outline how it plans to implement the historic mandatory water restrictions Gov. Jerry Brown ordered last week.
The framework will detail how the state plans to achieve the 25% water-use cut Brown ordered and will explain the consequences for agencies that fail to meet the targets.
"We will be soliciting feedback," said Max Gomberg, a senior scientist with the water board, who declined to comment further.
Gomberg previously said that local water districts would probably be grouped based on residential per-capita water use. The groups would receive a target percentage of water production they must reduce compared with 2013 usage.
Groups with residents that are using the most per capita would be expected to cut their overall water production the most — perhaps even more than 25%, Gomberg said. Groups using the least amount per capita might be asked to cut less than 25%.
To ensure local water districts meet their targets, state officials can issue "cease and desist" orders to the agencies that explain specific actions that must be taken to conserve, Gomberg said.
If that doesn't work, the board can fine an agency up to $10,000 a day for non-compliance — "the ultimate remedy," Gomberg said.
"The governor has directed us with an executive order to do this, so we are going to make sure we use every tool available to use to make sure we hit that 25%," he said in an earlier interview.
Release of the framework is expected shortly before the water board shares its February water use data on Tuesday. After several months of increased conservation, levels declined in January as temperatures increased.
In the face of waning conservation figures, some local water agencies have stepped up enforcement of their water restrictions, writing citations and even issuing fines.
"This is the worst [drought] we've ever had to deal with," Gomberg said. "There are going to have to be very significant cutbacks in outdoor water use across the state — for everyone, residents, businesses, institutions. For some people, that's going to require big time changes."
For more California drought coverage, follow @ByMattStevens.
---
The stories shaping California
Get up to speed with our Essential California newsletter, sent six days a week.
You may occasionally receive promotional content from the Los Angeles Times.