City Council members seek to label L.A. a 'sanctuary' for immigrants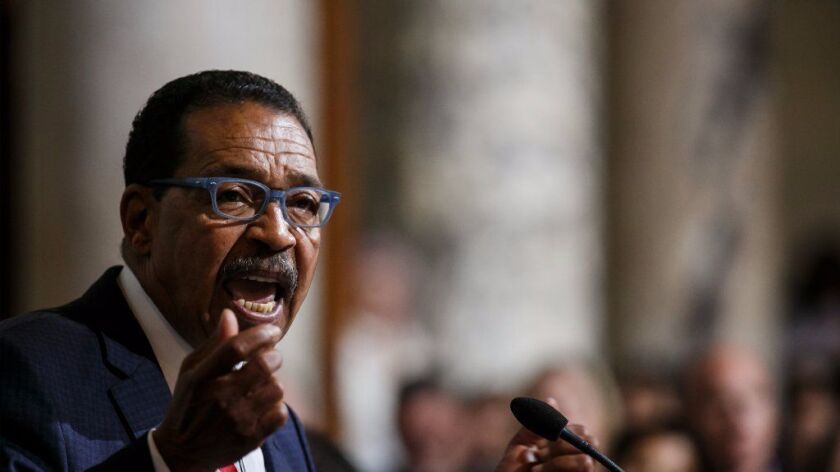 Los Angeles city leaders will push Friday to declare the city a "sanctuary" for immigrants, a move that comes after some lawmakers resisted formally using the term despite pressure from local immigration groups.
City Council members Herb Wesson and Gil Cedillo plan to unveil a resolution Friday that would formally label Los Angeles either a "city of sanctuary" or a "sanctuary city."
Wesson and Cedillo say they want stronger protections for immigrants after President Trump's decision this week to scrap the
Deferred Action for Childhood Arrivals program. DACA, put in place by President Obama, shields young people who were brought into the country illegally as minors from deportation.
A study by the nonpartisan Migration Policy Institute found that 1 in 4 DACA participants lives in California.
A discussion on which phrase to use will take place at Friday's meeting, Wesson said.
"We'll find out which term is preferable," Wesson said Thursday. "Is it 'city of sanctuary,' which is what I personally like? But I don't know. I haven't had a conversation with the other members."
Peter Schey, the city's pro bono advocate and legal advisor on immigration issues, released a report Thursday that recommends making the city a "Dreamer Arrest-Free Zone."
The report suggests Los Angeles could help reduce deportation of immigrants who benefit from the Obama-era protections, often called "Dreamers," by ensuring that they have "representation letters" written by attorneys that spell out their legal rights. A person with DACA status would present the letter during any contact with U.S. Immigration and Customs Enforcement agents, the report says.
The report also recommends that the city provide funding and resources so those individuals detained by ICE are assured legal representation. It also suggests creating a local "Human Rights Ordinance" to ensure that immigrants' legal rights are protected.
The report does not estimate a cost to the city for such services.
Tessie Borden, a member of progressive group Indivisible Highland Park, said she wants the city to provide more protections for immigrants, and is less concerned about the sanctuary label.
Special Order 40, which bars LAPD officers from contacting someone solely to determine their immigration status, doesn't go far enough in protecting immigrants, Borden said.
"We want no cooperation between local law enforcement and ICE over immigration," Borden said. "We want no sharing of information."
Mayor Eric Garcetti, a forceful immigrant rights advocate in Los Angeles, has resisted using the phrase "sanctuary city" because he says it doesn't accurately describe the city's policies.
Wesson said he hasn't talked to the mayor about the term. Asked for Garcetti's reaction to the council members' resolution, mayoral spokesman Alex Comisar said, "L.A. is a national leader in protecting our immigrant communities," but he did not address the proposed sanctuary label.
There is no neat definition of a sanctuary city, but in general, cities that use the name seek to offer political support or practical protections to people who are in the country illegally.
For some cities, the sanctuary movement consists simply of encouraging people without legal status to get more involved in government.
Other places, including San Francisco, adopt far-reaching policies, such as taking steps to cut ties with federal immigration officials and refusing to fully cooperate with them.
San Francisco declared itself a sanctuary city in 1989, and city officials strengthened the stance in 2013 with its "Due Process for All" ordinance. The law declared local authorities could not hold immigrants for immigration officials if they had no violent felonies on their records and did not currently face charges.
The Republican Party of Los Angeles County said in a statement that it is "disappointed" that the council is considering the sanctuary label.
"While we have compassion for all hard working residents in our community, as a party we believe in following the law," the statement said, "and thus cannot support the idea of sanctuary cities especially when some major crimes against our citizens are committed by those who are in our country illegally."
California officials last month sued the Trump administration, alleging federal threats to withhold funding from sanctuary cities are unconstitutional and violate the rights of residents. In his report, Schey writes that Trump's threat to penalize sanctuary cities has "no basis in law and is primarily intended to dazzle his base and intimidate local officials."
Twitter: @dakotacdsmith
---
UPDATES:
6:40 p.m.: This article was updated with additional reaction and background.
This article was originally published at 4:25 p.m.
---
The stories shaping California
Get up to speed with our Essential California newsletter, sent six days a week.
You may occasionally receive promotional content from the Los Angeles Times.