L.A. federal judge orders a temporary halt to part of Trump's travel ban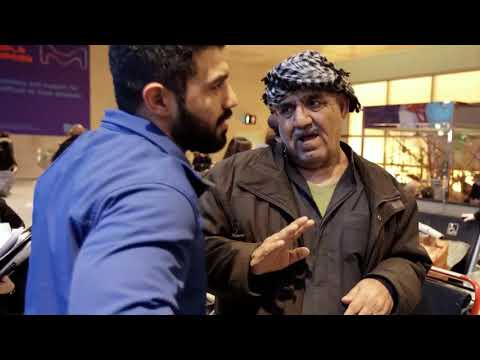 Trump's 90-day ban affects U.S. entries from seven Muslim-majority countries.
A federal judge in Los Angeles has added another legal ruling against President Trump's controversial suspension of travel from a group of predominantly Muslim countries, issuing an emergency order that forbids government officials from enforcing many of the new rules.
Using sweeping, unambiguous language, U.S. District Judge Andre Birotte Jr. on Tuesday night granted a temporary restraining order against the executive order Trump signed late last week.
Read the judge's temporary restraining order »
Birotte's ruling came in a case hastily filed Tuesday on behalf of 28 Yemeni-born people. The group consists of United States citizens living here and family members who remained behind in Yemen but had received immigrant visas to come to the U.S., according to court filings.
Finding that the plaintiffs stand a good chance of prevailing when the case is heard in court and are "likely to suffer irreparable harm" if he didn't act, Birotte instructed that the plaintiffs be allowed entry into the U.S.
Birotte, however, went further, granting a request from the plaintiffs' lawyers that his ruling be applied to anyone trying to enter the U.S. on a valid immigrant visa from the seven countries included in Trump's ban.
The executive order, which Trump has said will better protect the country against terrorist attacks, blocks citizens from Iran, Iraq, Libya, Somalia, Sudan, Syria and Yemen from coming to the U.S. for at least 90 days. It also imposes a ban for 120 days on refugees from any country entering the U.S. and bars refugees from Syria indefinitely.
Critics of the ban have expressed concern it will do little to improve security while alienating Muslims.
Birotte's order did not address people trying to enter the country as refugees or on non-immigrant visas, such as tourists or students.
The president's order, which a recent poll showed is supported by about half of Americans, was issued on Friday and was met with angry protests and confusion at several U.S. airports as border control officers refused entry to hundreds of people and detained others for long periods as they scrambled to understand the scope of the new rules.
Whether Birotte's order will have any impact is an open question. A handful of federal judges elsewhere in the country have already issued rulings that blocked aspects of the executive order, but it is unclear whether they have been followed. In one of the rulings, a judge in New York on Saturday ordered a halt to deportations of travelers who arrived at airports with valid visas to enter the U.S. Despite that order, however, reports surfaced in Los Angeles and elsewhere of people being turned back.
Notably, in his ruling, Birotte forbade federal officials from "removing, detaining, or blocking the entry" of affected travelers or "cancelling validly obtained and issued immigrant visas of plaintiffs." The wording would seem to mean that government officials would not be allowed to continue the practice of instructing airlines and border officials in other countries to stop immigrants from the affected countries from boarding planes bound for the U.S.
The judge's language also seemed to pose a direct challenge to a decision by a U.S. State Department official on Friday to provisionally revoke valid immigration visas granted to people from countries named in the executive order. A copy of an internal State Department cable announcing the revocation was obtained by The Times.
In making their case to Birotte, attorneys for the Yemeni families in the current case argued Trump's order improperly targets Muslims based on their religion, calling the efforts to ban immigrants "illegal discriminatory actions motivated by religious animus." They argued in court papers the executive order violates various tenets of the Constitution, including the plaintiffs' right to due process.
Trump administration officials have defended their actions. Newly sworn-in Homeland Security Secretary John F. Kelly said earlier this week that the new restrictions target some countries that "are in various states of collapse" and have poor record-keeping or unreliable police forces that undermine U.S. border officials' efforts to determine travelers' identities and criminal histories.
Calls to the Department of Justice were not returned Wednesday.
Daniel A. Covarrubias-Klein, one of the attorneys in the Los Angeles case, said he had received secondhand reports from people in Djibouti that, after Birotte's order, some of the families in the case had inquired with airlines about purchasing tickets for the U.S. and had been told they would not be permitted to do so.
The case involves several Yemeni families, in which some members had already immigrated to the U.S. while their spouses and children remained in Yemen, according to court filings. Those who stayed behind eventually began the immigrant application process to rejoin their relatives in the U.S.
The family members trying to reach the U.S. had begun their journey before Trump signed the executive order, the lawsuit said. They left Yemen, a country mired in a bloody civil war, and made their way to the nearby country of Djibouti, where they received their visas after completing the U.S.'s vetting process.
In making a case for why Birotte should intervene, lawyers for the group cited the dangers the ongoing civil war posed to the women and children if they returned to Yemen and added that the families could no longer afford the costs of living in Djibouti.
Birotte instructed government officials to file written arguments in the coming days and appear at a Feb. 10 hearing.
Times staff writer Brian Bennett contributed to this report.
For more news on federal courts in Southern California, follow me on Twitter: @joelrubin
ALSO
For victims of San Bernardino terrorist attack, conflicting views about Trump policy in their name
San Francisco sues Trump over executive order targeting sanctuary cities
Spurred by Trump's immigration crackdown, L.A. City Council moves to decriminalize street vending
---
UPDATES:
4:45 p.m.: This article was updated with more background about the plaintiffs' arguments and the Trump administration's defense of the executive orders.
3:40 pm.: This article was updated with additional background about the case and details about a U.S. State Department directive.
1:25 p.m.: This article was updated with the detail that the judge's order applies only to people with immigrant visas.
This article was originally published at 12:55 p.m.
Sign up for Essential California for news, features and recommendations from the L.A. Times and beyond in your inbox six days a week.
You may occasionally receive promotional content from the Los Angeles Times.