Filner, out as mayor, still faces criminal investigation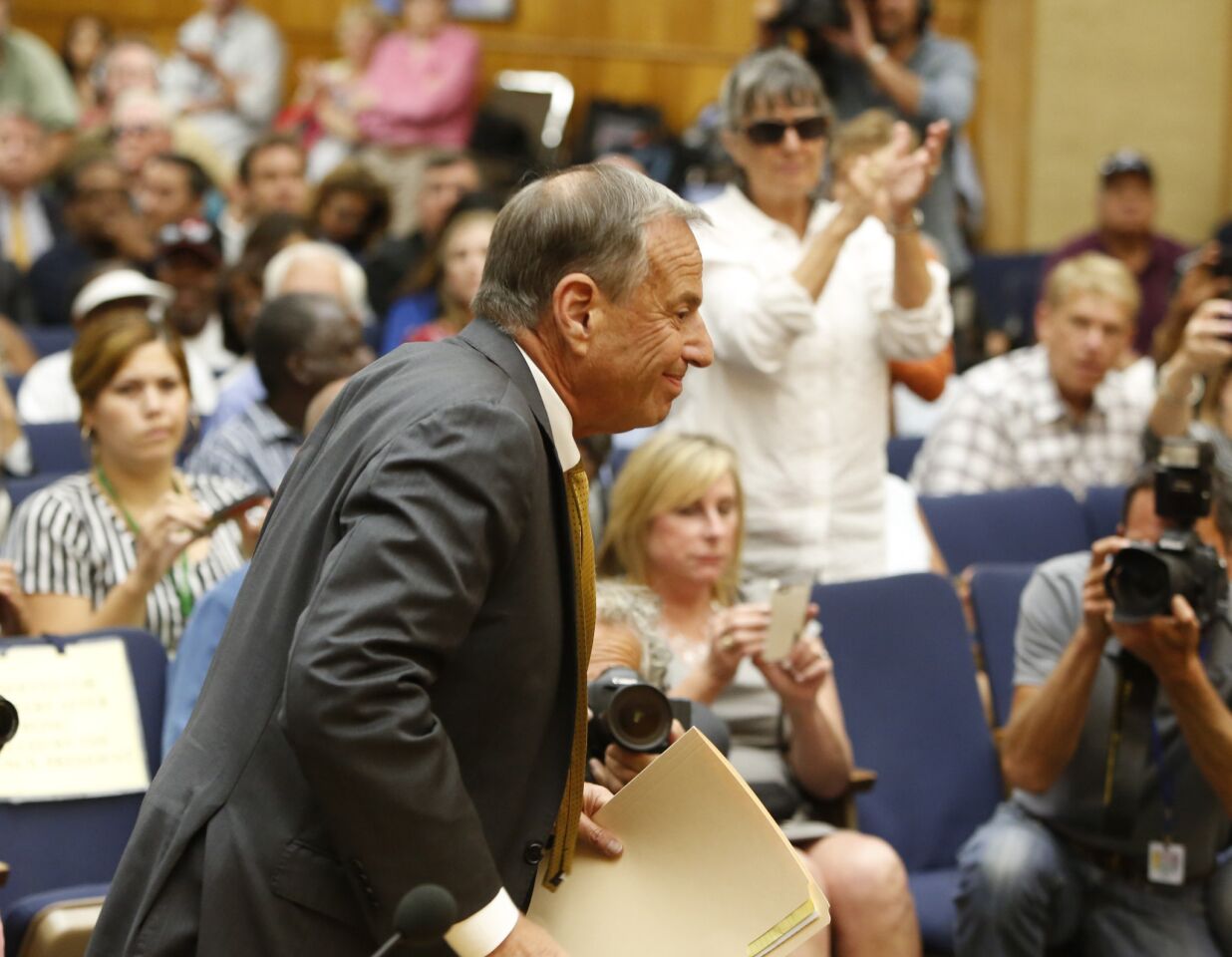 Bob Filner enters the San Diego council chambers to announce that he is resigning as mayor as his supporters applaud in the background. He was publicly accused of sexual harassment by many women.
(Don Bartletti / Los Angeles Times)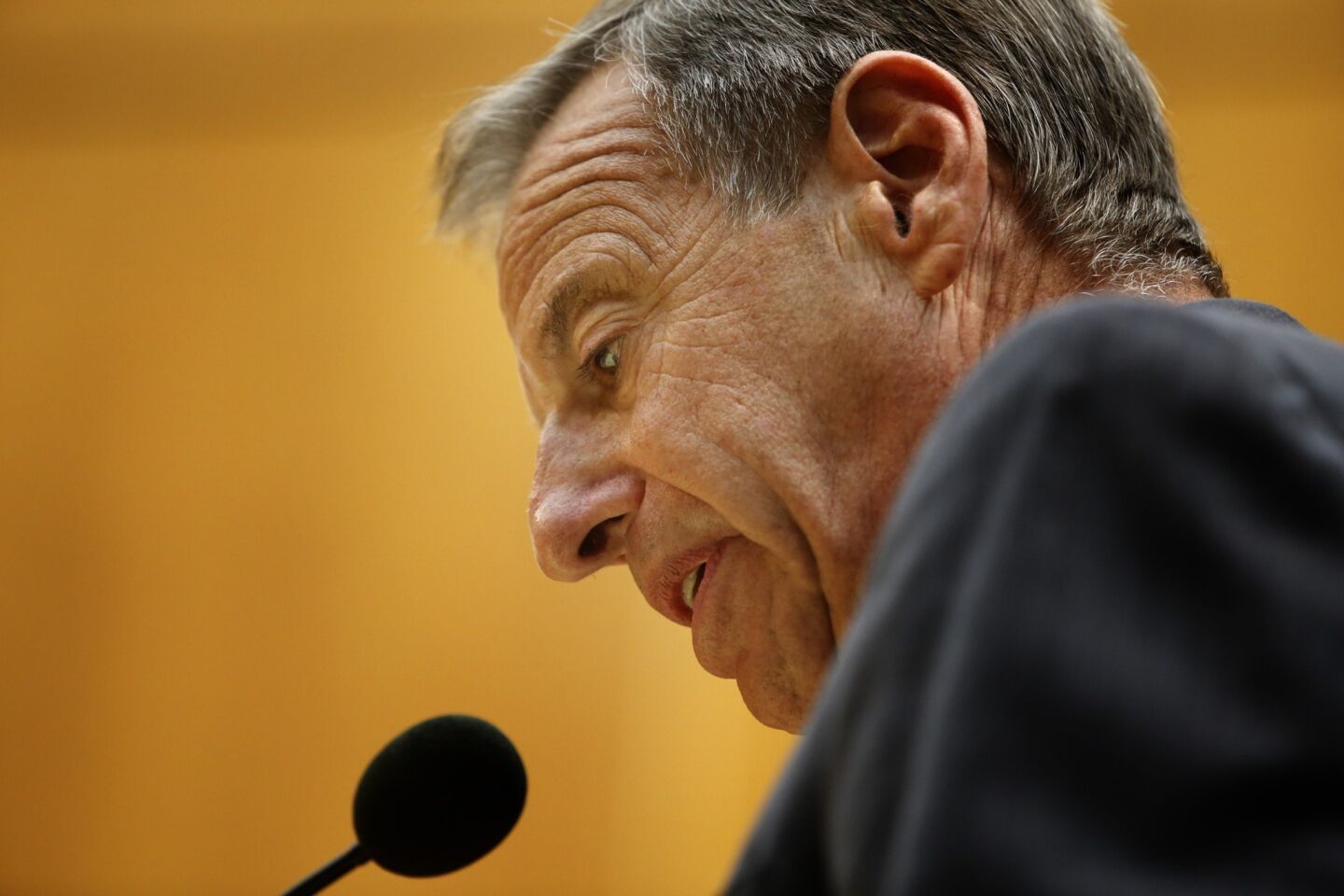 In the San Diego City Council chambers Bob Filner announces he is resigning as mayor.
(Don Bartletti / Los Angeles Times)
As Bob Filner addresses the City Council, the official San Diego city statement is projected on a screen.
(Don Bartletti / Los Angeles Times)
San Diego City Council President Todd Gloria, right, listens to public comment about Mayor Bob Filner during a special meeting in the council chambers. Later in the afternoon, Filner appeared and announced his resignation, with Gloria appointed interim mayor.
(Don Bartletti / Los Angeles Times)
SAN DIEGO -- Bob Filner ended his controversial run as mayor Friday, but his legal problems persist.
The state attorney general and San Diego County Sheriff's Department are conducting a criminal investigation into Filner's conduct toward women, with charges of assault possible. The Sheriff's Department has a hotline to field accusations against Filner.
The City Council is also set to investigate Filner's use of a city credit card, as well as a trip to Paris in which two San Diego police officers went as a security detail.
At 5:01 p.m. Friday, City Council President Todd Gloria, a fellow Democrat, became acting mayor until Filner's successor is chosen in a special election.
Filner, 70, who became mayor amid bold promises of a "progressive agenda" that included better neighborhood services and a greater voice for lower-income residents, was nowhere to be seen on his last day as mayor.
His picture and nameplate were taken down without fanfare by midday. His chief of staff left by a back entrance to avoid reporters.
In what may be Filner's last act as mayor, he authorized a stop-work order Thursday to block expansion of a Jack in the Box restaurant in North Park, a project opposed by neighbors. As his first official act as acting mayor, Gloria overturned Filner's order.
Gloria will spend his first weekend as acting mayor in what could be called true San Diego style: attending the U.S. Sand Sculpting Challenge on the Broadway Pier, attending a Padres game during which labor unions will be honored, and then touring beach areas with the lifeguard chief.
Gloria, 35, a history and political science graduate of the University of San Diego, is a former member of the San Diego Housing Commission and former chairman of the San Diego LGBT Community Center.
In the deal for Filner's resignation, the City Council agreed a week ago to pay for his defense against a sexual harassment lawsuit brought by Irene McCormack Jackson, Filner's former director of communications and one of a succession of women who have accused the mayor of misconduct.
Under the deal, the city will also pay Filner's share of any compensatory damages assessed by a court or in a settlement.
Gloria and other council members were in a mood to be low-key Friday in their comments about Filner's departure, but Los Angeles attorney Gloria Allred was not. At a morning news conference, she said she has three resignation "gifts" for Filner.
The first gift, she said, is a wallet-size laminated card providing the legal definition of sexual harassment. Filner should consult the card whenever he approaches a woman, Allred said.
The second gift is a mirror, so Filner can look at the person most responsible for his disgraceful exit as mayor of San Diego.
And the third, Allred said, is a card with the salutation, "I look forward to seeing you soon in deposition."
The lawsuit Allred filed on behalf of Jackson is still under mediation, she said.
Jackson was the first of 19 women to go public with allegations of sexual harassment against Filner.
With Filner gone, Jackson will resume her job as director of communications for the acting mayor. And with the mayor's job now officially vacant, Sept. 6 is the first day for candidates to register with the city clerk.
ALSO:
Gloria Allred has resignation 'gifts' for Bob Filner
Porn actress' positive HIV test spurs state investigation
Matt Romney, Mitt's son, decides not to run for mayor of San Diego
---
Life is stressful. Our weekly mental wellness newsletter can help.
You may occasionally receive promotional content from the Los Angeles Times.