L.A. firefighter files discrimination suit, saying his equipment was smeared with feces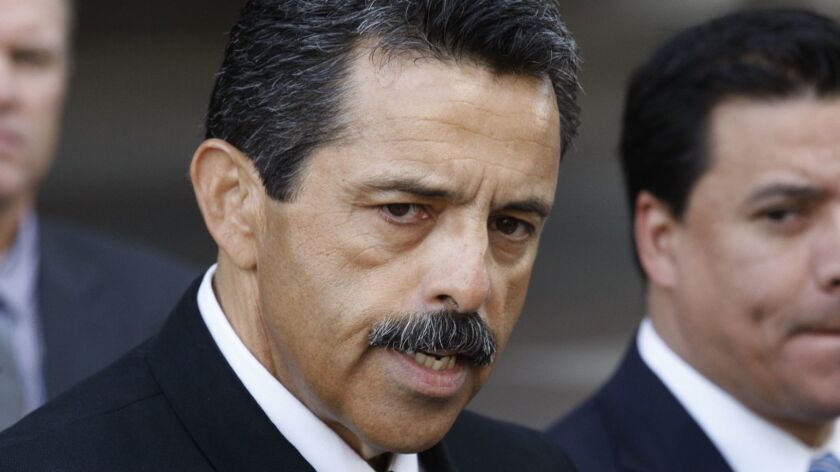 An African American firefighter filed a lawsuit against the city on Monday, alleging he repeatedly faced discrimination and retaliation while working at a fire station in South Los Angeles.
Emanuel Brown, a 10-year employee, said the mistreatment began Easter Sunday in 2017, when he found feces in a compartment where he stored his jacket and breathing apparatus. The department has had a history of incidents of fecal matter being used in the harassment of black firefighters, he said in his lawsuit.
Brown, 40, discussed the incident with his colleagues and reported it to a captain outside his station, which triggered an internal personnel complaint, according to his filing. Several months later, Brown informed his colleagues he planned to discuss his situation with The Times.
All three actions resulted in harassment and retaliation from Brown's coworkers, said Matthew McNicholas, Brown's attorney.
In one incident, a firefighter called him a slur used against gay men, the lawsuit states. In another, a colleague taunted him and called him a "chocolate piece of [expletive]," the lawsuit states.
McNicholas said his client's experiences show that some strands of "deep-seated racial animus have yet to be rooted out of the department." The case also demonstrates there is an "institutional dislike" within the agency for firefighters who report employee misconduct, he said.
Peter Sanders, a spokesman for the Fire Department, said the agency does not discuss pending litigation.
Rob Wilcox, a spokesman for City Atty. Mike Feuer, said Feuer's office would review the complaint and had no further comment.
Brown's filing comes six months after Fire Chief Ralph Terrazas issued a letter saying the department had experienced a series of "divisive" workplace incidents. In one instance, he said, firefighters from different ethnic backgrounds had a "near physical altercation" after someone showed up late to work.
On another occasion, an internal investigation received reports of "a perceived lack of sensitivity" toward nonwhite firefighters, the chief said.
McNicholas, Brown's lawyer, is also representing five black firefighters and two Latino firefighters in a separate case against the city. In that lawsuit, the plaintiffs said they had been "systematically looked down upon" because of their race, gender or association with black firefighters.
Brown was hired in 2008 and earns $97,219 annually, according to a spokesman in the city's personnel department.
In March, the Fire Department formally closed its investigation into the fecal matter incident, citing insufficient evidence. By then, Brown had filed a second complaint, saying he was being subjected to harassment, retaliation and race-based discrimination for having reported misconduct.
One fellow firefighter harassed Brown by making cork-popping noises whenever he walked in the room, the lawsuit states. Another mentioned the importance of having a living trust — a statement that, according to Brown, implied that "his death was likely."
During a drill, another firefighter "mentioned that someone may die" as a result of the training exercise, the lawsuit states. Brown described that statement as part of a larger effort to intimidate him.
That same month, Brown said, a coworker mocked him by asking how much sugar he would be putting in his coffee. The coworker, he said, was insinuating that Brown was "soft and weak."
Brown said in his lawsuit that his experiences had caused him to suffer physical, mental and emotional injuries, as well as lost wages and earning capacity. He said his damages are in excess of $25,000.
Twitter: @DavidZahniser
---
The stories shaping California
Get up to speed with our Essential California newsletter, sent six days a week.
You may occasionally receive promotional content from the Los Angeles Times.