Garcetti says he would consider expanding rent control in L.A.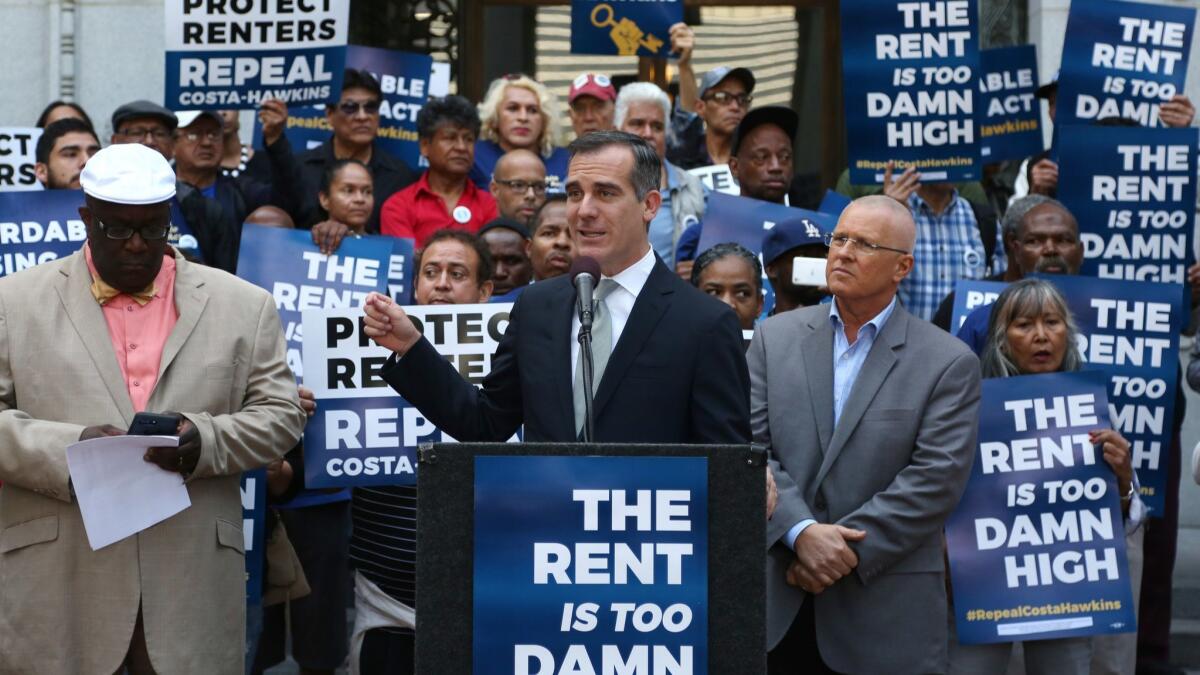 Mayor Eric Garcetti said Monday he would "absolutely" consider extending rent restrictions in Los Angeles to cover newly built apartments if California voters repeal a state law that prohibits it.
Garcetti joined tenant and community activists at a news conference outside City Hall to back a proposed ballot initiative that would roll back the Costa-Hawkins Rental Housing Act, which bans cities and counties from capping rent increases on apartments built after 1995.
In cities like Los Angeles, which already had rent control when the law was passed, the restrictions apply to buildings constructed years earlier.
Repealing the state law would allow local governments to impose rent control on newer buildings, a longtime goal of tenant groups.
In L.A., "rent stabilization" rules limit how much landlords can increase rent annually on tenants living in apartments built before October 1978. Landlords face no limits, however, on how much they can raise the rent once an apartment is vacated.
Garcetti told reporters that it "seems to be unjust" that tenants in newer buildings do not have the same protection from hefty rent increases.
"It's like winning the lottery," Garcetti said. "If you happen to find a place, and it was built from 1978 or before, you can expect — even though you might have high rents today — that [the rent] won't go up by double digits. If you're not lucky to win that lottery and it's something built in 1979, you do face zero protections."
Soaring rents and rising home prices have left many Angelenos uneasy about their future. A recent UCLA survey found that young adults in Los Angeles County are especially anxious about the cost of housing.
And Garcetti, who has been flirting with a campaign for president, has faced searing criticism from activists who say he needs to make good on his progressive rhetoric about making sure that no one is left behind as L.A. rebounds from its last recession.
Business groups chafed at his remarks Monday, arguing that they would undermine that cause.
Beverly Kenworthy of the California Apartment Assn. said that imposing limits on rents in newly built apartments would make it much harder for residential projects to pencil out financially, undermining Garcetti's goal of approving 100,000 new units by 2021.
"The mayor would essentially be sabotaging his own housing goals," said Kenworthy, vice president of the association's Los Angeles office. Even his remarks, she said, could have a chilling effect among developers eyeing the city.
Garcetti did not provide further details about what changes he would support, saying that the city would need to analyze any effort to impose new limits on rent hikes in buildings constructed over the last 40 years.
City Councilman Mike Bonin, who also appeared at the news conference, said that L.A.'s rent stabilization ordinance is not working properly, but declined to say how he thinks the law should be changed.
"You're going to have to bring property owners together with renters and have a discussion," Bonin said. "It's way too early to be able to say, 'This is what I want to do.'"
Garcetti and Bonin appeared with backers of the ballot initiative as they announced they were turning in more than 588,000 signatures across the state to put the proposal to repeal Costa-Hawkins on the November ballot.
Activists with the Los Angeles Tenants Union, the Alliance of Californians for Community Empowerment, and the AIDS Healthcare Foundation argued at the Monday event that cities and counties should have greater power to help ease the housing crisis. Rents for vacant apartments in Los Angeles city have risen 34% over the last five years, according to the real estate website Zillow.
"The rents are too damn high and we need local control to solve the problem," Elena Popp, executive director of the Eviction Defense Network, said before a cheering crowd of supporters accompanied by a mariachi band.
Walt Senterfitt of the Los Angeles Tenants Union pointed to the battle over rent increases faced by mariachi musicians at a Boyle Heights building, which was built a few years too late to fall under rent stabilization restrictions. Senterfitt said renters had successfully struck a deal limiting rent increases at that building, but "it ought not to be so hard."
Eliminating Costa-Hawkins would also allow cities to prevent landlords from raising rents when units are vacated, something that a few cities including West Hollywood and Santa Monica did before the law passed.
Beyond the effort to repeal Costa-Hawkins, tenant advocates are pushing to put rent control on the ballot in several Southern California cities, including Santa Ana, Glendale, Inglewood, Long Beach and Pasadena.
Costa-Hawkins is firmly backed by apartment developers and landlords who argue that loosening the state restrictions would stunt new development because many investors wouldn't build new units if they knew their incomes could be artificially capped.
That, in turn, would worsen a housing crisis driven by inadequate supply and growing demand, they say.
"There is an undeniable desire to make housing more affordable, but expanding rent control will result in higher housing costs, less housing being built, and more people without a place to live," Stuart Waldman, president of the Valley Industry & Commerce Assn., said in a statement released Monday. "It will ultimately harm the very people it is trying to help."
This is not the first time tenant activists have tried to roll back the state law: In January, a state bill that would have repealed Costa-Hawkins failed in committee after a lengthy and heated debate.
If Californians scrap the state law and cities significantly expand rent control, it could reduce the construction of new housing and might decrease tax revenues for state and local governments, according to a report from the state legislative analyst. But the nonpartisan office cautioned that many of its effects remain unclear.
Garcetti has previously spoken out against Costa-Hawkins. But his appearance Monday put him in the unusual position of standing side-by-side with organizers from the AIDS Healthcare Foundation, which has sharply criticized him over housing and development issues.
Last year, the group bankrolled a controversial measure that would have restricted real estate development in Los Angeles, a proposal that was opposed by Garcetti and overwhelmingly defeated at the ballot box. More recently, the group and its president, Michael Weinstein, have held news conferences assailing Garcetti and other city leaders over their handling of the homelessness crisis.
Garcetti has touted his backing of Proposition HHH — a $1.2-billion bond that voters passed for new homeless housing — as well a new fee on development to fund affordable apartments, and progress building tens of thousands of housing units of all kinds. As of February, the city had permitted more than 73,000 out of the 100,000 units he aims to approve by 2021, according to his office.
Although questions remain about exactly what Garcetti might be willing to do to broaden rent control, his words Monday heartened some of his critics.
"As someone who doesn't hold back criticism about the mayor," said Sylvie Shain, a founding member of the Los Angeles Tenants Union, "for once we agree on something."
Times staff writer Andrew Khouri contributed to this report.
Twitter: @AlpertReyes
Twitter: @DavidZahniser
---
UPDATES:
6:15 p.m.: This article was updated with reaction and additional background.
This article was originally published at 1:15 p.m.
Sign up for Essential California for news, features and recommendations from the L.A. Times and beyond in your inbox six days a week.
You may occasionally receive promotional content from the Los Angeles Times.