Frantic search underway for boy who fell into Griffith Park drainage pipe: 'That place is a maze'
It was an Easter tradition for Jesse Hernandez's family: a day in Griffith Park picnicking and playing soccer and volleyball. Up next was the egg hunt — but the boys had run off.
Jesse, 13, and his cousins found their way to an abandoned maintenance building on the northern edge of the park. They were jumping on wooden planks when one plank broke.
Jesse plunged 25 feet into a 4-foot-wide drainage pipe that fire officials said feeds to the L.A. River. His cousins called after him, hearing only their echoes in response, friends at the scene said.
After more than five hours, he still hadn't been found.
"We called, sent text messages — it rings but it goes to voicemail," said Dominique Barraza, 16, a family friend. "He's too young. It's just crazy. I still can't believe it."
Authorities launched a frantic search Sunday afternoon to find the boy, with more than 100 firefighters, urban search-and-rescue crews trained in confined spaces and swift-water rescuers taking part.
They studied maps of the closed sewage pipe system, which stretches hundreds of feet, and sent a camera attached to a flotation device, like a boogie board, 300 feet down a pipe. They set up at different areas, including the L.A. River and a drain near Chevy Chase Drive, hoping the boy would come through one of the pipes.
"That place is a maze," Los Angeles Police Sgt. Bruno La Hoz said. "We don't know where the drain pipe goes to."
The pipe system has varying depths of water moving at roughly 15 mph. Rescuers couldn't enter the drainage area themselves because of the hazardous environment, said David Ortiz, a spokesman for the Los Angeles Fire Department.
Officials with the Department of Sanitation were working to determine if there are any chambers within the pipe system in which Jesse might be stuck.
Crews were expected to search through the night with more advanced cameras that have lighting capabilities and can be attached to a pontoon to crawl along the pipes.
By nightfall, about 25 people at the scene stood in a circle, holding hands with their heads bowed and saying a prayer. About 20 of the boy's family members, including his mother, aunt and cousins, were at the scene.
Live television footage showed more than a dozen firefighters on the graffiti-covered maintenance building with a ladder lowered into the pipe. Authorities said news helicopters hovering over the scene were hindering search efforts and asked them to pull back.
Jesse lives in East Los Angeles. His family asked authorities to release his photograph in case he was spotted outside the park, and asked anyone with information about his whereabouts to call the police.
Devon Guevara, 17, was also celebrating the holiday at the park when he met Jesse and his cousins while playing soccer. When they separated, they agreed to meet up later.
"He was really friendly," he said. "Most people you meet aren't like that."
Shortly after, Devon saw one of the boys running and screaming for help. Someone called 911.
"We also feel guilty," he said. "What if we kept playing longer?"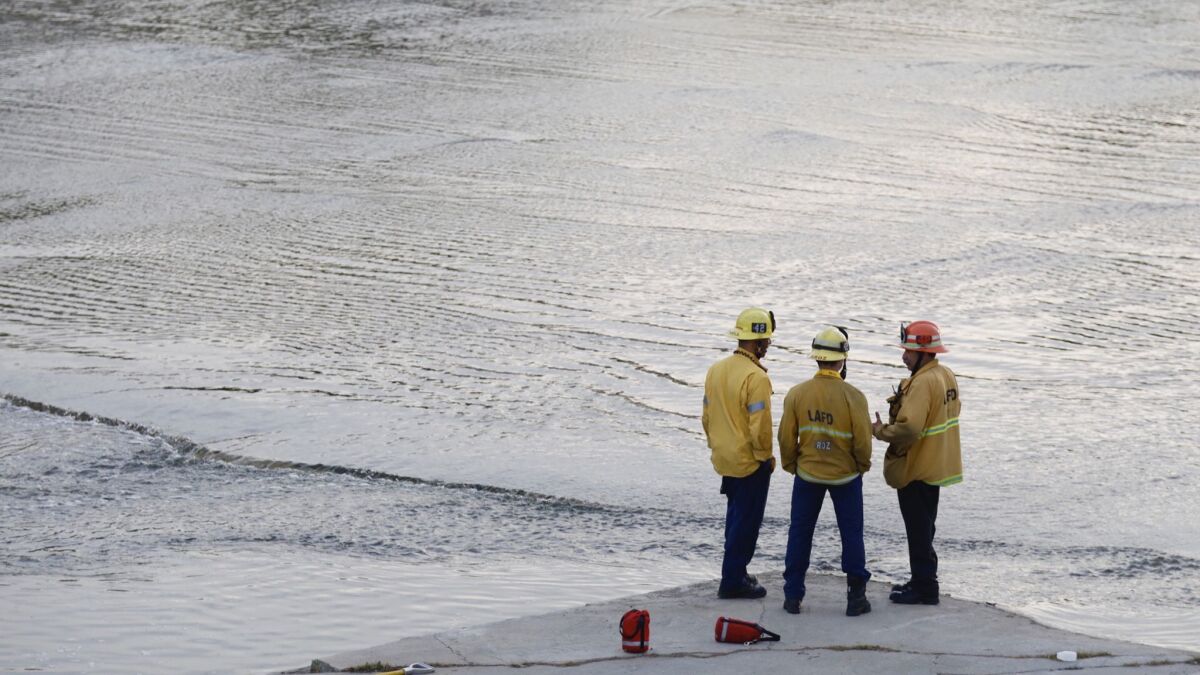 alene.tchekmedyian@latimes.com
Twitter: @AleneTchek
---
UPDATES:
11:10 p.m.: This article was updated to note that crews are expected to search through the night.
9:45 p.m.: This article was updated with comment from family friend Dominique Barraza.
7:25 p.m.: This article was updated with additional reporting from the scene.
6:45 p.m.: This article was updated with reporting from the scene.
This article was originally published at 5:40 p.m.
The stories shaping California
Get up to speed with our Essential California newsletter, sent six days a week.
You may occasionally receive promotional content from the Los Angeles Times.