Crane removes iconic KTLA radio tower for renovation and relocation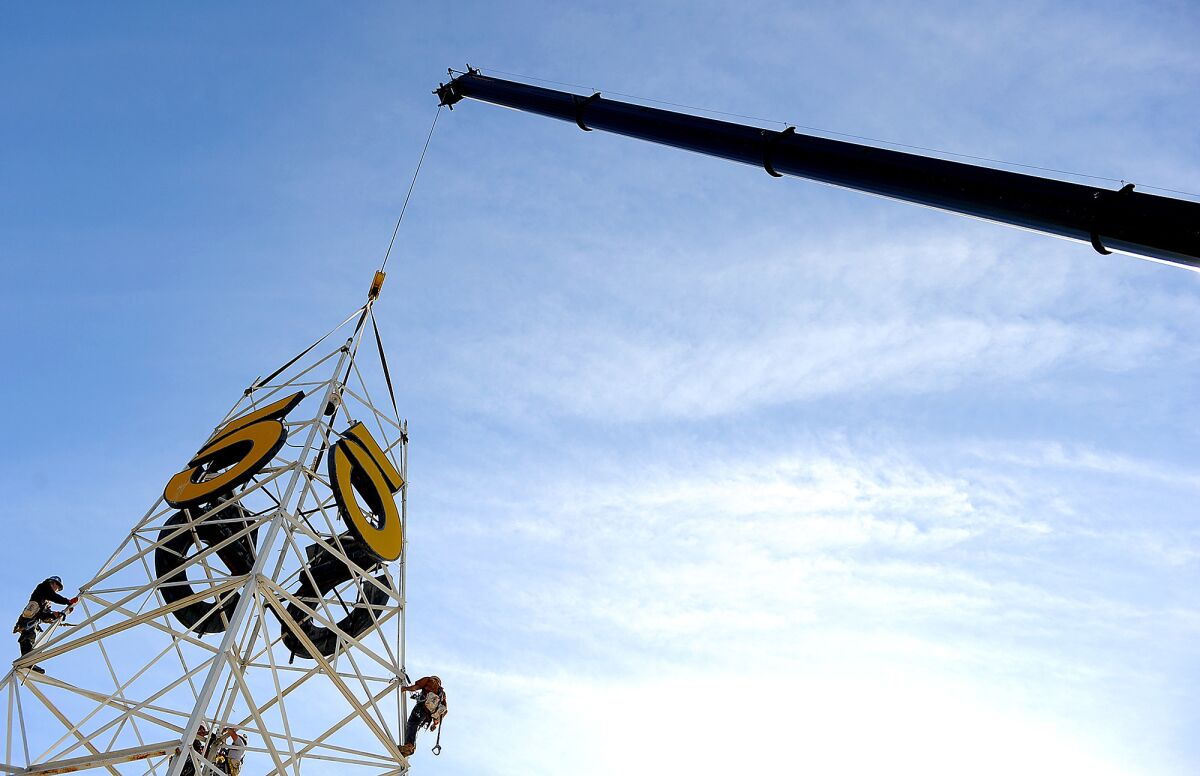 The iconic KTLA-5 tower, which stood watch at the corner of Sunset Boulevard and Van Ness Street for more than 60 years, was dismantled Monday morning, piece by piece, so that it could be restored and relocated.
The radio tower will be moved to its original location at Sunset Bronson Studios in Hollywood sometime in early 2015, after structural retrofitting and renovation, according to KTLA-TV.
The move clears the way for construction of a 14-story office building that will include additional production facilities for current and future tenants on the lot, according to a press release from Hudson Pacific Properties, which owns the property where the tower stood for more than half a century.
KTLA employees watched as workers climbed the 160-foot steel skeleton, and a crane lifted the top part of the tower with the four yellow call letters – KTLA -- leaving behind the bottom portion with the station's channel number, 5.
The rest of the tower was dismantled by noon.
For KTLA reporter Ginger Chan, the tower is more than just the station's marquee. Chan's mother worked at a junior high school located off the 101 Freeway, and Chan said she saw the tower frequently while growing up and associated it with her mother's work.
Now, her 3-year-old son sees the tower and knows it's where his mother works, Chan said.
"It brings back memories of my mom working and something that we identified as our childhood," Chan said. "And it's something that will be part of his childhood and his growing up."
Some viewers tweeted dismay that the tower was being moved.
"When you are driving up or down the 101, you see that tower, you know where you are," said longtime KTLA reporter Eric Spillman. "To see it taken apart and moved, people are going to feel like something's missing."
The KTLA tower was erected in 1925, and was one of two radio towers that served Warner Bros.' affiliate radio station, KFWB.
The second tower was permanently removed in 1950, and the other was transferred to its current site. KTLA moved to the property in 1955, and added its call letters to the structure, said Bob Maslen, studio engineer for KTLA.
For more California news follow @smasunaga.
The stories shaping California
Get up to speed with our Essential California newsletter, sent six days a week.
You may occasionally receive promotional content from the Los Angeles Times.