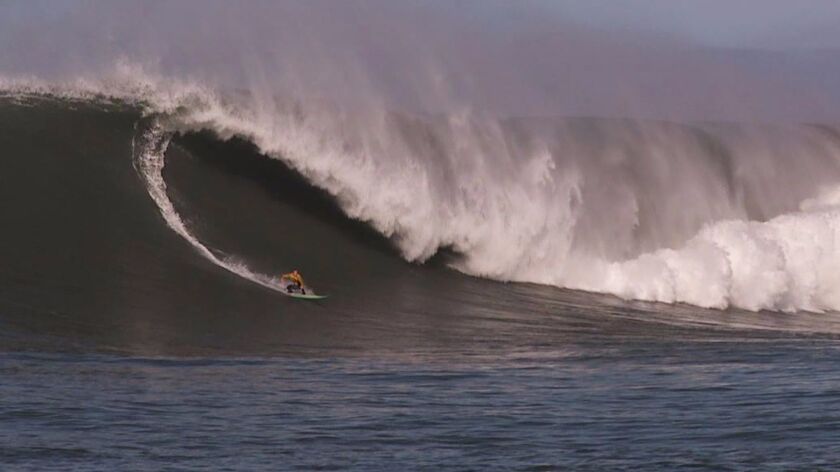 The companies that manage California's most famous big wave surfing competition plan to auction the event's business-related assets next month as part of ongoing bankruptcy proceedings.
The one-day, invitation-only contest draws elite surfers from around the world to Mavericks, a rocky reef break just south of San Francisco, to ride some of the biggest, steepest waves in the Americas.
The event, which is owned and governed by a separate organization whose board includes surfers and businesspeople, has been held nine times since 1998 but was canceled this year because of financial troubles.
Titans of Mavericks and its affiliate Cartel Management Inc., which filed for Chapter 11 protections in late January, have scheduled the public sale for 10 a.m. June 1 in Los Angeles. Minimum opening bids of $1 million are required, a spokesperson said.
The sale will be held at the law offices of Levene, Neale, Bender, Yoo & Brill. Participants must be deemed financially qualified and willing to make a $50,000 deposit by May 25.
Griffin Guess, the founder of the Titans of Mavericks, said in a statement that an auction will create "a level playing field" for selling the company's brand and other assets. The sale might include a pending permit to hold the event.
Titans officials say they have a list of 71 interested parties, including sports brands, media and Internet companies, national television networks and a handful of wealthy individuals.
The Chapter 11 filing allows Cartel and Titans to develop a reorganization plan to keep their operations going while paying off creditors over time.
According to court records, Cartel faces about $1.9 million in claims and Titans of Mavericks more than $776,335 in claims from their top 20 creditors.
In April, Mavericks Invitational Inc., founded by Jeff Clark, who is believed to be the first surfer to ride the break, also filed a claim for about $2.15 million against Cartel Management.
Mavericks Invitational's chief operating officer, Cassandra Clark — Jeff's wife — says her organization owns the event and entered into an agreement with Cartel for merchandising, media relations, advertising and to find sponsors.
Cartel then rebranded the event as Titans of Mavericks, she said.
Cartel could not be reached for comment.
That is the sad state of affairs at this time.
Sabrina Brennan, San Mateo County harbor commissioner
The contest, which would have included a women's heat for the first time this year, generally occurs between November and March, depending on the surf and weather conditions off rugged Pillar Point near Half Moon Bay.
The cancellation occurred in February a week after Red Bull, Mavericks' broadcaster and only sponsor, sued Cartel and Titans of Mavericks, alleging breach of contract. The lawsuit seeks $400,000 in damages.
Meanwhile, the San Mateo County Harbor District on Monday filed a motion opposing the auction.
The district has issued a permit for the Mavericks contest that is good for four more years.
If that permit is auctioned, district officials say they want to make sure that any winning bidder can meet the permit's conditions and has a proven ability to hold successful events.
Harbor Commissioner Sabrina Brennan said other permits issued for this year's contest by the California Coastal Commission, the U.S. Coast Guard and other government agencies are no longer valid.
"That is the sad state of affairs at this time," Brennan said.
Follow me on Twitter @LADeadline16
---