Homeless population jumps by thousands across the San Francisco Bay Area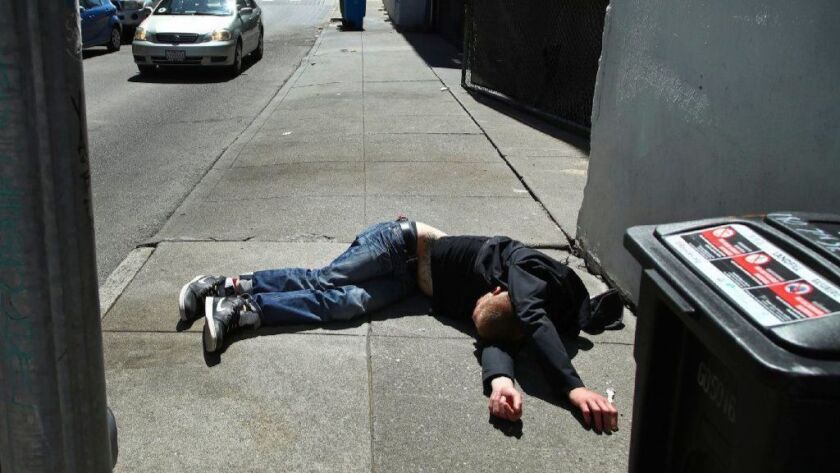 California is spending millions of dollars to stem the tide of homelessness without much to show for it. The latest evidence of that arrived Thursday, when several Bay Area cities and counties reported that their latest tallies of homeless people revealed big increases.
San Francisco saw a 17% jump in the number of homeless residents over the last two years, according to preliminary results of the city's point-in-time count.
In January, volunteers recorded 8,011 homeless people living in shelters and on the streets in the city of roughly 880,000. Their 2017 count logged 6,858 people.
"The initial results of this count show we have more to do to provide more shelter, more exits from homelessness, and to prevent people from becoming homeless in the first place," the city's mayor, London Breed, said in a statement.
The number of people living in cars and campers grew — a big part of the reason the number of unsheltered people increased, the city said.
San Francisco has seen rental prices skyrocket, making it a major player in the statewide debate about how to best reduce the number of people living on the streets.
But Breed did share some good news for her city: Youth and veteran homelessness dipped 10% and 14%, respectively. She also announced that the city's budget would include $5 million for projects aimed at preventing people from becoming homeless.
But San Francisco plans to release more extensive findings on homelessness in July that could reveal more troubling trends.
Farther south in the Bay Area, the number of homeless people living in Santa Clara County increased 31% over the last two years, from 7,394 to 9,706, according to preliminary results released by the county. San Jose saw a surge of 1,822 people, for a total of 6,172 homeless residents living in the county's largest city.
"We all have a shared responsibility to address this crisis — every city and every neighborhood," San Jose Mayor Sam Liccardo said in a statement. "That means we must house homeless neighbors here, not the proverbial 'somewhere else.'"
In the East Bay's Alameda County, the numbers weren't any better, with a 43% increase since 2017. The homeless population there numbers 8,022, of which 6,312 are unsheltered.
The full reports for both counties will be released in July as well. The organization that conducted Alameda's count, EveryOne Home, says that about 1,500 people return to permanent housing every year, but that number is offset by the 3,000 people who fall into homelessness for the first time each year.
Point-in-time counts are required by the federal government as a way to asses how funding is distributed for homelessness. Statewide, there were an estimated 129,972 homeless people in 2018 — and these increases in homelessness square with a worrisome already trend seen by several counties in Southern California.
Orange, San Bernardino and Riverside counties all recorded percent increases in homelessness in the double digits for 2019.
Los Angeles is expected to release its findings by the end of the month, and local officials are not optimistic that it will show any signs that the problem is abating — even as $619 million was spent last year to grapple with the crisis.
---
Life is stressful. Our weekly mental wellness newsletter can help.
You may occasionally receive promotional content from the Los Angeles Times.