Major street closures planned for L.A. Pride and Resist March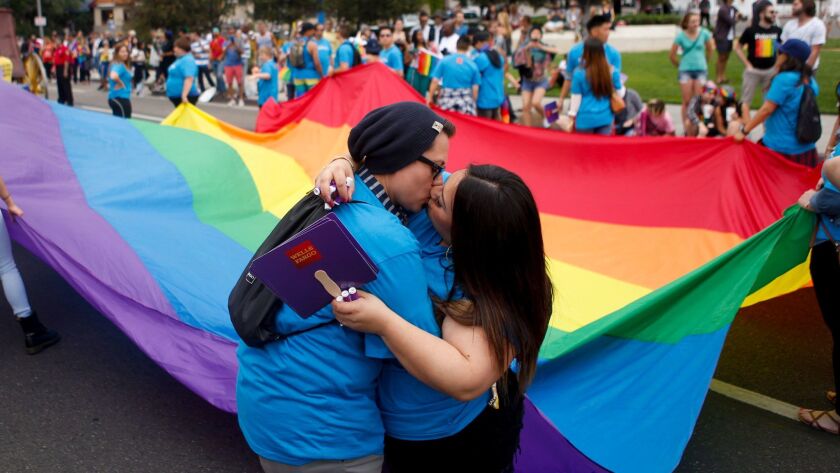 Major streets in West Hollywood and surrounding areas will be closed on Sunday for LGBTQ pride events and a protest march that will replace the L.A. Pride parade.
The colorful floats that typically roll down Santa Monica Boulevard will not make an appearance. Instead, thousands of people are expected to turn out Sunday for a demonstration called Resist March.
For the record:
9:15 PM, Jun. 07, 2017
Clarifications were made to the description of the march route and to the closure times of Santa Monica Boulevard.
Although the parade has traditionally taken place entirely in West Hollywood, this year's march will begin in Los Angeles, with participants gathering at 8 a.m. for an opening ceremony at Hollywood Boulevard and Highland Avenue.
Follow our live coverage of the L.A. Pride #ResistMarch » »
Marchers will walk south on La Brea Avenue, west on Sunset Boulevard, south on Fairfax Avenue, west on Santa Monica Boulevard, and stop near West Hollywood Park.
Event organizers say numerous speakers — including U.S. House Democratic leader Nancy Pelosi, Rep. Adam Schiff (D-Burbank), Rep. Maxine Waters (D-Los Angeles) and West Hollywood Mayor John Heilman — will speak at the end of the march.
In Los Angeles, Hollywood Boulevard will be closed between Highland and La Brea from 6 a.m. to noon, according to the Los Angeles Department of Transportation.
Other nearby streets in L.A. will experience rolling closures starting around 9 a.m. and will reopen as soon as marchers pass, said Bruce Gillman, an LADOT spokesman. They include La Brea Avenue, Sunset Boulevard, Fairfax Avenue, Santa Monica Boulevard and westbound Franklin Avenue between Highland and La Brea.
LADOT will enforce a strict no-parking policy along the parade route, and vehicles will be towed, officials said.
Within the city of West Hollywood — where the multi-day L.A. Pride festival celebrating the LGBTQ community will take place — street and public facility closures are scheduled to begin Thursday night, city officials said.
San Vicente Boulevard will be closed between Santa Monica and Melrose Avenue from 7 p.m. Thursday through 10 a.m. Monday.
West Hollywood Park will be closed Monday and will remain closed until 6 p.m. Wednesday, June 14.
West Hollywood Library will be closed from 7 p.m. Thursday until 11 a.m. Monday.
West Hollywood Pool will be closed Monday and will re-open on Monday, June 19.
For the Resist March, the following street closures will take place Sunday:

Santa Monica Boulevard and all streets one block north and one block south from Doheny Drive to La Cienega Boulevard will be closed from 5 a.m. to 5 p.m.
Fairfax Avenue from Sunset to Santa Monica will be closed from 9:30 a.m. to 1 p.m.
Officials say no alcohol or backpacks will be allowed for march participants.
West Hollywood pride events will begin Friday night. The annual Dyke March will start at 8 p.m., with participants walking from the Sal Guarriello Veterans' Memorial at 8447 Santa Monica Blvd. to San Vicente Boulevard and back.
On Saturday, eastbound Santa Monica Boulevard will be reduced to a single lane of traffic from 9 a.m. to 5 p.m. between Doheny and Ogden drives as thousands of bicyclists participating in the AIDS/LifeCycle ride from San Francisco to Los Angeles complete their trek.
Twitter: @haileybranson
ALSO
Brandy, Chromeo to headline LA Pride Festival
Rams, Chargers reach out to LGBTQ community with sponsorship of Venice Pride
Opinion: Generations of LGBT activists blazed the trail for Caitlyn Jenner
---
The perils of parenting through a pandemic
What's going on with school? What do kids need? Get 8 to 3, a newsletter dedicated to the questions that keep California families up at night.
You may occasionally receive promotional content from the Los Angeles Times.