Rising costs threaten L.A.'s homeless housing goal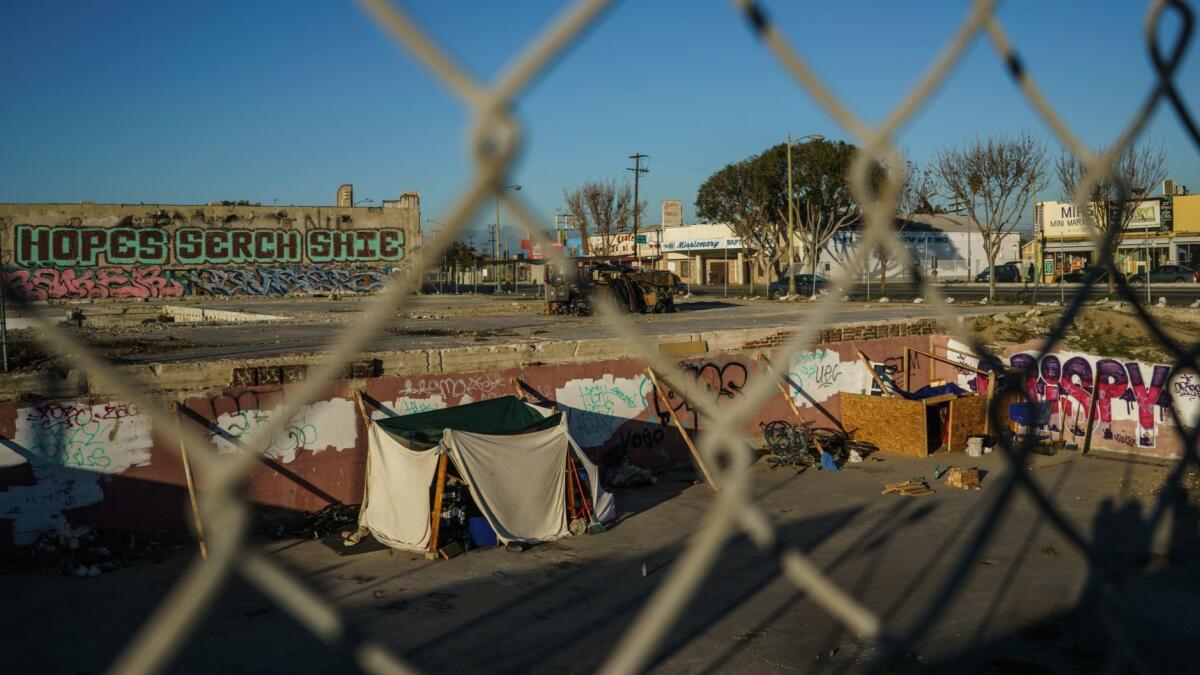 Skyrocketing development costs and loss of state and federal subsidies are undermining Los Angeles' goal of adding 10,000 units of homeless and affordable housing in a decade, officials said Friday.
At the current rate of spending, the $1.2-billion bond authorized by Proposition HHH would fall as much as 4,000 units short, they said in a report to the citizen oversight committee for the bond program.
With about a third of the money already committed, city officials are projecting that fewer than 6,000 units could be built at the current rate of spending before the money runs out.
Additional funds once expected from the state's No Place Like Home program could bump up the number to about 7,500 units. But a legal challenge has stalled those funds. A measure will be on the ballot in November to determine whether they can be released.
Faced with that bleak assessment, committee Chairman Miguel Santana said he would steer future meetings to discussion of ways to reduce per-unit costs and increase revenue "so that our advice to the mayor and council is really tailored around how we still fulfill the 10,000-unit commitment we have made in light of the circumstances that have changed, since the adoption of HHH."
Santana said the committee should consider how to encourage shared housing, expand the small pool of developers capable of navigating the bureaucratic hurdles of affordable housing finance, speed up the application process and explore innovative types of construction that could reduce costs.
He mentioned shipping container construction and motel conversions as examples of innovative housing models but conceded that container construction hasn't proved to lower costs significantly.
City officials said motel conversions are also turning out to be costly.
The 10,000-unit goal for the bond was based on an assumption that the city could spend about $140,000 per unit. The remainder would be made up primarily by state funds and federal tax credits that can be sold on the financial markets.
Edwin Gipson, director of finance and development for the city's Housing and Community Investment Department, told the committee that the federal tax reform law has lowered the value of those credits by about 25%, reducing the money available to the developers.
At the same time, costs are up in a booming construction market, and builders of permanent supportive housing are competing for labor with much larger projects that offer long-term employment, Gipson said.
A Times analysis of the 29 projects currently approved for funding found their average cost to be more than $476,000 per unit. Two projects will cost more than $650,000 per unit and five more than $550,000.
An analysis of state tax credit projects during the year before the bond measure vote found that supportive housing projects in Los Angeles County cost an average of $420,000 per unit.
The rising construction and falling revenue were exacerbated by the city's haste to show progress on spending bond money.
Regulations for the measure prepared by the housing department provided for subsidies of up to $220,000 during the first year to get projects moving quickly.
The housing department also allowed HHH subsidies for several projects that would have been financed without them but would have taken much longer to get financing.
In recent years, about 300 units of permanent supportive housing have been built annually with tax credits as the primary funding source. Gipson said projects would still be built without HHH money, but he wasn't certain how many.
Tommy Newman, director of public affairs for United Way of Greater Los Angeles, said he was disappointed that the city had allowed HHH money to be used on projects that could have obtained sufficient state funds without it.
The United Way, he said, which was one of the major backers of Proposition HHH, will recommend a reduction of the maximum subsidy per unit allowed for the bond funds.
Sign up for Essential California for news, features and recommendations from the L.A. Times and beyond in your inbox six days a week.
You may occasionally receive promotional content from the Los Angeles Times.