2,000-plus sick sea lion pups stranded in California so far this year
Non-permanent color marks a sea lion named Bravo. The markings help those caring for the sea lions to quickly identify individual animals.
(Sarah van Schagen / TMMC)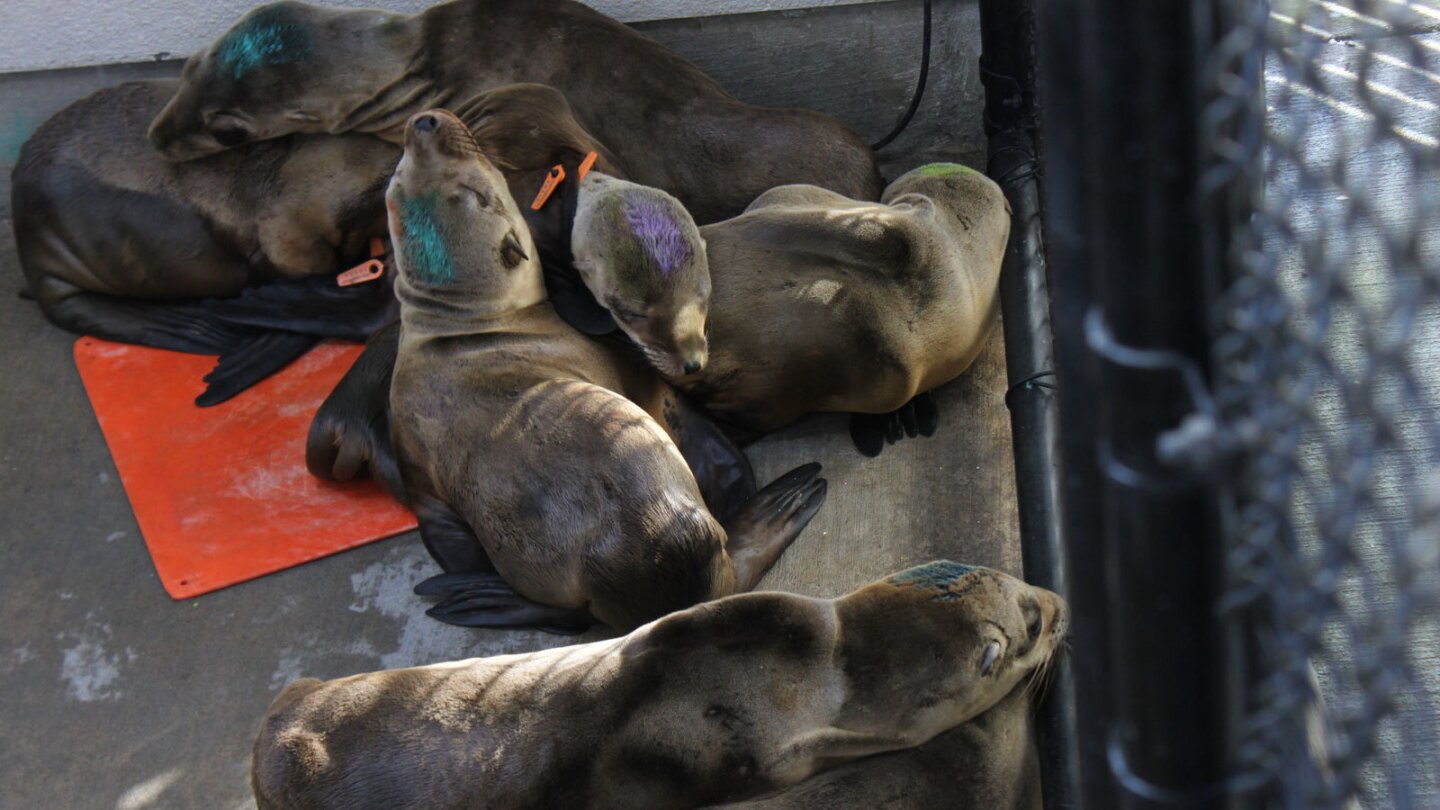 Sea lion pups have been washing up on California beaches in alarming numbers.
(Sarah van Schagen / TMMC)
National Park Ranger Matt Wallat and the sea lion he helped rescue Feb. 12. He named the yearling Percevero.
(TMMC)
Sea lions at the Marine Mammal Center in Sausalito, Calif., are nursed back to health. Pups are "stunted," says the center's Shawn Johnson, "basically starved to death."
(Ingrid Overgard / TMMC)
Aquagirl gets some rest. California's marine mammal centers see a lot of stranded pups but also are noticing a wider age range of animals.
(Sarah van Schagen / TMMC)
This year is the third straight year of record sea lion strandings in California. The Sausalito center and other marine mammal rescue sites say they are being inundated.
(Sarah van Schagen / TMMC)
Sea lion pup Murray was found on Rodeo Beach in Marin County on Feb. 9.
(The Marine Mammal Center)
An ailing sea lion pup is fed with a tube.
(Sarah van Schagen / TMMC)
Stranded sea lions are often suffering from infections and parasites.
(Sarah van Schagen / TMMC)
Quaffle (whose name was inspired by the "Harry Potter" books) is a patient at the Marine Mammal Center.
(Sarah van Schagen / TMMC)
Malnourished sea lion pups, their heads marked with different colors, line up in Sausalito. At center is Sith.
(Sarah van Schagen / TMMC)
After rehabilitation at the Marine Mammal Center in 2014, sea lions are released back to the sea in Northern California.
(Conner Jay / TMMC)
A 2014 release returned three pups to the wild.
(Conner Jay / TMMC)
Fattened up, infections healed, sea lions head for the waves.
(Conner Jay / TMMC)
More than 2,000 sickly sea lion pups were left stranded on California beaches in the first three months of this year, researchers said.
The latest numbers released Monday show there were 350 pup strandings in January, 850 in February and 1,050 in March, according to the National Marine Fisheries Service.
In the same period last year, 231 sea lions were left abandoned.
Researchers say dwindling food sources and warmer oceans have led to the strandings, as well as infectious disease outbreaks and harmful algae blooms.
The sick sea lions are typically 7 months old, dehydrated and underweight when they are admitted to rehabilitation centers around the state.
Researchers believe warm ocean temperatures have led to a lack of upwelling, which helps bring colder water and fish to the surface.
Historically, a tropical El Niño weather pattern -- which the National Oceanic and Atmospheric Adminstration declared in early March -- results in an increase in sea lion pup strandings because of physiological stress and changes in available food sources.
The pups' mothers, researchers say, were unable to provide milk supplies, possibly because the mammals traveled further offshore to find food or had difficulty finding food.
Thus, the pups, which are usually dependent on their mothers until 11 months old, prematurely try to feed on their own and end up starving.
For breaking news in California, follow @VeronicaRochaLA
---
The stories shaping California
Get up to speed with our Essential California newsletter, sent six days a week.
You may occasionally receive promotional content from the Los Angeles Times.