UC Davis investigating 'reprehensible' anti-Semitic posters found on campus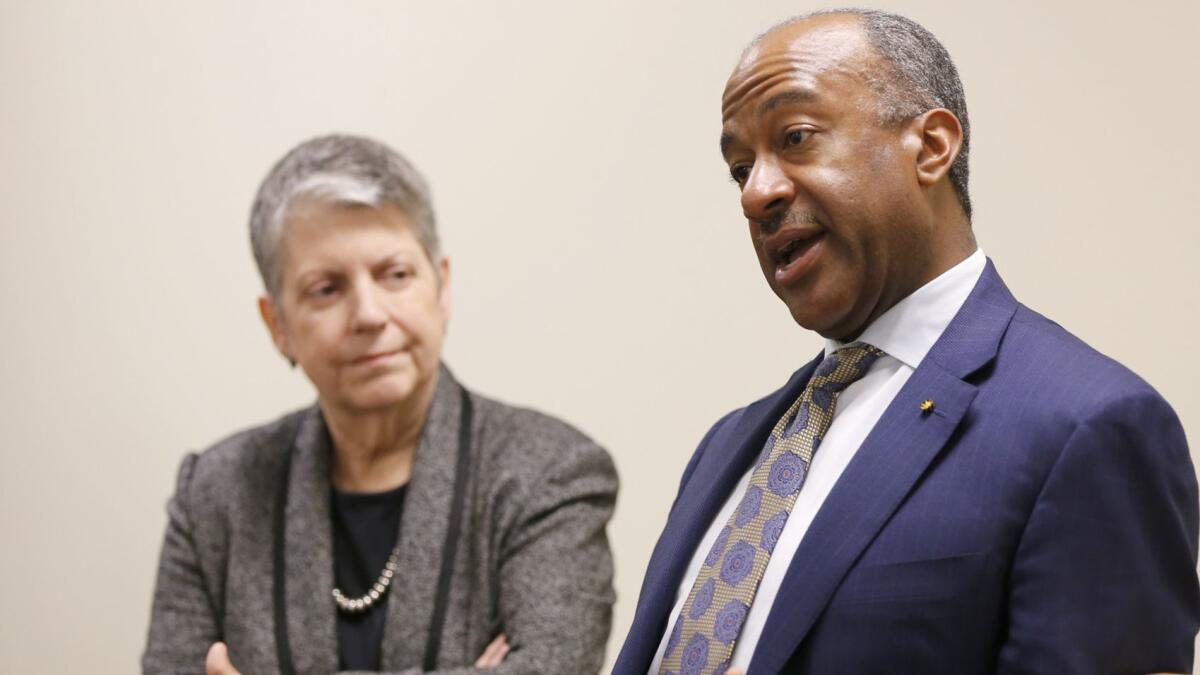 UC Davis police are investigating anti-Semitic fliers posted near the school's student union Monday morning, authorities said.
Chancellor Gary May said in a statement that the fliers, which violated posting policy, were removed and that the university was working to identify who put them up. Students reported seeing the same posters at UC Berkeley.
"The message on these fliers is reprehensible and does not represent who we are as a community," he said. "Our Principles of Community expresses our dedication to mutual respect, understanding, compassion and caring for everyone, regardless of their religious affiliation, culture, ethnicity or gender. I ask each of you to uphold those values."
The black-and-white fliers portrayed figures, including Sen. Dianne Feinstein, professor Christine Blasey Ford, billionaire George Soros and attorney Michael Avenatti, with a Star of David or the words "Good Goy" on their foreheads. They surrounded an image of new Supreme Court Justice Brett Kavanaugh and the phrase: "Every time some anti-white, anti-american, anti-freedom event takes place, you look at it and it's Jews behind it."
The flier included the address of the website of the Daily Stormer, a white supremacist publication.
Publisher Andrew Anglin said in an email that the Daily Stormer was not involved. "It is an Alex Jones flier," he said, referring to the conspiracy theorist and host of the "Infowars" radio show.
UC Davis Police Sgt. Bill Beermann said a student first reported the fliers to university police about 7:45 a.m. Monday, and more fliers were brought in during the day. The bills were posted on the Memorial Union building, which has no surveillance cameras, police said.
"We're trying to find out who left the posters," Beermann said. "Right now, it's not a criminal investigation. We want to talk to them to find out what their intent was."
The university's student government leaders are planning a workshop on anti-Semitism following the incident.
"Anti-Semitism is alarmingly prevalent on college campuses, and needs to be acknowledged for what it is: blatant racism," student body President Michael Gofman said in a statement Tuesday. "The ASUCD Executive office is deeply upset and angered by these flyers, and we find it intolerable and inexcusable."
Justin Greenwald, a UC Berkeley student government senator, released a similar statement on Facebook about the posters
"The imagery and rhetoric of the flyers seen on these campuses argue that the opposition to Justice Kavanaugh's confirmation was orchestrated by influential Jewish figures, evoking the familiar anti-Semitic trope that Jews are the architects of all evil," he said.
Monday's postings were not the first racist attack on college campuses of late. Last week, students at Sacramento City College found derogatory comments toward African Americans and swastikas written in black marker in a men's restroom, prompting a student protest on campus, university spokeswoman Kaitlyn MacGregor said. On Monday, more swastikas were found on a gymnasium bulletin board.
MacGregor said the college is not aware of any link between the racist graffiti at Sacramento City College and the fliers posted at UC Davis. She said the college is encouraging students with information about either incident to make a report.
The Los Rios Police Department is investigating the incidents at Sacramento City College.
alejandra.reyesvelarde@latimes.com
Twitter: @r_valejandra
---
UPDATES:
1:50 p.m. Oct. 8: This article was updated with information about fliers found at UC Berkeley and a comment from Daily Stormer publisher Andrew Anglin.
This article was originally published at 1:20 p.m. Oct. 9.
Sign up for Essential California for news, features and recommendations from the L.A. Times and beyond in your inbox six days a week.
You may occasionally receive promotional content from the Los Angeles Times.