LAPD makes arrest in recording studio fire deaths
A 28-year-old man was arrested on suspicion of murder after a fire ripped through a Studio City recording studio, leaving two people dead and two with grave injuries.
Police were tight-lipped about why they believe Efrem Demery, who was booked shortly after midnight Sunday and is being held without bail, carried out the mysterious killings. They have not released a possible motive, and it's unclear whether the victims were slain during or before the fire.
Musicians who rented space from the one-story building that holds about a dozen recording studios said they did not recognize the names of the suspect or the victim identified by coroner's officials as Devaughn Kemar Carter, 28, of Los Angeles.
"We all pretty much know each other so I don't think they were here much," said a 22-year-old who identified himself with the stage name Mikey Dubz.
Some described a chaotic scene as they fled from the dark, soundproof studios — which are used by artists around the clock — when the fire broke out at 3779 Cahuenga Blvd. shortly before 7 a.m. Saturday.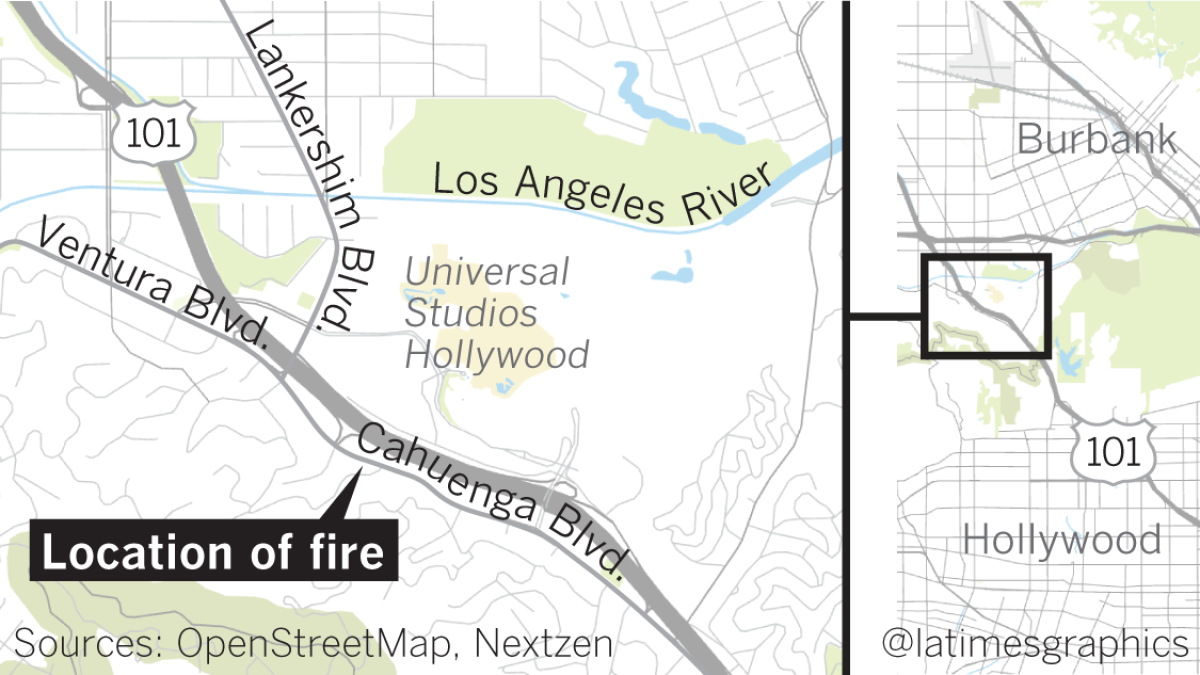 Shahriar Tavakoly, a 50-year-old guitarist who rents a space, said most people work on their music all night and sleep throughout the morning. He just happened to be awake when he smelled smoke.
He opened the two soundproof doors between his room and the hallway to find the corridor to the front door in flames. He raced to the exit, screaming and pounding on doors as he ran.
He said the ventilation was not working, so he couldn't smell the smoke until it seeped through both doors. People who were sleeping would not have heard commotion because of the soundproofing, he said.
"All the walls have blankets over them to dampen the sound too, and those are very flammable," he said.
A musician who goes by the stage name L.A. Pryce said he had stayed up into the early morning hours Saturday in his studio mixing a song. He dozed off on a futon, while his friend fell asleep in a chair.
Sometime later, the friend woke him. Smoke made it hard to see and breathe. Soundproofed doors and walls made it difficult to hear.
"I barely made it out," he said Sunday, adding that he's having trouble sleeping out of fear he will wake up in a fire. "I'm over here trying to figure out a way to go to sleep because I keep picturing it."
Another artist he knows who worked in the building, he said, was fighting for his life in a hospital with critical wounds.
"Every time I think of music, all I can picture is seeing these people burning," said L.A. Pryce, who said he had a yearlong lease in the building. "If someone started the fire, if someone murdered anybody, I can't fathom that."
Autopsies are pending for the two men found dead at the scene. Authorities did not have new details Sunday about the conditions of those hospitalized.
Shad Rabbani, who said he was in charge of leasing the building but did not own it, said the space houses "independent producers and independent studios."
"They have a lot of clients," Rabbani said. "And it's 24/7, so I have no idea who is coming and who is going out."
Los Angeles County assessor's office records list the owner of the property as Haig Bazoian of Beverly Hills. He did not return requests Sunday for comment.
A group of musicians who rented studio space returned Sunday to survey the damage.
Dubz said he was already in discussions with the owner about compensation for the loss of equipment.
They pointed to piles of destroyed furniture, microphones, speakers and mixing boards.
"That all came out of one room, and it's probably $50,000," Dubz said.
doug.smith@latimes.com | Twitter: @LATDoug
joe.mozingo@latimes.com | Twitter: @joemozingo
alene.tchekmedyian@latimes.com | Twitter: @AleneTchek
---
UPDATES:
7:55 p.m.: This story was updated throughout.
6:10 p.m.: This story was updated with an interview with L.A. Pryce.
2:45 p.m.: This story was updated with on-scene interviews.
This story was originally published at 11:40 a.m.
The stories shaping California
Get up to speed with our Essential California newsletter, sent six days a week.
You may occasionally receive promotional content from the Los Angeles Times.