San Diego's hepatitis A outbreak continues to grow, but more slowly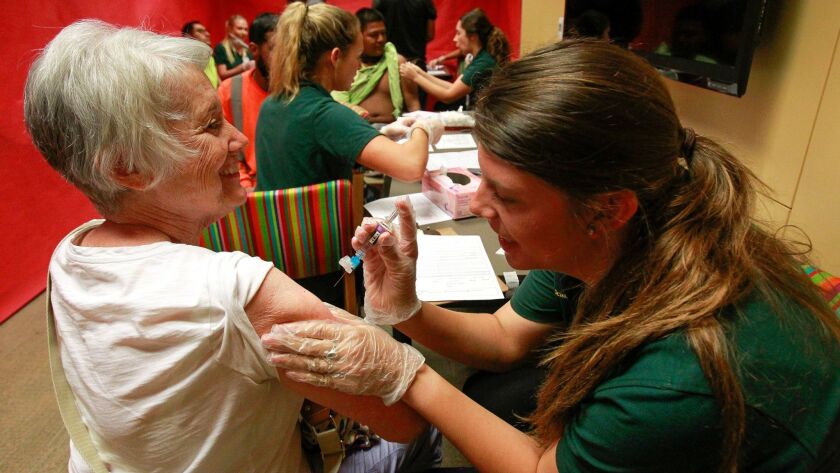 Reporting from San Diego —
Though the case count in San Diego's ongoing hepatitis A outbreak increased again Monday, officials said that the number of new infections continues to slow.
In a presentation to the San Diego County Board of Supervisors, Dr. Wilma Wooten, the county's public health officer, showed a chart that indicated there were 31 cases in October, significantly fewer than the 81 reported in September and 94 in August — the largest total of the outbreak so far.
After seeing the chart, board Chairwoman Dianne Jacob had a blunt question: "Is it getting better, the same or worse?"
"We feel it's getting better," Wooten said.
The latest update bumped the outbreak's case total to 544, eight more than had been reported last week. The number of deaths did not increase, remaining at 20.
Although San Diego County has been providing weekly case, death and hospitalization updates, there has been some confusion, even among the Board of Supervisors, about what those numbers really mean.
Supervisor Ron Roberts noted that the weekly escalation in cases gives the public the feeling that, every time a tally grows, that means the outbreak has grown.
But that's not the case. Because new numbers are not added to outbreak totals until they've been confirmed by genetic testing that can take weeks to perform, the weekly numbers are not a perfect barometer of the outbreak's current severity.
Roberts directed officials with the county Health and Human Services Agency to find a way to give the public a better sense of how many cases have occurred since the last update.
"It seems to me we can give a much clearer picture by organizing our material a little better so that people like me can understand this and get a better feel for what's happening," Roberts said.
Wooten said during her presentation Monday, as she and other local officials have said in recent weeks, that the number of new cases reported to her department on a day-to-day basis has continued to decline.
"The number of cases that are being reported daily now has recently decreased to one or two a day compared to three or more a day," Wooten said.
paul.sisson@sduniontribune.com
Sisson writes for the San Diego Union-Tribune
---
The stories shaping California
Get up to speed with our Essential California newsletter, sent six days a week.
You may occasionally receive promotional content from the Los Angeles Times.