Must Reads: Abolishing a water district isn't easy — even when it's accused of nepotism, mismanagement and delivering brown water
For its litany of problems, it's been hard to kill the tiny Sativa Los Angeles County Water District.
It has survived scandals involving financial instability, nepotism, poor maintenance and mismanagement.
Then in the last year, brown, smelly water started coming out of the taps — giving county and state officials what they believe is their best chance to close the embattled water district once and for all.
But it won't be easy.
The first challenge is economic: Sativa delivers inexpensive water to 1,600 homes in Compton and Willowbrook — and finding a replacement has been hard.
The second is legal: Laws intended to thwart government overreach make it difficult to close a district — even one as troubled as Sativa.
Across California, there are about 3,000 water agencies, remnants of an archaic system that until about two decades ago allowed anyone with a water source that could serve 15 or more people to seek a permit to create a community water system. These districts began to flourish in the West in the late 19th century for drinking water and agricultural needs. Sativa was established in 1913.
L.A. County residents receive drinking water from one of 220 community water systems. The population served per system ranges from the 25 customers of Winterhaven Mobile Estates in Antelope Valley to the 4 million customers of L.A. Department of Water and Power, according to a 2015 UCLA report.
More than 130 water agencies in the county serve fewer than 10,000 people each, the UCLA report found. Sativa, like many small water districts, pumps groundwater locally and delivers it through pipes to customers' homes. A 1965 court order granted the district free access to 474 acre-feet per year from the central groundwater basin, which stretches from east L.A. County to the San Gabriel Valley. Sativa can lease additional water as needed.
Customers pay a flat rate of $65 a month, which brings in close to $1.3 million in revenue to Sativa Los Angeles County Water District. Residents of other parts of Compton who receive water through the city's Municipal Water Department pay an average household bill of about $100 per month.
But that cheap water comes at a cost.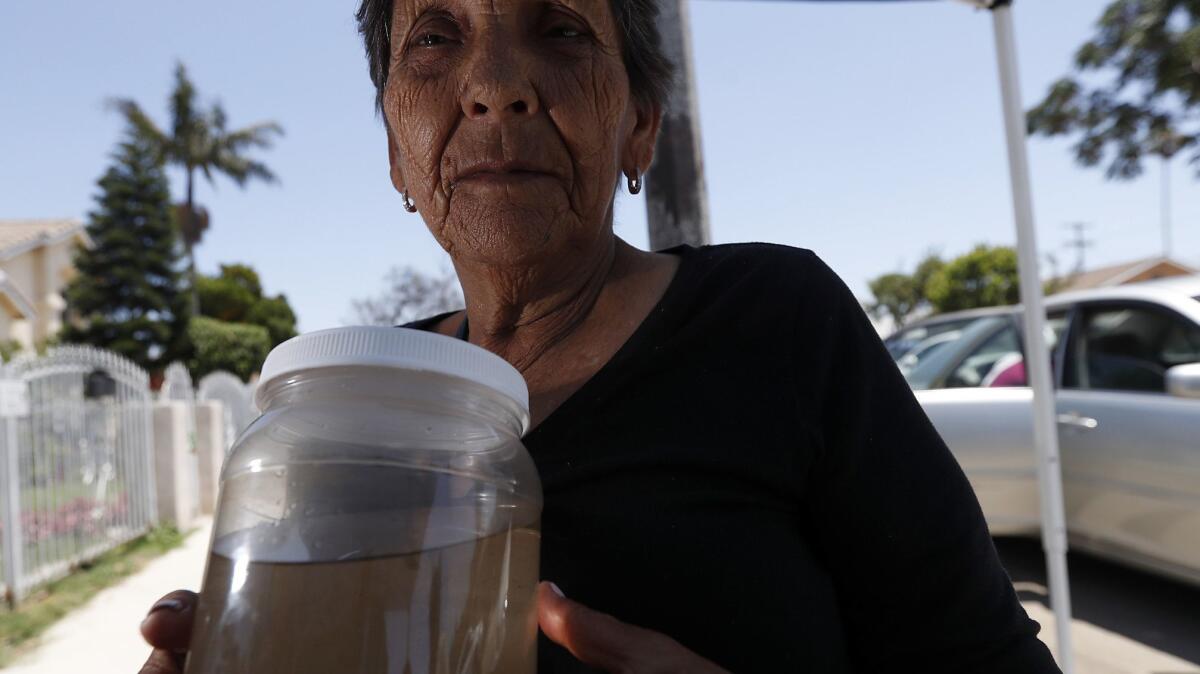 Sativa says it lacks the $2.7 million needed to install water meters on properties in its district or the estimated $10 million to $15 million needed to upgrade the 70-year-old pipes responsible for depositing manganese in drinking water, which can make faucets run brown.
At a time when the state has pushed to consolidate smaller public water districts to pool resources and increase efficiency, oversight officials have repeatedly questioned Sativa's economic feasibility.
"In order to correct the deficiencies they have, they would have to raise water rates on their customers punitively," said Zev Yaroslavsky, a former L.A. County supervisor who sat on the county oversight commission during both of the previous Sativa dissolution attempts.
For customers living paycheck-to-paycheck in the largely black and Latino neighborhoods served by Sativa, "a huge hit on their water bill would be back-breaking," Yaroslavsky added. "They shouldn't have to shoulder that burden. The agency has failed them."
Sativa successfully fended off two previous attempts to dissolve the district by L.A. County's Local Agency Formation Commission — the state-appointed body charged with monitoring special districts. Its 2005 effort showed that Sativa operated without a budget, an auditor or a general manager, but the water district was granted a second chance. Seven years later, a review revealed that then-board president Johnny Johnson had hired his wife and stepdaughter and that board members awarded themselves illegal Christmas bonuses. The board pushed back hard and LAFCO officials backed off.
But with residents so outraged by poor drinking water, LAFCO is expected Wednesday to initiate its third attempt to dissolve Sativa.
Anticipating that the process could drag into 2019 or beyond, Assemblyman Mike Gipson (D-Carson) introduced a bill that would allow the State Water Board to appoint an administrator to Sativa to manage operations during the dissolution process. If the bill swiftly makes it way through the legislature, Sativa could receive new leadership as early as September.
"Unfortunately, it has become increasingly clear that Sativa cannot effectively manage on its own," Gipson said.
Closing a water district is rare. Paul Novak, executive officer of LAFCO, said the commission has dissolved two in recent years, but neither provided service to residents.
Part of the challenge with getting rid of Sativa is that LAFCO would have to find a suitable replacement. As LAFCO sought alternatives in 2012, the nearby city of Compton was on the brink of bankruptcy and the Central Basin Municipal Water District was under fire for spending practices and engaged in a water fight. LAFCO decided that neither was a good fit.
The five existing county waterworks districts are far from Sativa, so dissolving the district into their operations would offer little savings or economies of scale, Novak said.
LAFCO lacks the authority to consolidate a public agency, like Sativa, with a private water company. But the State Water Resources Control Board can order such mergers, Novak said. He said LAFCO and the state board are exploring the option.
But the biggest hurdle is a law designed to protect tiny agencies and the people they serve.
A vote by LAFCO to dissolve a special district can trigger an election or be overturned. If 10% of either the roughly 2,500 registered voters or 1,800 landowners in the Sativa water district were to file written objections with LAFCO during a "protest period" of at least 30 days, then an election of registered voters must be held to confirm the commission's decision, Novak said. If 50% of registered voters submitted objections in writing, then LAFCO approval of the dissolution would be overturned without an election.
Once a system is set up, it's very, very difficult for the state or county to shut it down even if they have the mandatory authority.
— Greg Pierce, a UCLA researcher
"Once a system is set up, it's very, very difficult for the state or county to shut it down even if they have the mandatory authority," said Greg Pierce, a UCLA researcher. "Because they get challenged legally and it can takes years and millions of dollars, so they have to move very slowly."
LAFCO commissioners felt in 2012 that they lacked the support of residents, who had reelected the same board despite controversies. They were concerned the board would successfully campaign to halt their dissolution efforts.
"It is not for a lack of effort or a lack of will on LAFCO's part," Novak said. "It has largely been a concern about finding the appropriate agency to take over service and the concern about it being protested out."
But when residents started documenting brown water flowing from taps earlier this year, Novak said it shifted public opinion. Now, LAFCO thinks it has a greater chance than ever before to get rid of Sativa.
Luis Landeros, Sativa's board president, said the district has implemented a multi-year plan to tackle some deferred maintenance, which should fix the issue of brown water. He did not elaborate on the plan, but said the district needs financial assistance from the state and federal government and help from larger organizations, such as the Water Replenishment District, which manages groundwater in L.A. County, to make needed improvements.
Sativa officials blame the discolored water on aging pipes, which they occasionally flush to remove lingering sediment. County officials say the brown water is safe to drink, but acknowledge it contains higher-than-normal levels of manganese. The state water board said the findings did not pose a health threat. Residents have reported rashes and stained clothing.
Landeros, who sat on the board during the 2012 dissolution attempt, did not say whether he would wage a legal battle if oversight officials voted to close or merge the agency with a larger one.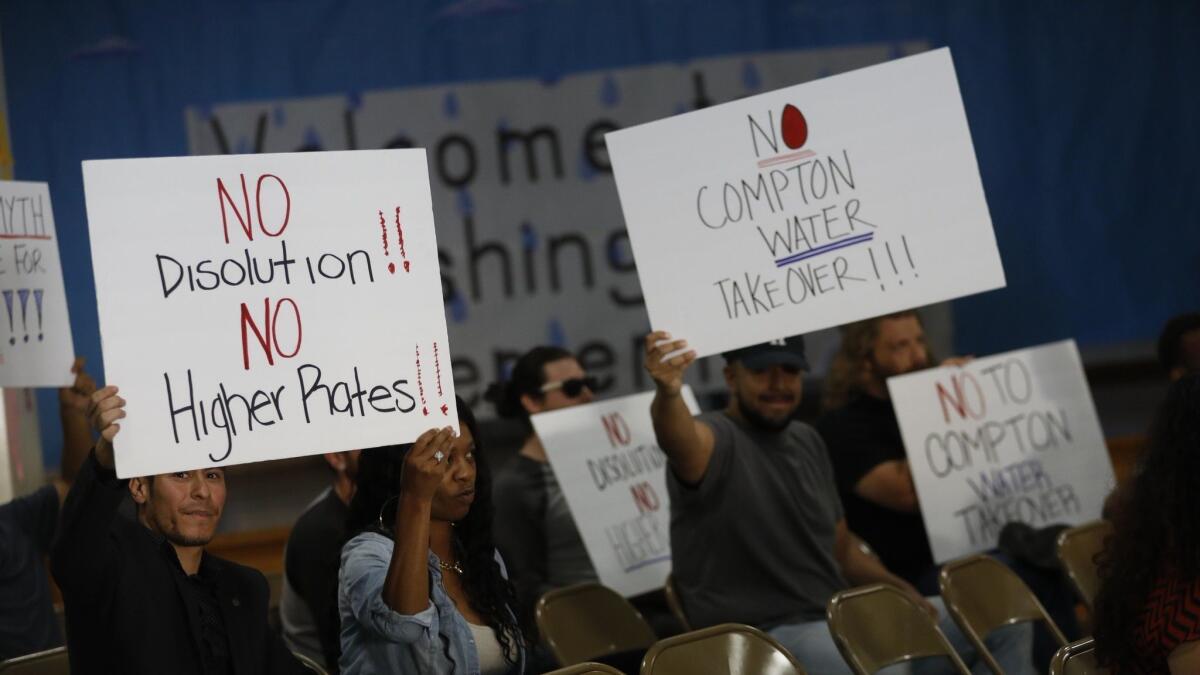 There are signs, however, the district will put up a fight. At a June 18 town hall meeting held to address the brown water, Sativa allegedly paid people to pose as protesters to defend the agency and hold signs that said "No Dissolution!! No Higher Rates!!"
Though an event organizer told The Times the water district had hired him to find paid supporters, Sativa's board and administrative manager, Maria Rachelle Garza, strongly denied any involvement. Days later, Garza was placed on leave.
Compton resident Karen Lewis said her plans to cook a soul food dinner for Father's Day were upended when discolored water began pouring from her faucet.
"It has been a nightmare," said Lewis, 67. "I'm the matriarch of my family and I can't even have them over for the holiday dinners anymore."
Like many Sativa clients, Lewis believes her cries for clean water have gone unheard because the customer base largely consists of working-class black and Latino residents with little political sway.
For now, Compton City Manager Cecil Rhambo has commissioned an analysis to determine the cost of absorbing the homes in the city that receive water from Sativa. But he said Compton is not in the financial position to take on the entire troubled district with its mounting costs and deferred maintenance.
"There are just too many unknowns coupled with the known existing infrastructure needs," Rhambo said.
angel.jennings@latimes.com
ruben.vives@latimes.com
Sign up for Essential California for news, features and recommendations from the L.A. Times and beyond in your inbox six days a week.
You may occasionally receive promotional content from the Los Angeles Times.