Key figure in L.A. County Sheriff's Department jail corruption scandal sentenced to nine-month prison term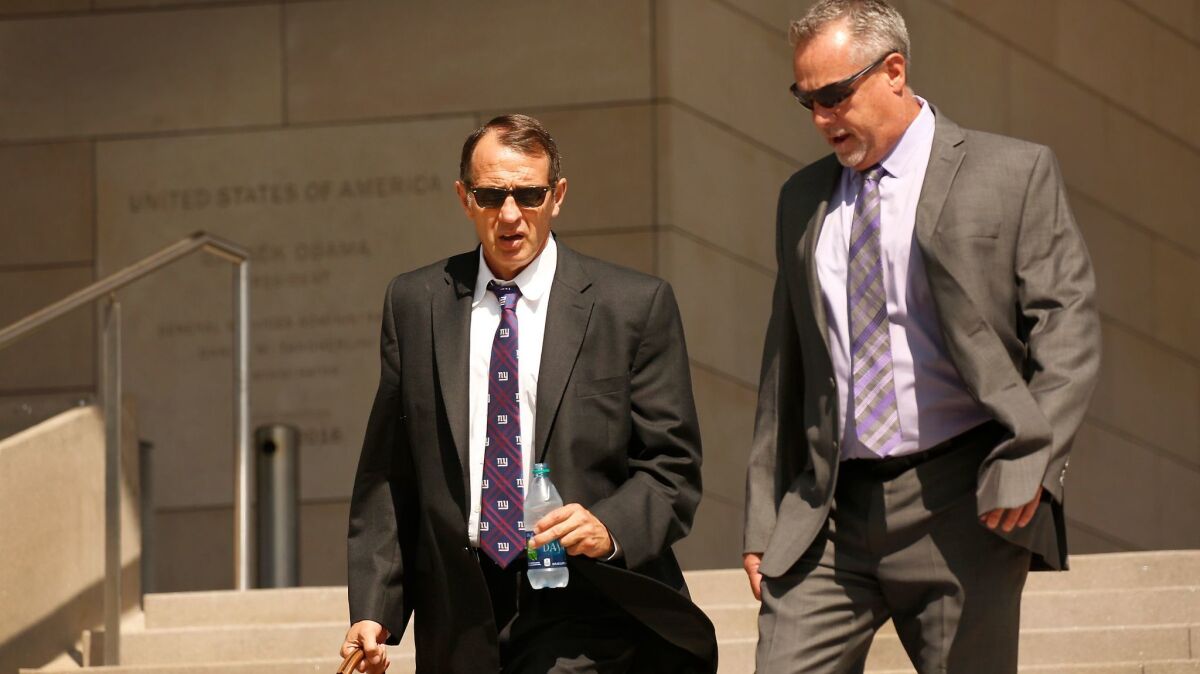 William "Tom" Carey, once a captain in the Los Angeles County Sheriff's Department who admitted to obstructing an FBI investigation into county jails and gave federal prosecutors crucial testimony that helped convict disgraced former Sheriff Lee Baca in the scheme, was sentenced to nine months in prison Monday.
The punishment was handed down by U.S. District Judge Percy Anderson, who presided over the trials of Baca and eight others found guilty of playing roles in the obstruction plan. The judge, who has lambasted the others for their efforts to derail the FBI probe and gave them stiff prison sentences, commended Carey for the cooperation he provided.
The sentencing came as an anticlimactic post-script in the long, unsavory corruption scandal that rocked the Sheriff's Department when it erupted in 2011 and dragged out over five years of investigations and trials. Baca was sentenced earlier this month to three years in prison, marking an end to the string of prosecutions.
As is typical in such cases, Carey was not immediately taken into custody, but instead was ordered to turn himself in to Bureau of Prison officials by July 25.
Carey played a central role in the ham-handed attempt to derail the FBI's investigation into alleged widespread abuse of inmates and corruption by sheriff's deputies working in the department's massive jail system.
After the FBI investigation was discovered by sheriff's officials in August 2011, Carey, a captain who ran an internal affairs unit, was tapped by Baca to investigate the FBI agents who had conducted the undercover operation, according to court papers filed by the government. He was also involved in efforts to hide an inmate who was working as an informant for FBI agents.
After a grand jury indicted him alongside Baca's second-in-command, former Undersheriff Paul Tanaka, in 2015, Carey quickly struck a deal with the U.S. attorney's office in which he pleaded guilty to lying under oath about the obstruction scheme when he testified as a defense witness in previous trials.
As part of the agreement, Carey was required to cooperate with prosecutors as they built their cases against Tanaka and Baca and to testify against his former bosses if called on to do so.
Prosecutors chose not to call him to the stand against Tanaka, who was convicted of being the ringleader of the obstruction plan and sentenced to five years in prison. They demurred again when Baca went to trial late last year.
However, when the jury deadlocked after nearly voting to acquit Baca and a mistrial was declared, the government retooled its case and put Carey on the stand in a retrial. He provided firsthand testimony of Baca's involvement in the bungled attempt to interfere with the FBI, telling jurors of several meetings he attended with the sheriff.
Carey's nine-month sentence is a month less than that requested by prosecutors. Carey's attorney had tried to persuade the judge to spare him any time behind bars. Along with prison time, Carey was ordered to pay a $3,000 fine.
The punishment was significantly lighter than the sentences given to others in the obstruction case, which spanned from the five years for Tanaka to 21 months for a deputy. Anderson granted a reprieve to another deputy who cooperated with prosecutors after being convicted, freeing him from prison after a few months.
Carey's attorney declined to comment.
Also Monday, a former deputy was sentenced for his role in one of the inmate beating cases that the FBI was investigating.
Pantamitr Zunggeemoge was sentenced to a year of probation, which includes six months of home detention.
Zunggeemoge was one of two deputies who broke an unspoken and often inviolable rule in law enforcement that cops don't testify against each other. He and the other deputy were part of a group of five deputies involved in the beating of a visitor at a jail facility.
As part of plea deals they struck, the two deputies testified against the others, admitting that the man had been handcuffed at the time of the beating and that the deputies later concocted a story to justify the assault. The others were convicted and each sentenced to several years in prison.
Zunggeemoge had pleaded guilty to misdemeanor counts of conspiracy and deprivation of the man's rights. He is banned from working in law enforcement and could have been sentenced to up to two years in prison.
For more news on federal courts in Southern California, follow me on Twitter: @joelrubin
---
UPDATES:
3:10 p.m.: This article was updated with retired L.A. County sheriff's Capt. William Carey's attorney declining to comment on the sentencing and with information about the sentencing of a former sheriff's deputy, Pantamitr Zunggeemoge, for his role in the jail abuse scandal.
This article was originally published at 11:55 a.m.
---
The stories shaping California
Get up to speed with our Essential California newsletter, sent six days a week.
You may occasionally receive promotional content from the Los Angeles Times.