Bill Barnes dies at 91; UCLA football coach led Bruins to 1962 Rose Bowl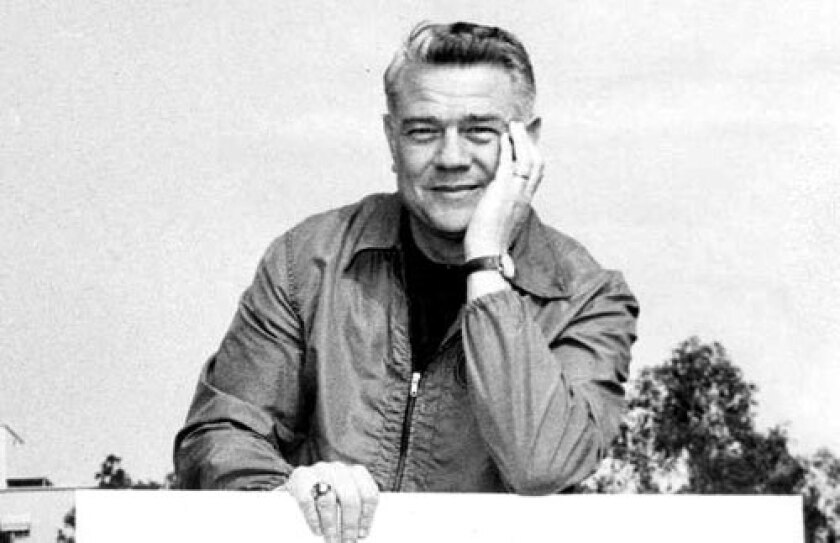 Bill Barnes, the UCLA football coach who tried to extend Red Sanders' legacy in the late 1950s and early '60s, has died. He was 91.
Barnes, who led the Bruins to the 1962 Rose Bowl, died Thursday at Santa Monica-UCLA Medical Center, said his great-nephew, Bill Ferguson.
Barnes' 15 years at UCLA -- eight as an assistant under Sanders and seven as head coach -- were highlighted by the Rose Bowl run during the 1961 season, when the Bruins won their conference before losing to Minnesota, 21-3, in the Rose Bowl game.
Born Oct. 20, 1917, in Cape Girardeau, Mo., Barnes became a running back and defensive back at Memphis Central High and the University of Tennessee. He played on the 1939 Tennessee team that did not allow a point until losing to USC 14-0 in the 1940 Rose Bowl.
Barnes entered the Army during World War II, serving in the South Pacific. He joined the Alamo Scouts, which operated behind enemy lines to provide intelligence gathering and tactical reconnaissance.
"He told me one time they were coming up a hill and a Japanese patrol was coming up the other side," Ferguson said Friday. "The light was at their back, so the Japanese couldn't tell who they were and waved. They were so far behind enemy lines, the Japanese just figured it had to be another one of their patrols."
Barnes ended up leading a battalion and was awarded the Legion of Merit, Silver Star and two Bronze Stars.
He began coaching football after the war, spending three years as an assistant at the University of Arkansas before Sanders brought him to UCLA in 1950. He was an assistant on the Bruins' national championship team in 1954. Sanders died before the 1958 season and was replaced by assistant George Dickerson, who stepped down because of nervous exhaustion after three games.
Barnes took over and the Bruins finished with a 3-6-1 record. He had a 31-34-3 record overall in seven seasons as UCLA's head coach, but his teams struggled after the 1962 Rose Bowl. His attachment to the old single-wing offense drew criticism, as the Bruins were one of only three college teams using the offense in 1961. He resigned after the 1964 season after learning that Athletic Director J.D. Morgan was not going to renew his contract.
"He was a man of great character; sometimes maybe he was too nice," said Sam Boghosian, who played for UCLA and later became one of Barnes' assistants and a coach for the NFL's Raiders. "He cared about his players and their families. What happened at the end, I would like to see anyone who could have done better. We opened against Pittsburgh, Penn State, played at Syracuse, Notre Dame and Illinois. That's a pretty tough road to haul."
In 2002, Barnes recalled the meeting with Morgan, saying, "He said, 'How do you tell an old friend that you have to let him go?' Heck, we were never friends."
Still, Barnes kept close ties with UCLA and maintained a longtime friendship with basketball coach John Wooden.
Barnes' last recruiting class, which included eventual Heisman Trophy-winning quarterback Gary Beban, was the backbone of Coach Tommy Prothro's early success at UCLA. The Bruins had a 24-5-2 record the three seasons after Barnes was pushed out.
He never coached again, though he did scout for some NFL teams. He went into real estate and was one of the first to develop the Coto de Caza planned community in south Orange County, "back when it was just an empty field," Ferguson said.
Barnes is survived by his wife of 62 years, Frances. The couple had no children.
Services are pending.
---
Must-read stories from the L.A. Times
Get all the day's most vital news with our Today's Headlines newsletter, sent every weekday morning.
You may occasionally receive promotional content from the Los Angeles Times.