Doreen Tracey, original Mouseketeer who found a second career with Frank Zappa, dies at 74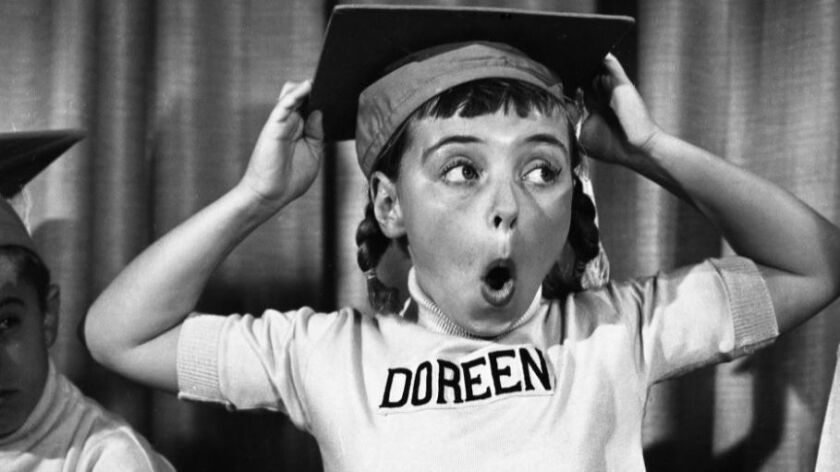 Doreen Tracey, one of the original Mouseketeers on Disney's popular after-school program "The Mickey Mouse Club" and later an associate of avante-garde composer and musician Frank Zappa, has died. She was 74.
Tracey, who long described herself as the "black sheep" of the 1950s children's show, died Wednesday while being treated for pneumonia at a hospital in Thousand Oaks.
A bubbly child and Type A personality, Tracey was featured on "The Mickey Mouse Club" during the entirety of its original 1955-59 run on ABC. The show lived on in syndication and she maintained a lifelong association with Disney, appearing in a spinoff with Annette Funicello, the actress and singer, as well as films such as "Westward Ho the Wagons!" with Fess Parker.
Tracey also had a more adventurous side and in the 1960s formed a rock group called Doreen and the Invaders, touring Vietnam in 1968 shortly after the Tet Offensive, one of the most aggressive military campaigns of the war.
She also posed nude for the magazine Gallery — except for the Mickey Mouse ears she wore — and worked as a publicist for Zappa, an unconventional but deeply admired musician and occasional filmmaker.
The risque photos cost her work at Disney, she told The Times, and she came to regret the decision.
"You get caught up in your own ego, not paying attention, not seeing the full repercussions," she said.
Tracey eventually reconciled with Disney and became a regular at Mousketeers reunions and conventions.
In an interview with The Times in 1995, she recalled that Walt Disney had advised her that appearing on the Mickey Mouse Club would be a heady experience.
"Walt Disney said to me, 'This will probably be the greatest thing you'll ever do in your entire life,'" she said. "That was pretty heavy stuff for a 12-year-old. But he was right."
Born in London on April 3, 1943, Tracey arrived in the United States when she was 4 and learned to sing and dance — necessities of being a Mouseketeer — at a studio her father operated in Hollywood.
After her television career, she worked until retirement as an administrator at Warner Bros.
Divorced, Tracey is survived by a son, Bradley, and two grandchildren, Gavin and Autumn.
---
Must-read stories from the L.A. Times
Get all the day's most vital news with our Today's Headlines newsletter, sent every weekday morning.
You may occasionally receive promotional content from the Los Angeles Times.