She saw the world to come: 'Future Shock' co-author Heidi Toffler dies at 89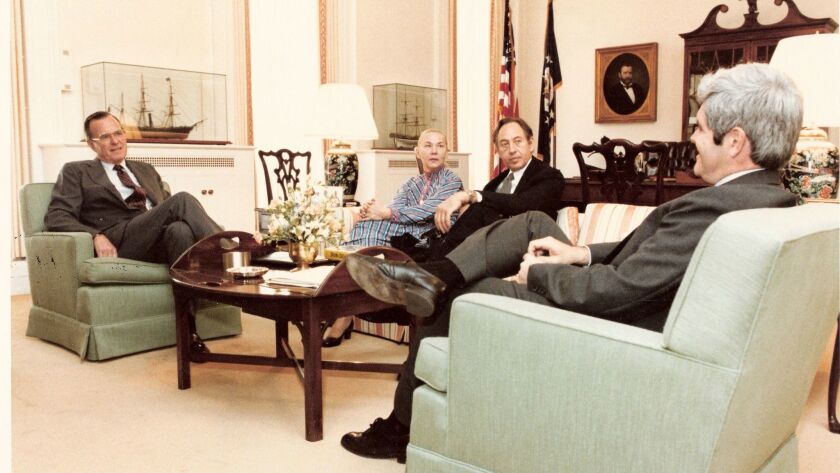 The digital age was still off in the distance when "Future Shock" arrived in America's bookstores, offering readers a sobering forecast of a future in which change and information would be arriving at such a dizzying pace that humankind would be overwhelmed.
As the book became a global bestseller and a cultural mile marker, the full credit for "Future Shock" fell squarely on the shoulders of Alvin Toffler, the noted futurist. But it was his wife and intellectual partner, Heidi, who had supplied much of the research, brainpower and editing that made the book a staple of the post-industrial era.
Belatedly, Heidi Toffler was added as a co-author, and the two would forever share bylines as they continued to publish forward-looking books, papers and commentaries that offered a glimpse into what the future might hold.
Curious and prolific until the end, Heidi Toffler died Feb. 6 at her home in Los Angeles, according to Toffler Associates, the consulting firm she co-founded. She was 89. Alvin Toffler died in 2016.
"In Heidi, Alvin had an intellectual equal who encouraged and challenged him almost daily," said Deborah Westphal, who chairs Toffler Associates.
"Future Shock," which was published in 1970 and became the first in a trilogy of books that provided a road map for a changing world, foresaw what would become the digital age, when information would be bombarding people at such an ever-accelerating pace that it would produce a collective sense of anxiety, a shared feeling — as The Times' John Balzar noted in 1993 — that "we're about to be late for tomorrow."
The traditional nuclear family would be swept away, the mail carrier replaced with email and the anchors that had long rooted Americans — religion, country, job security — would be shaken. Knowledge, the book forecast, would be the currency of a globally connected world where people would need to "learn, unlearn and relearn" in order to survive.
"Future Shock" arrived on bookshelves at a tumultuous time. The "Summer of Love" had come and gone, the war in Vietnam was grinding on and the streets and universities were simmering with unrest. The book was embraced as a guide to the future.
In a 1994 interview with New Scientist, Alvin Toffler offered up a succinct definition of future shock.
"With future shock, you stay in one place but your own culture changes so rapidly that it has the same disorienting effect as going to another culture," he said.
Many of the predictions of what the future would look like held up — genetic engineering, a computer-driven society, virtual reality and a worrisome sense of information overload.
Others missed the mark. The artificial cities in the depths of the oceans and the space colonies that would be established by pioneers of the new frontier never arrived. Nor did their belief materialize that the economy, sturdy and upward bound when the book was being researched, would never again experience a downturn. Instead, recession followed recession.
The success of the book and its siblings, "The Third Wave" and "Powershift," made Heidi Toffler and her husband global ambassadors. She visited the Soviet Union in 1986 at the invitation of Mikhail S. Gorbachev and led discussions at an academic forum in China. They were sought out by House Speaker Newt Gingrich, who was a fan of their work though not their left-leaning politics.
"At a time when few women were even allowed in the room, Heidi had a seat at the table with some of the world's most influential leaders," Westphal said.
Born Adelaide Elizabeth Farrell on Aug. 1, 1929, Toffler grew up in the Bronx in a household that put an emphasis on lifelong learning. She met her future husband at New York University, where the two shared an interest in social and political issues. He was interested in Marxism; she championed women's rights. Together they plunged into the bohemian world of postwar Greenwich Village.
After getting married, the two moved to Cleveland and went to work in the factories. She worked in an assembly line at an aluminum foundry and he became a welder. The experience sharpened their understanding of industrial mass production and provided a foundation for their work as futurists.
By the mid-1960s they'd begun work on "Future Shock." The book sold more than 5 million copies and gave the husband-and-wife team the breathing room to become full-time writers. "The Third Wave" was published in 1980 and "Powershift" a decade after that. In 1996, the two joined with consultant Tom Johnson to found their namesake advisory firm with the intent to help governments and businesses become "future proof."
And they continued to lecture and write, usually in their two-story library in their L.A. home. In a series of op-ed pieces published in The Times, they dug into topics that are still in the headlines, from terrorism to immigration.
Their daughter, Karen, died in 2000.
---
Must-read stories from the L.A. Times
Get all the day's most vital news with our Today's Headlines newsletter, sent every weekday morning.
You may occasionally receive promotional content from the Los Angeles Times.