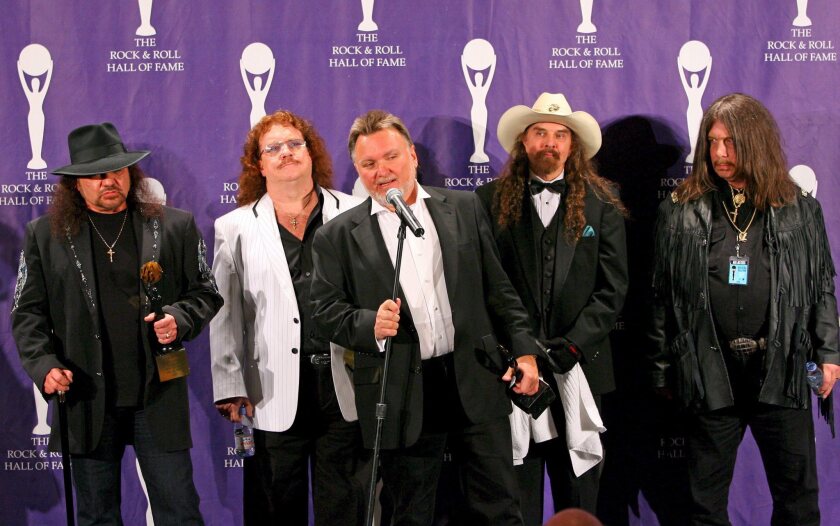 Rock drummer Robert Burns Jr., who was a founding member of the hard-driving Southern band Lynyrd Skynyrd, died Friday in a single-vehicle crash near his home in Cartersville, Ga. He was 64.
Burns was alone in the car when it went off the road near a curve, hitting a mailbox and crashing into a tree, said his father, Robert Burns Sr. It was raining around the time of the accident, which is under investigation.
Robert Burns Jr. died at the scene. Georgia State Patrol spokeswoman Tracey Watson said he was not wearing a seat belt, according to the Associated Press.
He was born Nov. 24, 1950, in Gainesville, Fla. Before it became famous, the band, fronted by singer Ronnie Van Zant, practiced in the Burns family garage in Jacksonville, Fla.
The group was an almost immediate hit with its first album in 1973, and in its early years while Burns was in the band, it recorded some of its best known songs, including "Sweet Home Alabama" and "Free Bird."
But Lynyrd Skynyrd had a reputation for hard living, and though Van Zant was especially known for being rowdy, Burns was no stranger to it. "You couldn't help it and be in that business," Robert Burns Sr. said on Saturday.
Burns Jr. left the group in the mid-1970s after having a disabling reaction to a drug he took in Europe, the elder Burns said.
After a long hospitalization, the drummer recovered and eventually became drug free, his father said. He did not re-join the band.
In 1977, tragedy struck Lynyrd Skynyrd when a plane taking the band to a concert crashed in Mississippi, killing three in the group: Van Zant, guitarist Steven Gaines and backup vocalist Cassie Gaines.
Burns is survived by his father, his mother, Jane Burns; sisters Patti Lynn Burns and Deborah Burns McGuire; brothers Daran and Michael Burns; and stepdaughters Lauren and Kristen Burns.
His wife, Marsha, died in 2011.
Twitter: @davidcolker
---