How Orange County's namesake was squeezed out—and is being squeezed in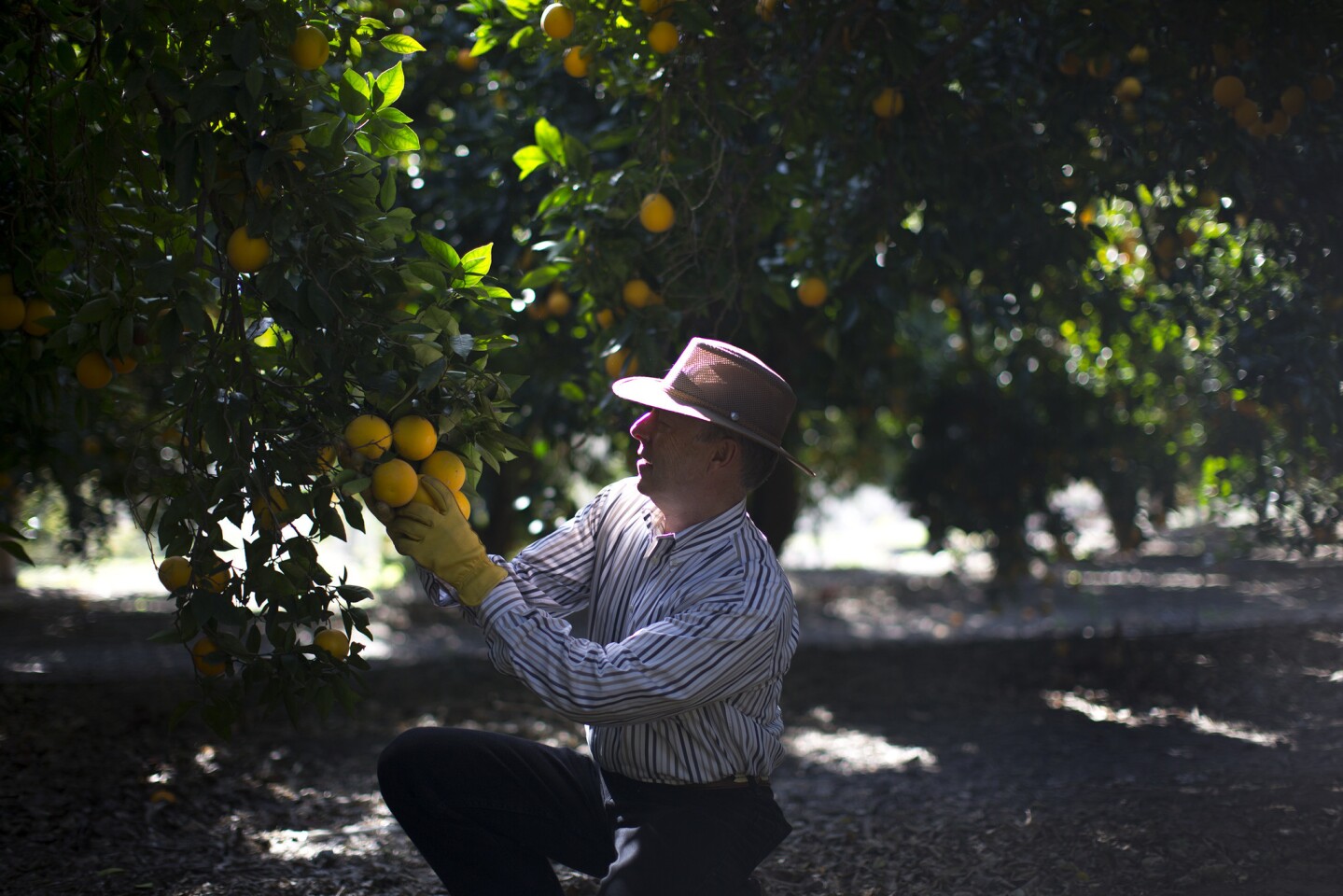 Don Neff checks on oranges at his grove nestled between the 91 Freeway and a housing development in Yorba Linda.
(Gina Ferazzi / Los Angeles Times)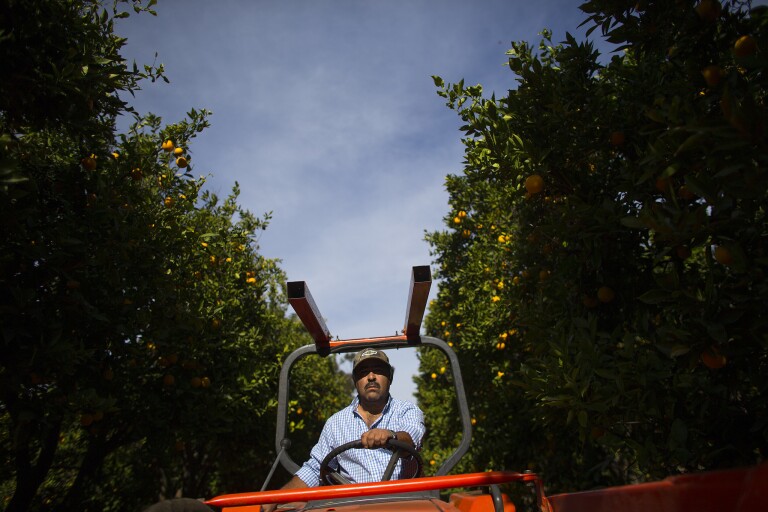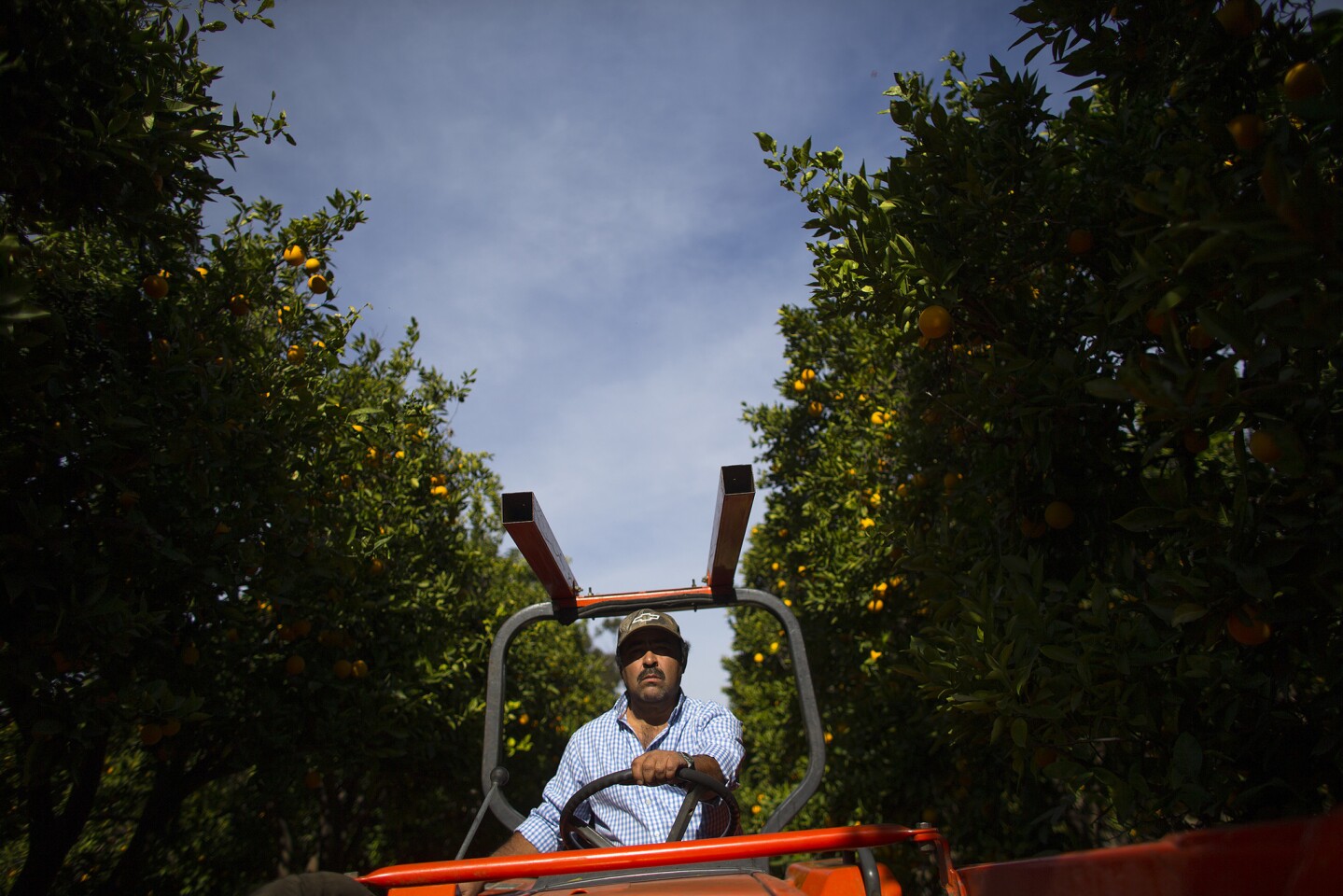 Ranch manager Martin Almanza works at Neff's grove.
(Gina Ferazzi / Los Angeles Times)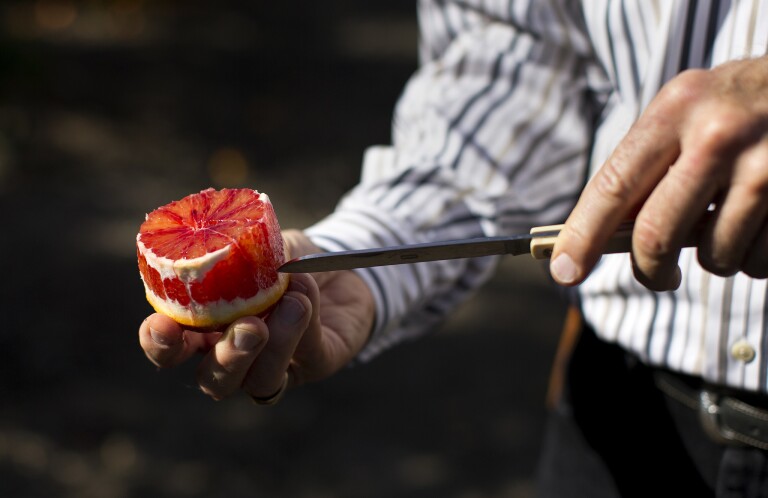 Neff peels an orange at his ranch. He calls what he's doing "integrated urban agriculture."
(Gina Ferazzi / Los Angeles Times)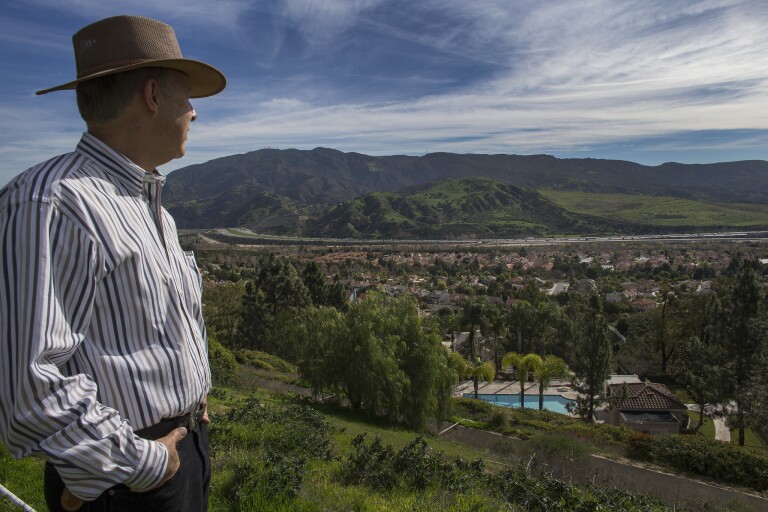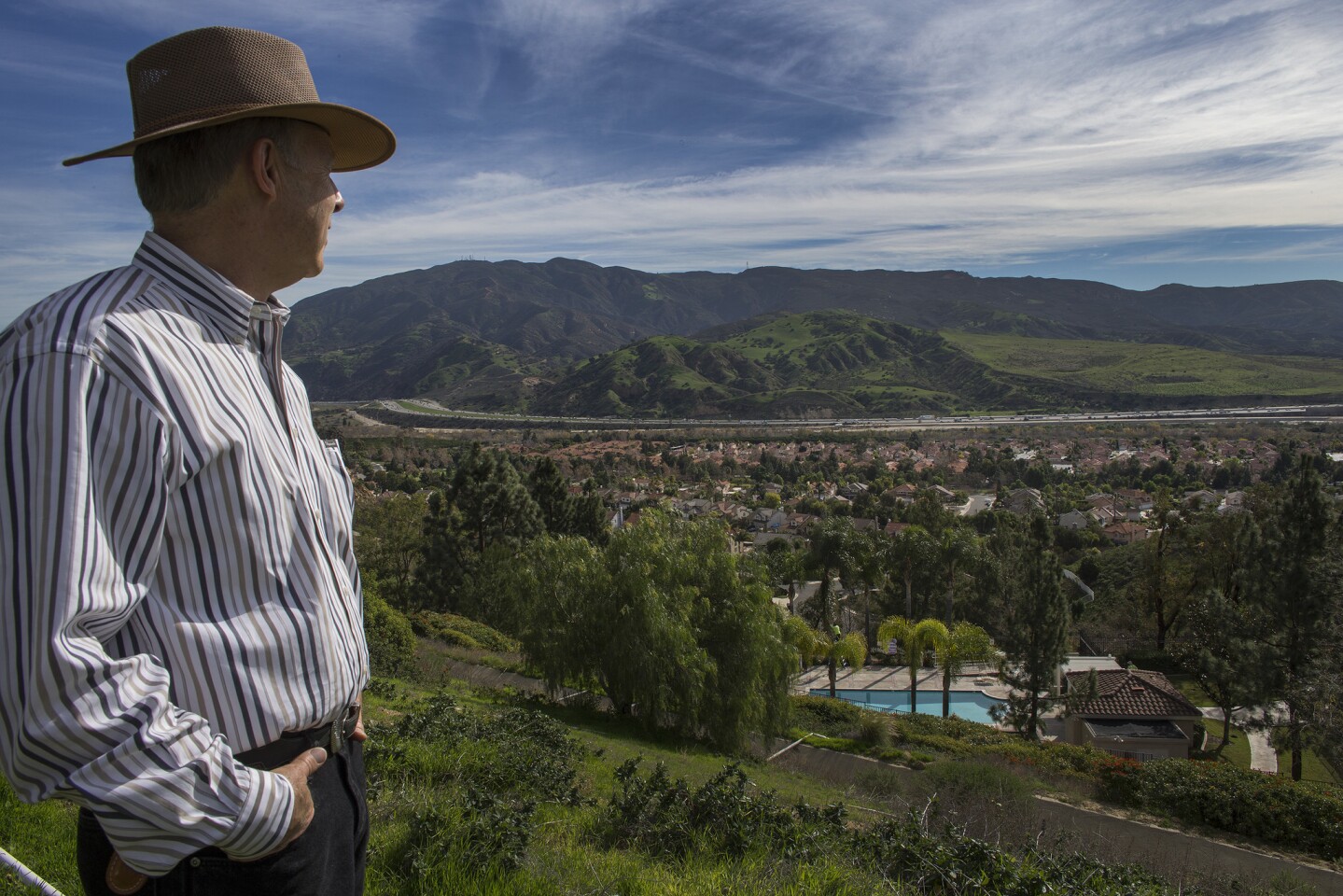 Neff looks toward his citrus ranch, beyond a housing development and before the 91 Freeway in the distance, in Yorba Linda.
(Gina Ferazzi / Los Angeles Times)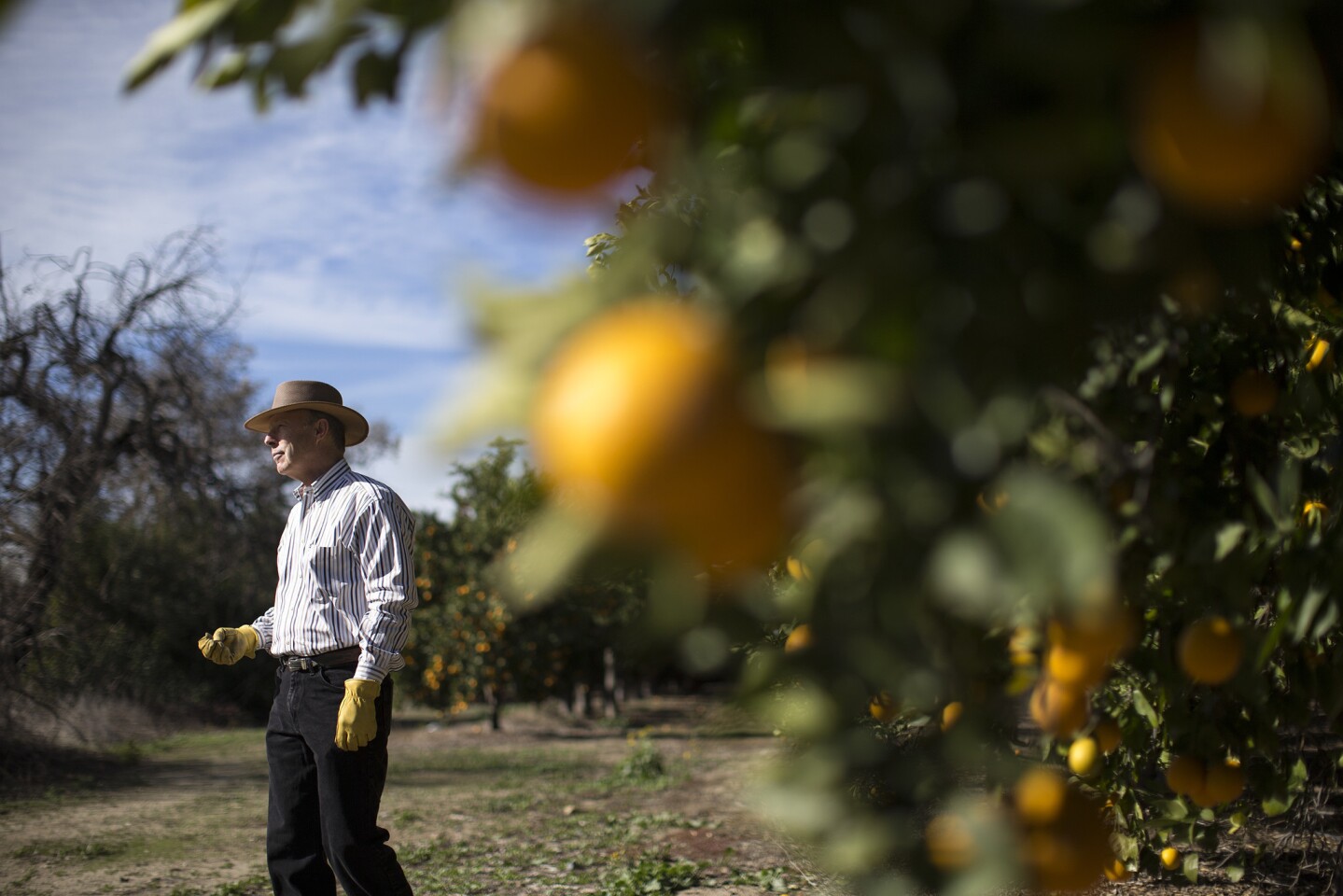 Neff's Valencia grove rises up from a flood plain, a leafy green oasis in the wild brush that surrounds the Santa Ana River between a set of train tracks and the 91 Freeway.
(Gina Ferazzi / Los Angeles Times)
The scent of orange blossoms washes over visitors at Disney California Adventure Park as they soar above images of a grove.
To see and smell the real thing in Orange County, people might need to stop by a place like George Key Ranch Historic Park.
"This is what the area used to be like," Bradley Flynt, a historical resource specialist for OC Parks, says of the small, preserved grove in Placentia. "This is why people moved to Orange County 100 years ago."
Where tens of thousands of Valencia trees once spread across the land and perfumed the air, the county's namesake citrus has been reduced to a collection of dwindling private groves, haphazard leftover trees and commemorative historic sites. The survivors hang on amid the development that ousted them, linked by streets like Orangethorpe and Orangewood.
It's a fate mirrored across Southern California.
In the San Gabriel Mission's historic garden, a sign marks a young plant descended from orange trees believed to be 140 years old. In Riverside, an iron fence protects the state's last original Washington navel tree. The nearby California Citrus State Historic Park advertises a chance for visitors to taste "fresh fruit right off the tree."
But there's a flicker of life now in the citrus industry as micro-farmers like Don Neff harvest tiny fields of orange and avocados in the nooks and crannies of an urbanized county.
::
A short drive north of Disneyland, the Pressel family's forlorn orchard is wedged against homes and surrounded by a chain-link fence topped with barbed wire. It is one of the few plots still operating under private ownership. There is no clear sign advertising the spot. There is no way for passersby to purchase a piece of the fruit.
Ten miles away, on a busy corner in Tustin, a festive fruit stand welcomes customers. Handwritten messages direct patrons to leave $2 for each bundle of oranges. "Oranges are my hobby," a sign reads.
Matt Nisson manages the gated land behind it. His reason for not selling the property is simple: At 90, he still enjoys orange farming. That's what his father did. And his grandfather before that. He plans to leave the grove to his children.
"It's just another world," he said. "It's just another time."
In Santa Ana, a five-acre orchard left to Concordia University and Orange Lutheran High School by the Sexlinger family was razed last year.
Despite opposition from a group called the Old Orchard Conservancy, the city approved a plan for 22 homes on the site, keeping intact a cluster of 16 trees and the family's adjacent home, built in 1914. The conservancy has taken its fight to court, and the development project is on hold.
The conservancy hopes to plant trees and develop an "urban agricultural center" with community gardens
"You can't keep plowing down the land and putting asphalt there — and buildings and homes and business — and not have some way to provide open space and food for people," said Jeannie Gillett, the group's secretary and treasurer.
At his residence in the gated community of Coto de Caza, William Lyon owns perhaps the last sizable private orange grove. About 5,000 trees fan out across 52 acres, according to his executive assistant. Ironically, Lyon made millions building homes where orchards once stood.
::
In a way, Orange County's relationship with the fruit has come full circle.
Few of the trees sprouted here when the county name was proposed in 1871. Rather, the abundant crops were corn and grapes — neither of which possessed the needed charm for branding a place that hoped to attract new residents.
But when the railroads expanded through the area and a blight wiped out the grape industry, the orange became king of cash crops.
By 1947, there were more than 65,000 acres of Valencias, according to county records. In 1951, their value soared above $40 million.
Still, the fruit's success proved to be its undoing. The population skyrocketed. So did property taxes, land values and the cost of water.
In 2013, county records showed that commercial Valencia groves covered just 71 acres, valued at $112,012.
Today Orange County's namesake trees exist largely for posterity, not profit.
There are three county parks, including George Key Ranch, with small groves "preserved for historic and cultural significance," said OC Parks spokeswoman Marisa O'Neil. In the most recent harvest, they netted a token $2,440 for the agency's operating fund.
In the arboretum at Cal State Fullerton, volunteers pick and sell fruit from two short rows of trees. Sometimes their juice is served at special events.
Trees invariably die, yet artifacts of the industry also are preserved in repurposed packing houses, where fruit once was cleaned, piled into crates and shipped away.
A 24 Hour Fitness operates out of one old building in Yorba Linda. Another in Orange is slated to house an art collection donated to Chapman University.
"When you walk in there, it's almost like the feeling of a cathedral," university spokeswoman Mary Platt said.
A third reopened with food vendors in Anaheim last year. Inside, hints of the citrus industry abound. Smudge pots that warmed plants serve as table bases. A flatbed train car that might have carted fruit away is a permanent porch. And packing crate labels hang on a wall as if they were pieces of art.
::
On a cloudy Saturday at a farmers market in Irvine, vendors hawked oranges from Riverside, Dinuba and Fresno. Neff Ranch Ltd. offered something closer to home.
Don Neff tends a Valencia grove that rises up from a flood plain, a leafy green oasis in the wild brush that surrounds the Santa Ana River between a set of train tracks and the 91 Freeway.
Although the county could retract his permit to grow there at any time, Neff has been experimenting with different and more profitable citrus — sweet limes, honey tangerines, mandarins — cultivated alongside the rows of what he calls "passe" Valencias.
The idea of squeezing agriculture into a developed county — "integrated urban agriculture," Neff calls it — also has taken root on a steep slope of a housing tract in Tustin, where Neff maintains 13 acres of avocado trees. He splits the revenue with the homeowners association.
Walking among his Valencias on a recent morning, he couldn't help himself from plucking a ripe piece of fruit from a tree.
"Mmm," he said, slicing it open and taking a bite. "Isn't that good?"
---
Get the Latinx Files newsletter
Stories that capture the multitudes within the American Latinx community.
You may occasionally receive promotional content from the Los Angeles Times.