Authorities review video of 'Suge' Knight's fatal parking lot run-in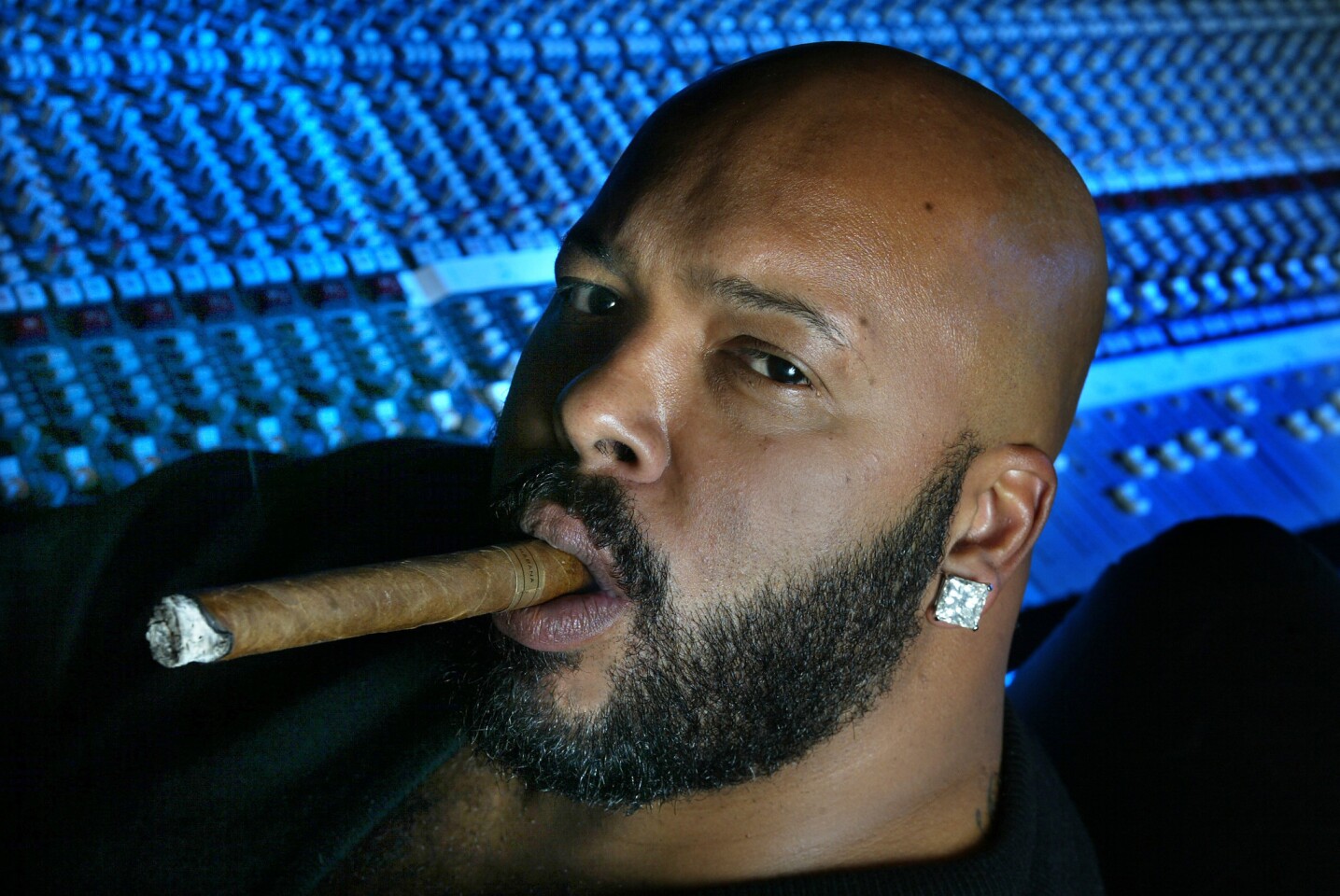 Suge Knight's storied career has been inextricably entwined with legal trouble. A look at the Compton native's life, so far, in pictures.
(Ken Hively / Los Angeles Times)
Knight's first big foray into music was with his own publishing company. One client wrote material for Vanilla Ice's "Ice Ice Baby" but had not been paid. Various accounts said Knight dangled the rapper off a balcony, or threatened to, but Ice now says Knight was nice in asking for his cut.
(Robert Lachman / Los Angeles Times)
When Knight started the record label Funky Enough, rapper DJ Quik, shown performing in Anaheim in 2002, was one of his first artists.
(Al Schaben / Los Angeles Times)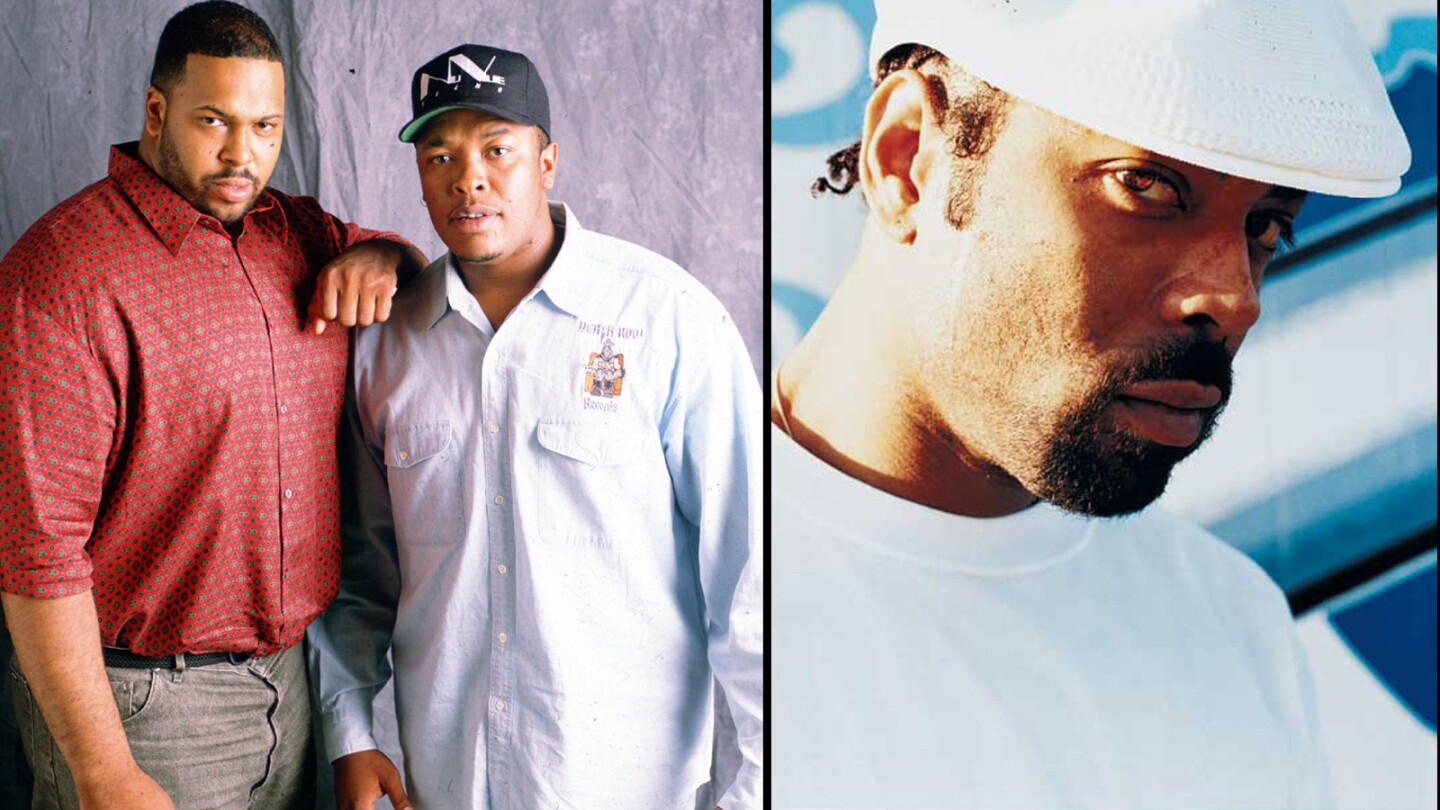 In 1991, rappers Dr. Dre, center, and the D.O.C., right, leave Ruthless Records to cofound Death Row Records with Knight, left. It would become an industry giant with more than $100 million in yearly revenue, built on controversial gangsta rap.
(Los Angeles Times; Jonathan Mannion)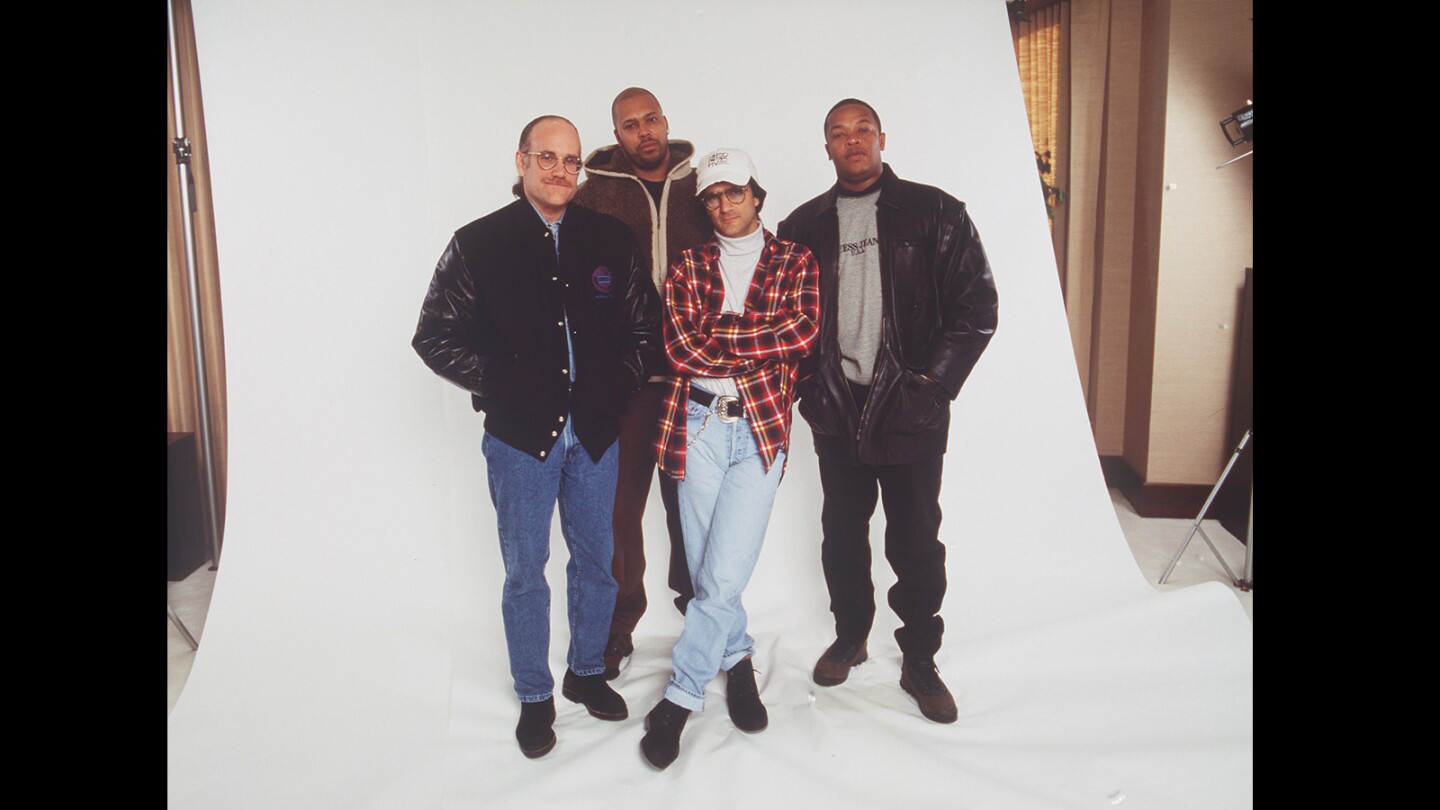 After landing a distribution deal with Interscope Records, Knight helped propel Dr. Dre's first solo album (and Death Row Records' first release) to triple platinum. Pictured circa 1995: Interscope Records founders Ted Field, left, and Jimmy Iovine, second from right, Knight and Dr. Dre.
(Interscope Records)
After the success of Dr. Dre's "The Chronic," Knight and the Death Row Records crew ushered in the solo debut of Snoop Dogg, right, with "Doggystyle." The record reached quadruple platinum in sales.
(Handout; Patrick Downs / Los Angeles Times)
Knight convinces rap star Tupac Shakur, left, to sign with Death Row by agreeing to post his $1.4 million bail when Shakur was in prison for a sexual assault conviction. Dr. Dre left Death Row in 1996 after internal disputes and being concerned with Knight's behavior.
(Frank Wiese / Associated Press)
Knight was driving his BMW when his passenger, Shakur, was shot several times in September 1996, just hours after a rival of Shakur's had been beaten. Shakur died days later. Knight was later sent to jail in connection with the beating.
(Chi Modu / diverseimages / Getty Images)
In 1997, Knight was sentenced to nine years in prison for a probation violation stemming from a 1992 assault on two aspiring rappers. He was released in 2001. Pictured: Knight, wearing handcuffs, during a bail hearing in 1996.
(Rick Meyer / Los Angeles Times)
Knight, shown walking out of the Los Angeles County jail in 2003, goes to prison again after hitting a parking lot attendant, a violation of his parole. Death Row records suffers while Knight is behind bars.
(Damian Dovarganes / Associated Press)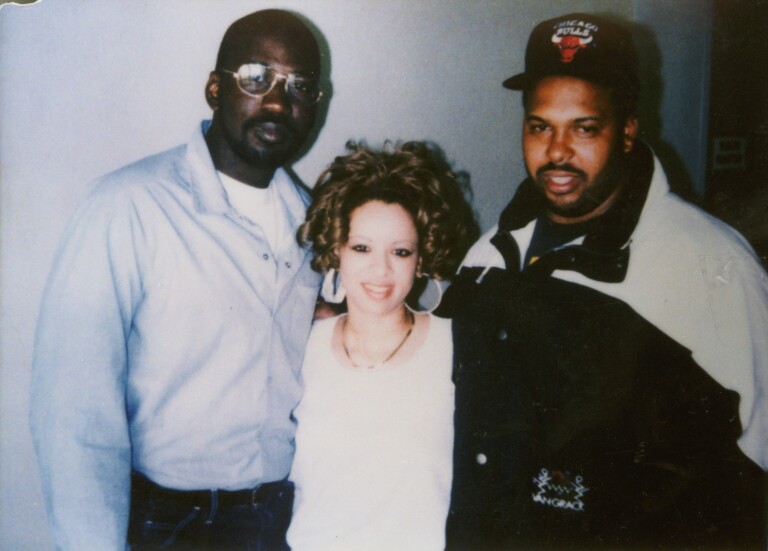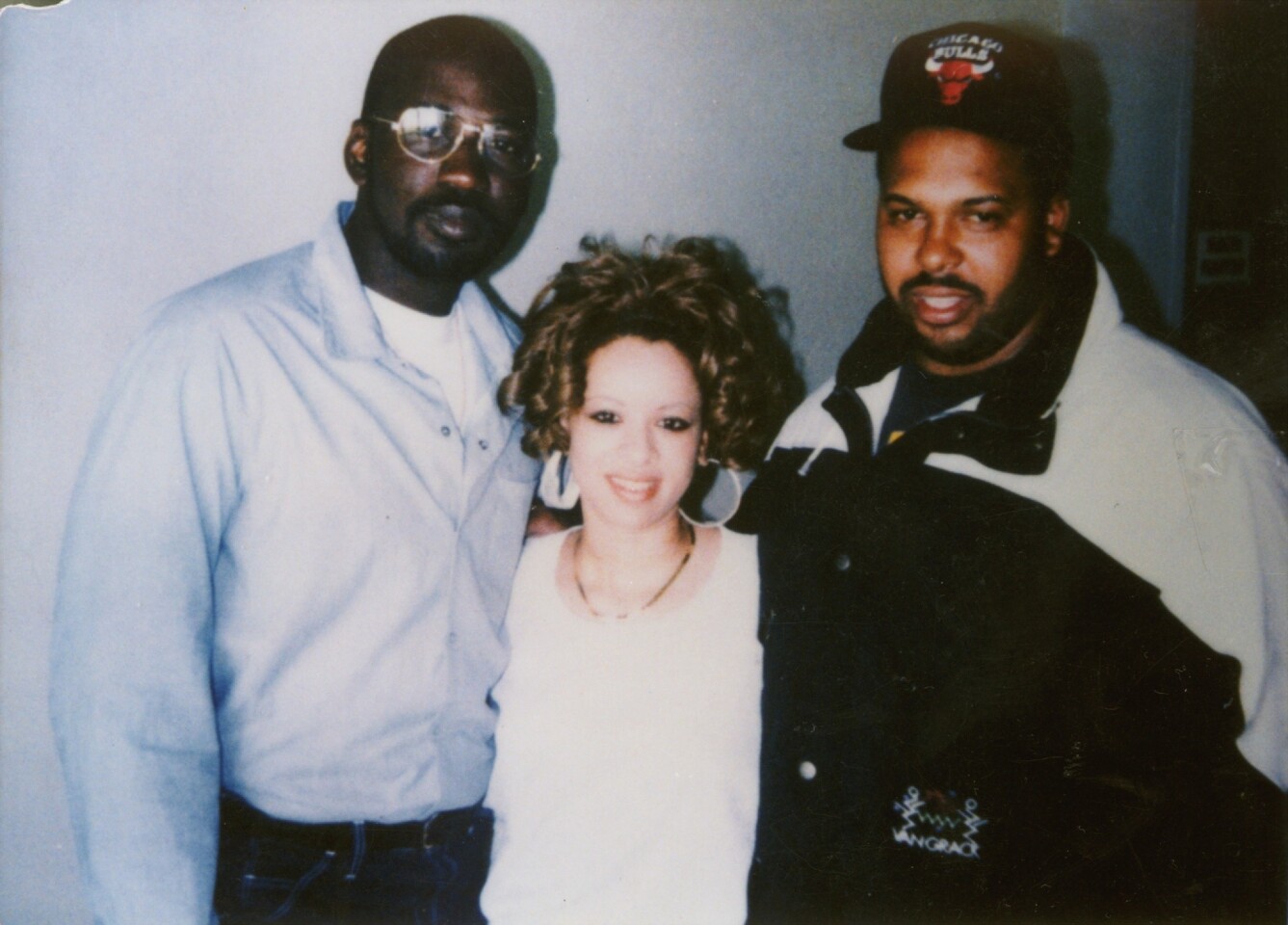 Death Row's decline continued after Shakur's death and Knight's frequent legal troubles. A $107-million lawsuit filed by former artist Lydia Harris, shown, center, with her husband Michael Harris and Knight at Tehachapi State Prison in 1992, forced Knight to file for bankruptcy in 2006.
(Handout)
Knight files a lawsuit against rapper Kanye West, right, seeking over $1 million in damages regarding a 2005 party hosted by West where Knight got shot in the leg. The case remains unresolved.
(Tammie Arroyo / Associated Press; Jim Cooper / Associated Press)
Knight sustains six gunshot wounds during a party ahead of the MTV Video Music Awards hosted by R&B singer Chris Brown. Despite requiring surgery for his wounds, he is able to leave the club and seek help. Pictured: The scene at 1Oak nightclub in West Hollywood, August 2014.
(Christina House / For The Times)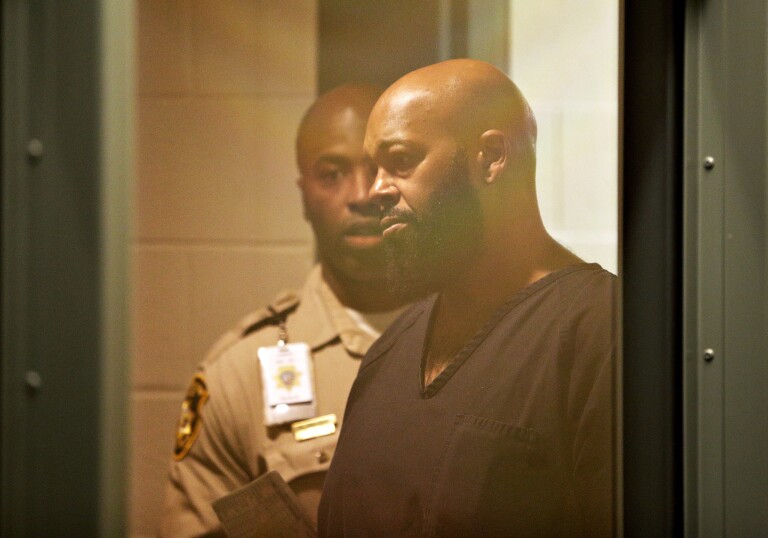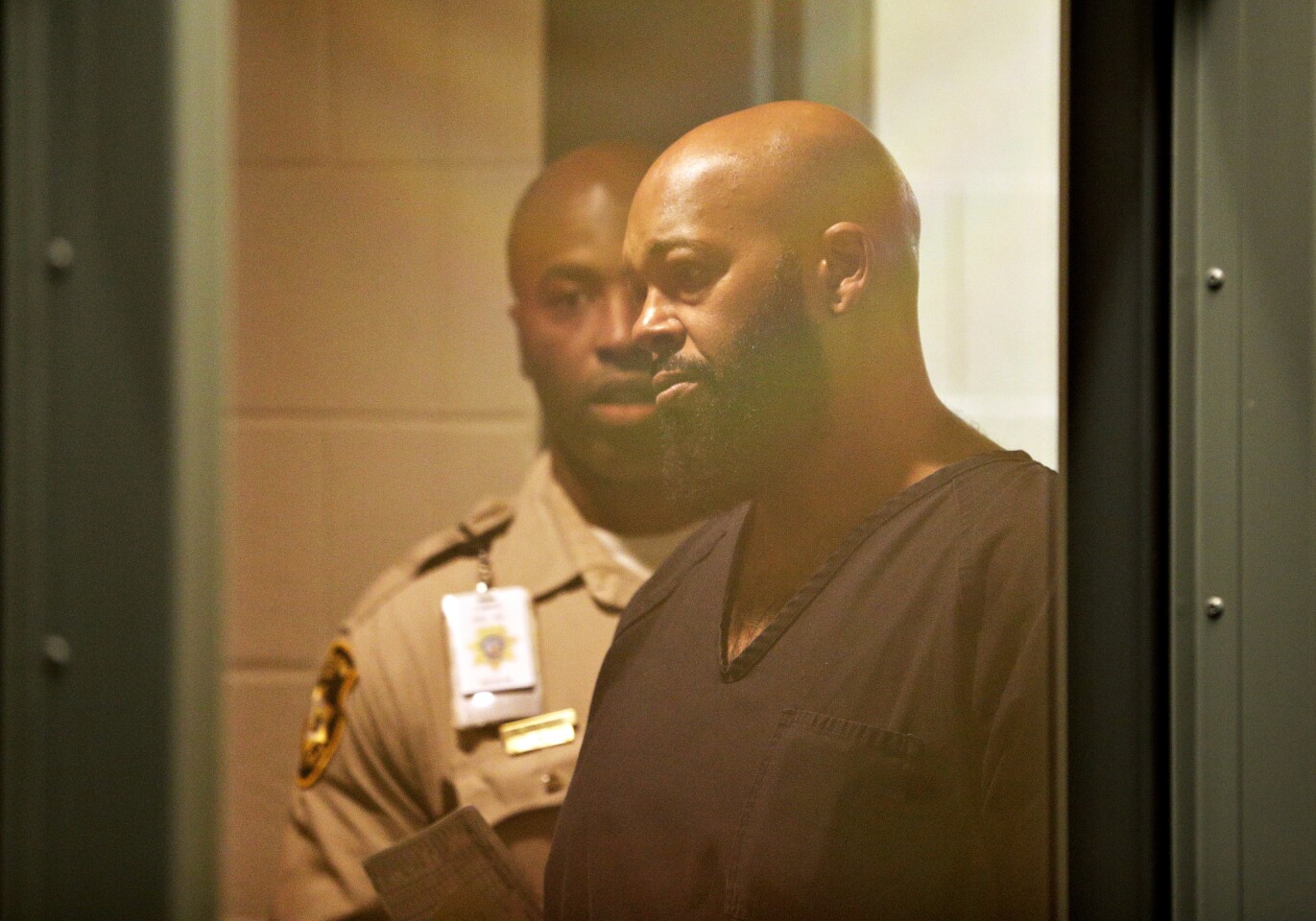 Knight and comedian Katt Williams are charged with second-degree robbery for allegedly stealing a camera in Beverly Hills. Knight, shown in court after his October arrest, pleads not guilty.
(John Locher / Associated Press)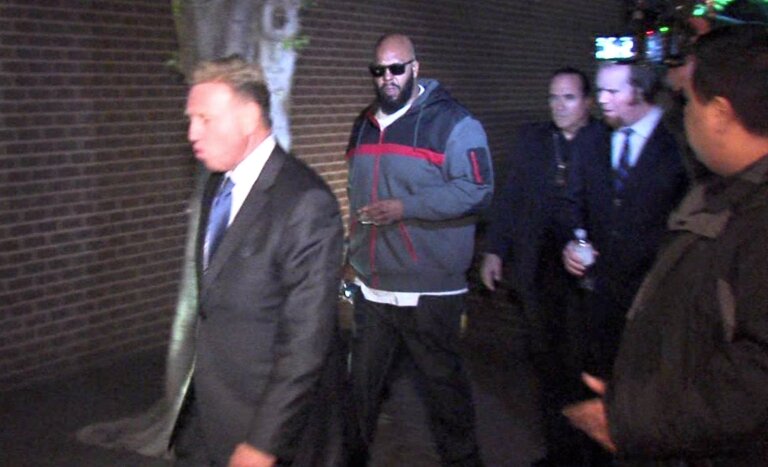 Knight turns himself in to Los Angeles County sheriff's detectives and is charged with suspicion of murder after he allegedly ran over two men with his truck following an argument on a film set in Compton, killing one of them. According to his attorney, Knight was fleeing for his life.
(Associated Press)
LOS ANGELES —
Sheriff's investigators Saturday were reviewing a video of an incident in which hip-hop music mogul Marion "Suge" Knight hit two men with his pickup truck, killing one, that may help provide clarity on whether Knight was the victim or attacker in his most serious run-in with the law to date.
The video is in "police custody" said Knight's defense attorney James Blatt, and he said he would be seeing it on Monday or Tuesday. Sheriff's spokeswoman Nicole Nishida confirmed that detectives were reviewing the video, but "they have made no such arrangements with the attorney" nor did they plan to show it to him.
Meanwhile, Knight remained jailed on suspicion of murder after turning himself in early Friday. He's being held on $2 million bail.
Sheriff's deputies said Knight hit and killed his friend Terry Carter, 55, with his pickup truck Thursday in the parking lot of a Compton fast-food restaurant, also injuring Cle "Bone" Sloan, 51, an actor and film consultant who was hospitalized and in stable condition late Friday.
Blatt said Knight was an innocent victim who accidentally ran over the men as he tried to escape a vicious attack.
The incident was the latest in a long line of brushes with death and the law for the 49-year-old founder of Death Row Records, one of the genre's leading labels.
Knight started the label that helped solidify West Coast rap with Dr. Dre, who had been a member of the legendary group N.W.A. The label also launched the career of Snoop Dogg and had Tupac Shakur in the last months of his life.
The fatal run-in occurred a short while after Knight was told by deputies providing security to leave a film location after arguing with Sloan, who was working on the set, during a break from filming a promotional video for the biopic "Straight Outta Compton" about the rise of N.W.A.
The argument resumed and escalated a short while later at a fast-food restaurant a few miles away, with Knight and Sloan exchanging punches through his open window, sheriff's Lt. John Corina said.
Corina said Knight backed up his pickup truck and knocked Sloan down.
"Then he puts the truck in drive, drives forward, running over him, and then keeps going forward and keeps on driving, and runs over Carter, who is standing in the parking lot, and keeps on going after that," Corina said.
He said witnesses told investigators it looked like an intentional act.
Authorities said they do not believe Carter was involved in the altercation.
Blatt said Knight was called to Tam's Burgers in Compton by Carter for a meeting and was attacked by four people, including Sloan, as he slowed his truck. The men beat him through his window, tried to pull him outside, and threatened to kill him.
Knight punched the gas and fled in fear, Blatt said. He had no idea he hit two men. Corina said that claim is hard to believe, and there's no evidence thus far of four attackers.
The incident came less than six months after Knight was shot six times at a West Hollywood nightclub in August — the second shooting he's survived. No arrests have been made.
At 6-foot-4 and weighing 325 pounds, Knight has a reputation as an imposing figure that is credited, in part, with helping create Death Row Records when he strong-armed another label to release Dr. Dre from his contract, said Chuck Creekmur, CEO of allhiphop.com.
Knight was at the center of one of the most notorious rap conflicts of the 1990s, pitting Tupac Shakur against Biggie Smalls in an East Coast-versus-West Coast rivalry.
Knight was sent to prison for nearly five years for badly beating a rival with Shakur at a Las Vegas hotel, just hours before Shakur was fatally shot while riding in Knight's car just east of the Strip.
Smalls, whose real name was Chris Wallace, was shot to death in a similar attack six months later.
Knight and Dre later had a falling out, and Dre left. The record company eventually declared bankruptcy and was auctioned off.
Dr. Dre and Ice Cube, another former N.W.A. member, were at the film location Thursday, but they didn't see Knight.
In November, Knight pleaded not guilty to a robbery charge filed after a celebrity photographer accused him of stealing her camera in Beverly Hills. Because of prior convictions, he could face up to 30 years in prison.
Associated Press
---
Must-read stories from the L.A. Times
Get all the day's most vital news with our Today's Headlines newsletter, sent every weekday morning.
You may occasionally receive promotional content from the Los Angeles Times.