Appearing to contradict Trump, Pompeo calls North Korea a nuclear threat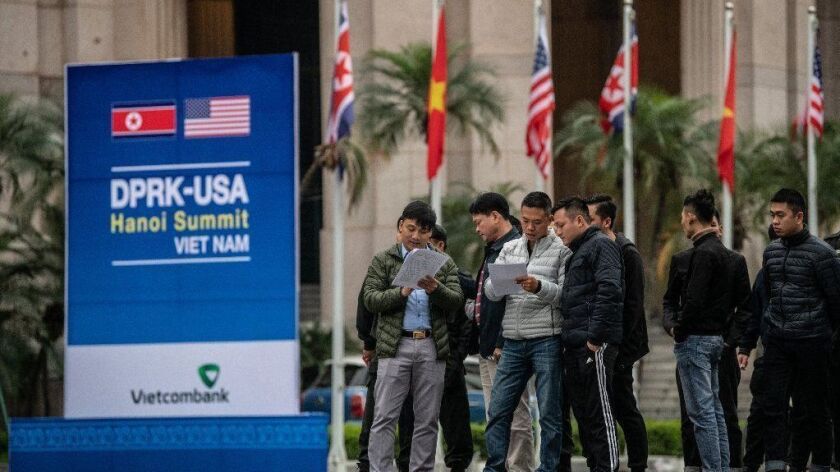 Reporting from Washington —
Secretary of State Michael R. Pompeo on Sunday seemingly contradicted President Trump on whether North Korea poses a nuclear menace — and then swiftly denied that there was any divergence in their views.
Three days before Trump is to meet North Korean leader Kim Jong Un in Hanoi, the secretary appeared on CNN's "State of the Union" to talk about preparations for what will be the leaders' second face-to-face talks. The two met last year in Singapore.
"Do you think North Korea remains a nuclear threat?" host Jake Tapper asked. "Yes," Pompeo answered.
Tapper then observed that that did not square with Trump's previously stated public stance. On June 13, after the Singapore summit, Trump wrote on Twitter: "There is no longer a Nuclear Threat from North Korea."
Pompeo took issue with Tapper's characterization, saying: "That's not what he said," and the host parried by noting he was quoting directly from Trump's earlier statement.
Without directly addressing that, the former CIA chief pointed to the administration's mission "to keep American people secure," adding, "we're aiming to achieve that."
In a separate interview on "Fox News Sunday," host Chris Wallace referred to Trump's declaration at a campaign-style rally last year in West Virginia that he and Kim — who is considered one of the world's most brutal dictators — "fell in love."
"Why does the president say that?" Wallace asked.
Pompeo suggested it was simply a smart negotiating tactic.
"Relationships matter, Chris," he said. "It's important that the two leaders are able to effectively communicate."
In advance of the Hanoi meeting, some senior congressional Democrats have raised concerns that Trump might be outmaneuvered by Kim, who is half Trump's age and the scion of a dynasty of authoritarian North Korean leaders.
Sen. Ed Markey, the top Democrat on the Senate Foreign Relations subcommittee responsible for U.S. policy on North Korea, said in an interview Sunday on CBS' "Face the Nation" that there was "apprehension" among U.S. diplomats over whether Trump would cede too much, perhaps in order to preserve a perceived friendly relationship with the North Korean leader.
"It's pretty clear that Kim wants to have a personal meeting with Trump with hopes that he can, in fact, elicit concessions … that otherwise might not be possible if it was just our diplomats talking one on one," said Markey of Massachusetts. "I think as a result we could run the risk that Kim is given concessions which are not accompanied by real concessions that the United States is receiving in return from Kim and his regime."
Asked by host Margaret Brennan if he was predicting that Trump was "going to get played," Markey replied that Trump needed to be "very careful going in."
The president himself expressed confidence Sunday about his negotiating prowess, comparing himself favorably to his predecessors.
"So funny to watch people who have failed for years, they got NOTHING, telling me how to negotiate with North Korea," he tweeted. "But thanks anyway!"
Underscoring the emphasis on his personal ties to the North Korean leader, Trump told reporters at the White House on Sunday night that he had developed "a very, very good relationship" with Kim and that he has a "special feeling" about the upcoming talks. "We see eye to eye, I believe," he said.
Even some Republican allies, however, expressed caution over Trump's desire to seek a declaration to end the Korean War, saying that should not come at the expense of other, more urgent, priorities.
"In order to be sure that this summit is in fact successful, the president should first return with a codification of the freezing of the missile program and a nuclear program in North Korea," Sen. Roy Blunt (R-Mo.) said on "Face the Nation."
He added that the United States should also seek a verifiable program of inspection of the North's nuclear program, and put in place a road map to avoid lifting sanctions without proof that Kim was complying with a step-by-step denuclearization.
---
The Latinx experience chronicled
Get the Latinx Files newsletter for stories that capture the multitudes within our communities.
You may occasionally receive promotional content from the Los Angeles Times.