Some in Chile feel betrayed as pope scolds critics of bishop's response to alleged sexual abuse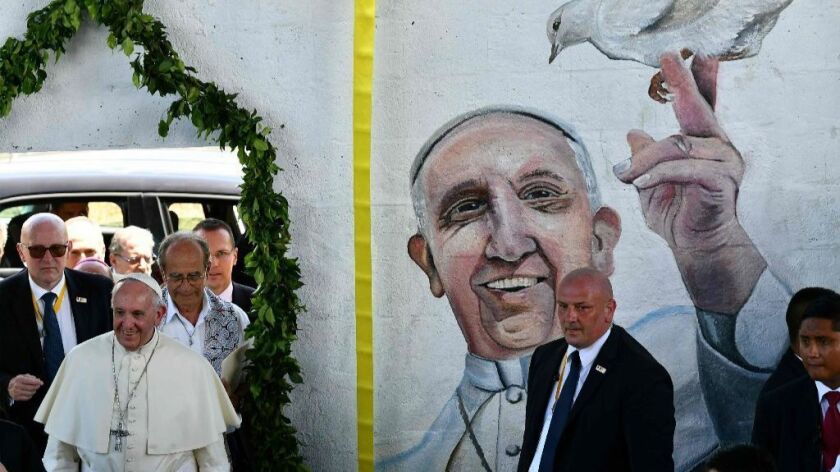 Reporting from Santiago, Chile —
Pope Francis stunned some Chileans by suggesting that people who have accused a cleric of covering up the alleged sexual abuse of minors by another priest were guilty of slander.
The comments, coming as the pope was winding up his visit to Chile on Thursday and heading to Peru, were especially jarring because much of the trip had been dedicated to healing the wounds of a sexual abuse crisis that has jolted the country's church for years and alienated legions of Roman Catholics.
Father Fernando Karadima in 2011 was condemned by the Vatican for abusing boys in Chile for years. But Chilean victims also accuse a bishop, Juan Barros, of protecting Karadima; Francis in 2015 appointed Barros to head a diocese in southern Chile.
It is Barros' accusers whom Francis criticized, saying their claims were "all calumny" because he had seen no proof that Barros was complicit in a coverup.
"The day they bring me proof against Bishop Barros, I'll speak," Francis said Thursday in response to a journalist's question. "There is not one shred of proof against him. It's all calumny. Is that clear?"
The remarks deepened the anger of victims and advocates, and left the church as polarized as ever.
"We feel absolutely betrayed by what Pope Francis said, and about his incoherence, because he asks for forgiveness on one side and then says victims are lying," Juan Carlos Cruz, one of Karadima's accusers, said in a telephone interview Friday. "We will not be bullied by anybody no matter how powerful they are."
Bishop Santiago Silva, president of Chile's Episcopal Conference, rose to the pope's defense. "Without reserve, we support what Pope Francis said about Mons. Barros," Silva said in a news conference Friday.
"If Mons. Barros discerns that he has to continue, he has our full support; if he discerns otherwise, he has our full support,"" Silva said.
Francis had seemed determined to set a different tone, one of forgiveness and reconciliation, at the start of his latest Latin America tour. On Tuesday, his first full day in Chile, he decried the "painful evil" of abuse.
"I cannot help but express the pain and shame, shame that I feel over the irreparable harm caused to children by church ministers," Francis said at La Moneda presidential palace in the Chilean capital, Santiago.
"Is it fair to ask for forgiveness?" he asked.
For more on international affairs, follow @TracyKWilkinson on Twitter
Special correspondent Poblete reported from Santiago, Chile, and staff writer Wilkinson from Washington.
---
Must-read stories from the L.A. Times
Get the day's top news with our Today's Headlines newsletter, sent every weekday morning.
You may occasionally receive promotional content from the Los Angeles Times.