14 Images
Gerald R. Ford: 1913-2006
A light moment
Governor Ronald Reagan laughs at something said by Vice President Gerald Ford during a luncheon.
(Anthony Camerano / AP)
Gerald Ford Watergate
Vice President Gerald Ford said the White House was willing to negotiate with the Senate Watergate committee on releasing some of the tapes and documents demanded by that panel in a Washington interview.
(Charles Gorry / AP)
Sworn in
The 38th President of the United States Gerald R. Ford is sworn in by Supreme Court Chief Justice Warren Burger in the East Room of the White House.
(Robert L. Knudsen / Gerald R. Ford Library)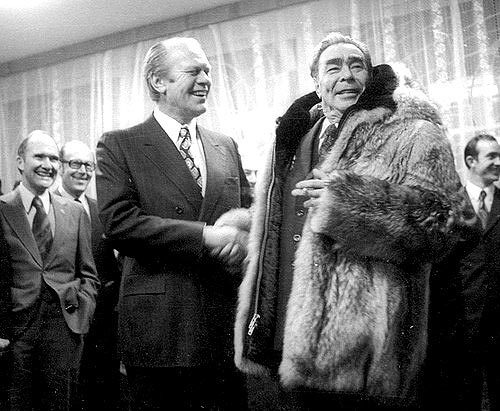 1974 - Brezhnev
President Gerald Ford shakes hands with Leonid Brezhnev in 1974 after the Soviet leader tried on Ford's fur coat.
(Associated Press)
1974
President Gerald Ford signs a document granting former President Richard M. Nixon "a full, free and absolute pardon" for all "offenses against the United States."
(AP)
Testifies
President Gerald Ford testifies on his pardon of former President Richard M. Nixon before the House Judiciary subcommittee on criminal justice on Capitol Hill.
(Associated Press)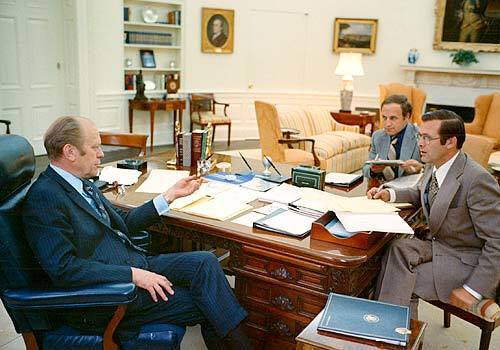 1975
President Ford meets with Deputy Chief of Staff Richard Cheney and Chief of Staff Don Rumsfeld in the Oval Office. April 23, 1975.
(Courtesy Gerald R. Ford Library)
Betty and Gerald Ford
President and Mrs. Ford pause in their packing at the White House for a moment together.
(Eddie Adams / AP)
1980
Former President Gerald Ford is flanked by presidential nominee Ronald Reagan and his running mate George Bush at the conclusion of the 1980 GOP convention.
(AP)
1981
Marvin Davis and former President Gerald R. Ford.
(AP)
1981
Bob Hope and former President Gerald Ford prior to teeing up for the Bob Hope Classic.
(AP)
1999
Former President Gerald Ford upon receiving the Presidential Medal of Freedom, the nation's highest civilian honor, from President Clinton during an East Room ceremony at the White House 1999.
(J. Scott Applewhite / AP)
2003
President Bush and first lady with former President Gerald Ford and Betty Ford during a celebration of Ford's 90th birthday at the White House.
(Eric Draper AFP/White House)
Ford family
Members of Gerald Ford's family pose on the White House grounds during his presidency.
(Associated Press)