Package found in Austin serial bombing investigation may be a break in the case
Austin police spokeswoman Destiny Winston comments on a package believed to be bound for Austin exploded at a FedEx facility about 60 miles south early Tuesday.
Reporting from Austin, Texas —
As a string of bombings continued Tuesday near the Texas capital, authorities recovered what could be the first crucial break in the case — an intact package containing an explosive device that may have been sent out for delivery by a suspected serial bomber.
The package was found at a FedEx facility near the Austin airport. The discovery came hours after an early-morning explosion at another FedEx facility, 60 miles south of Austin in the town of Schertz.
It was the fifth in a series of bombings this month that have left two people dead, four others injured and rattled a city known for its urban cool.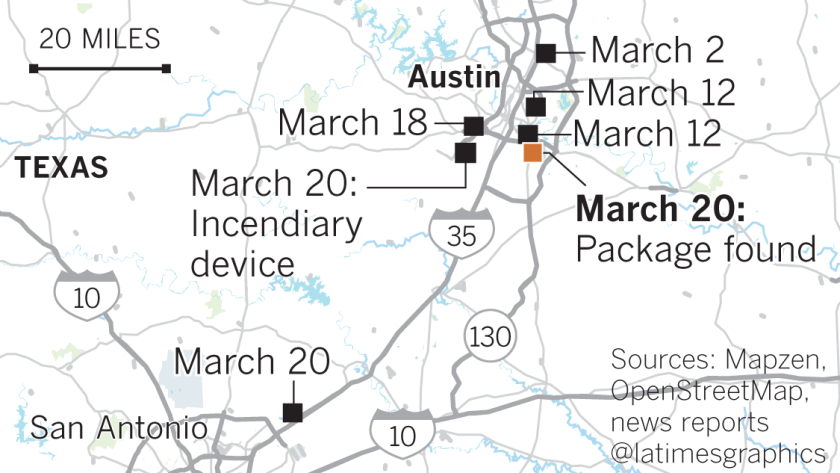 Federal investigators said on Twitter that both packages Tuesday were connected to the previous four devices, whose components were similar.
The package that exploded was apparently bound for an address in Austin. It detonated shortly after midnight. A FedEx employee was treated and released after complaining of ringing in her ears.
"We're confident that neither this facility nor any in the Schertz area was a target," said Schertz Police Chief Michael Hansen.
The intact package was found after police responded to a 6:19 a.m. call from the FedEx facility reporting it was suspicious. It contained an explosive device.
"They're trying to figure out how to open the package without destroying it," Rep. Lloyd Doggett (D-Texas), who had been briefed by investigators, told the Austin American-Statesman.
He said the package as well as the bomb that exploded in Schertz had both been sent from the same FedEx store in the city of Sunset Valley, southwest of Austin.
Scott Stewart, a former investigator for the U.S. State Department and now a vice president of a global security firm, said the discovery could be a "gold mine" for investigators. Even a sophisticated explosives expert, he said, could leave behind telltale signs like hair and fibers while assembling a device.
In another enticing lead, Rep. Michael McCaul (R-Texas) told the Associated Press that federal authorities informed him that they had surveillance videos that "could possibly" show a suspect in the bombing at the Schertz facility.
He said he hoped the bomber's "biggest mistake was going through FedEx."
The bombings have reverberated across the nation.
"This is obviously a very, very sick individual, or maybe individuals … and we will get to the bottom of it," President Trump said from the White House.
White House Press Secretary Sarah Huckabee Sanders said on Twitter that "there is no apparent nexus to terrorism at this time."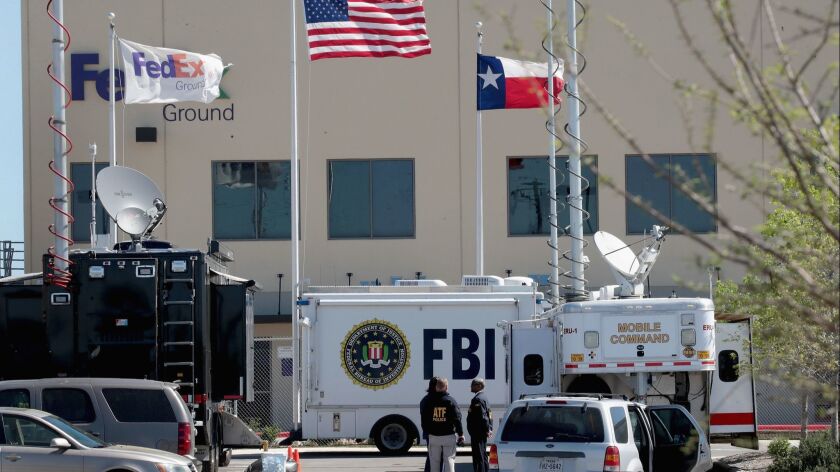 In the first three attacks, bombs were left on front porches. In the fourth one, the bomb was left alongside a roadway with a tripwire attached. The fifth bombing — the explosion early Tuesday — occurred as the package was being moved along a FedEx conveyor belt, being readied for delivery.
Late Tuesday, an employee at a Goodwill store in south Austin was injured when what police described as an "incendiary device" was left in a donation box. But authorities said they had no reason to believe the incident was related to the package bombs.
Experts theorized the string of bombings is the work of a local man, perhaps someone with military or law enforcement experience handling explosives, who has grown so brazen that he may have left key evidence behind, especially in the unexploded device.
"In many cases there will be a layoff, give it time to cool off after you attack. This guy has kept up the tempo," Stewart said. "That tells me he thinks he's better than the police."
Stewart said he worried the bomber's familiarity with explosives could lead him to plant new kinds of bombs, like pressure plates or sticky bombs that can be attached to the underside of cars.
It took 17 years for authorities to catch "Unabomber" Theodore Kaczynski, but that was before fingerprint and DNA databases expanded and government agencies began amassing biometric data from things like passports, Stewart said.
Security cameras and cellphone towers have also proliferated, increasing the chances that investigators can grab an image of whoever dropped off the package at the FedEx facility.
Federal investigators say the serial bombings are a national priority that have drawn 500 federal agents, support from national forensic labs in Quantico, Va., and the attention of the president.
Austin Police Chief Brian Manley told City Council members at a meeting Tuesday that investigators were sending evidence to federal labs, which are reconstructing the devices to determine what type of explosive charges were used.
"I cannot sit here and tell you whether there will be another incident. Based on the information we have, there is no reason to believe there will not," Manley said.
Manley said it wasn't clear whether an individual or group committed the attacks. He has tried to reach out to whoever is responsible, asking for a dialogue to prevent further harm to residents. But hours after the Austin police made a public appeal in the case Sunday, increasing the reward for information to $115,000, the fourth explosion occurred. The motive for the attacks also remains unclear, Manley said.
Anthony Stephan House, a 39-year-old construction worker, was killed March 2. Draylen Mason, a 17-year-old high school student, was killed March 12 in an explosion that injured his mother. Hours later, a third device exploded, injuring 75-year-old Esperanza Herrera.
Sunday's explosion injured two men bicycling through a wealthy neighborhood in southwest Austin, miles across town from the previous attacks. The two victims, identified by a friend and relative as former high school classmates Will Grote, 22, and Colton Mathis, 23, were in good condition Tuesday, a hospital spokeswoman said.
On Tuesday, would-be customers milled around outside yellow police tape strung across the parking lot at the FedEx store in Sunset Valley, watching investigators in FBI and police jackets circle the building.
Jessica Wilkinson said she was there to celebrate her 37th birthday with her mother and sister at a nearby restaurant. She didn't notice investigators at first, thinking the police tape had been strung because of repairs.
"We didn't know this was a crime scene," she said. "Should we stay here?"
Wilkinson was left concerned — she's been receiving birthday gifts by mail, and expects more since her husband's birthday is Wednesday. She also worried about her sons, ages 8 and 4. Some of their classmates were evacuated from their homes following Sunday's explosion. But she said the attacks have been too random to justify varying her daily routine.
Wilkinson's mother, Kelly Metzler, 59, said she was reassured by the police presence and trusts the bomber's seeming brazenness will lead to an arrest.
"He seems to be a bit braver — he's hitting facilities now with security cameras that might be able to catch him," she said. "This might be the last bomb — hopefully."
Judy Faintich, 68, showed up at the FedEx store hoping to drop off a package, only to be stopped by the police tape. She had heard the news about the Schertz explosion, but not the potential connection to the store in her neighborhood.
She was soon joined by Megan Villaloboz, a local mother and pre-kindergarten teacher trying to pick up a package — a replacement computer — during her lunch break. When she saw the police, her face fell. This was her fourth time trying to make the pickup.
After the earlier bombings, Villaloboz, 30, said she became "hyper-vigilant." She told her children to stay in the car when they return home and spot packages on the stoop, waiting until she inspects the boxes. She has also tried to order less online, to limit deliveries.
"Now with it coming through FedEx, I doubt I'll order online," Villaloboz said.
She said she understood why investigators were waiting to release specifics about the devices until they catch a suspect. The influx of federal investigators also reassured her.
"They called in all those people, so I don't think they're doing a bad job. I just won't feel safe until they catch the guy," she said.
Times staff writers Noah Bierman and Michael Livingston contributed to this report. Bierman reported from Washington and Livingston from Los Angeles.
---
UPDATES:
8:55 p.m.: The article has been updated throughout with new details.
7:25 p.m.: The article has been updated with information about an incendiary device set off at a Goodwill store.
2:35 p.m.: The article was updated with additional details from authorities and reaction.
10:30 a.m.: The article was updated with additional details from local and federal officials.
7:50 a.m.: The article was updated throughout with staff reporting and additional details.
4 a.m.: The article was updated with additional details.
The article was originally published at 3:05 a.m.
---
Must-read stories from the L.A. Times
Get all the day's most vital news with our Today's Headlines newsletter, sent every weekday morning.
You may occasionally receive promotional content from the Los Angeles Times.