Autopsy only adds to mystery of Border Patrol agent's death. FBI has found no evidence of an attack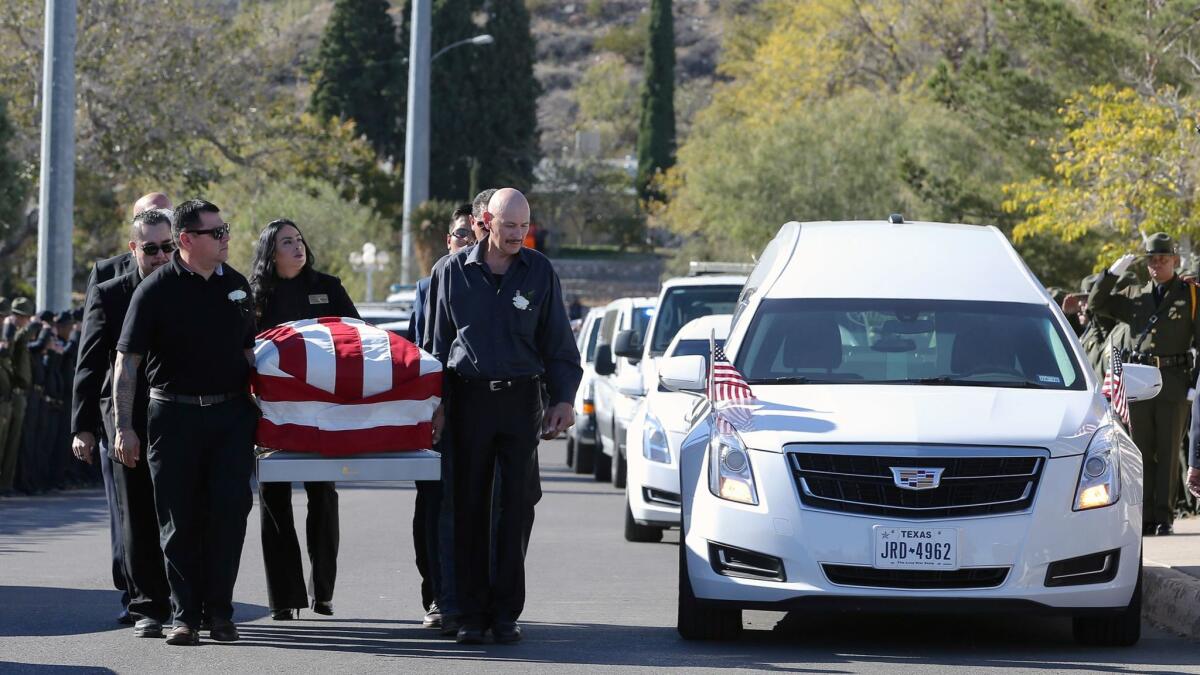 Reporting from Houston —
His death was held up as example of the dangers faced by the Border Patrol — and cited by President Trump as another reason to build a border wall — but an autopsy report on an agent fatally injured in a west Texas culvert last fall only deepens the mystery surrounding his death.
Agent Rogelio "Roger" Martinez, 36, a four-year Border Patrol veteran, died of "blunt force trauma," according to the report, but how he received his injuries remains unclear.
The FBI is still investigating the incident, but released a statement following the autopsy report Wednesday saying it had not found suspects or any evidence that the agents were attacked.
"The FBI has investigated multiple theories, including whether the Border Patrol agents were ambushed or attacked or whether their injuries were as a result of an accident or any other relevant criminal activity," said FBI El Paso Special Agent in Charge Emmerson Buie Jr. "None of the more than 650 interviews completed, locations searched or evidence collected and analyzed have produced evidence that would support the existence of a scuffle, altercation, or attack."
Martinez suffered head injuries and broken bones Nov. 18 near Interstate 10 about 130 miles east of El Paso after responding to a triggered sensor, according to the FBI and fellow agents.
Shortly before the incident late on a Saturday night, fellow agents said they heard Martinez radio in that he had found signs of activity and was checking them out — tracks consistent with migrants or smugglers, according to an investigative report. Martinez then summoned a second agent, Stephen Garland, 38.
Some time after he arrived at the 9-foot-deep culvert, Garland called his wife, who alerted Border Patrol, according to investigative records.
A Border Patrol dispatcher who spoke by phone with Garland said he sounded "disoriented and unsure of his location" and "advised that both he and Agent Martinez were hurt," Buie said.
Buie said Garland "made a statement to the effect of, 'We ran into a culvert,' 'I ran into a culvert,' or 'I think I ran into a culvert.' The dispatcher also wrote into a Border Patrol log, "[He] thinks they [both agents] ran into a culvert.' "
Dispatchers told Garland to return to his Border Patrol vehicle and activate his emergency lights so first responders could find him, Buie said.
Garland was hospitalized and treated for head injuries but has since returned home and was assisting investigators, according to FBI spokeswoman Jeanette Harper.
He initially told investigators the last thing he remembered was leaving home for his shift the night of the incident, according to investigative reports. Garland still has trouble remembering what happened, according to Lee Smith, a spokesman for the local Border Patrol union who met with the agent recently.
"He has spoken with the FBI and they've tried to help him recall. He just doesn't remember what happened," Smith said, adding, "We still believe both of the agents were assaulted."
Garland is undergoing physical therapy and has not been cleared to return to work; he remains on leave and declined interviews with the news media Wednesday, Smith said.
Trump drew national attention to the incident when it was first reported, tweeting, "Border Patrol Officer killed at Southern Border, another badly hurt. We will seek out and bring to justice those responsible. We will, and must, build the Wall!"
Officials with the Border Patrol union said the agents were ambushed by migrants. They noted that the culvert where the agents were found is frequented by smugglers who cross the border illegally about 50 miles south and trek north to the interstate with backpacks of marijuana and other drugs. Chris Cabrera, a spokesman for the local union, said the pair were likely hit with rocks.
State and federal officials offered a $70,000 reward for information in connection with the incident. The FBI widened its search to several states, erecting billboards asking for help from Texas to Southern California.
Martinez's fiancee, Angie Ochoa, said she and the family met with FBI officials in recent weeks to discuss developments, but learned nothing new beyond the findings of the autopsy.
"They haven't given us any hope that they've found any new leads. It just seems like they're getting nowhere," said Ochoa, 34, a medical assistant in El Paso.
An informant familiar with human smugglers told Border Patrol officials that a pair of brothers recently smuggled across the border had admitted to assaulting the agents, according to a warrant later filed to search the brothers' car in New Mexico. FBI agents questioned the brothers, but ruled them out as suspects in the agent's death, although they were charged in federal court with alien smuggling, according to court documents.
The autopsy report, released Tuesday night, said Martinez suffered brain hemorrhaging, and fractures to the skull, eye socket, right ribs and collarbone, as well as contusion of his right shoulder, according to Dr. Janice Diaz-Cavalliery, assistant El Paso County medical examiner.
The autopsy also showed a drug in Martinez's system: butalbital, a barbiturate often found in drugs combined with aspirin, acetaminophen, caffeine or codeine. Diaz-Cavalliery noted that the drug can cause "drowsiness, sedation and ataxia," a loss of coordination.
Manner of death was listed in the report as "undetermined."
Trump, Texas Gov. Greg Abbott, Texas Sen. Ted Cruz and other officials have said the agents were attacked. A local sheriff, among first responders to the scene, speculated the pair may have been sideswiped by tractor trailers.
But a spokesman for the National Border Patrol Council, the union representing agents, on Wednesday insisted Martinez's death was not accidental.
"Our position has not changed. We believe Agent Martinez was attacked and murdered," union spokesman Chris Cabrera said.
Garland's fiancée, Angie Ochoa, said she and the family met with FBI officials in recent weeks to discuss developments, but learned nothing new beyond the findings of the autopsy.
"They haven't given us any hope that they've found any new leads. It just seems like they're getting nowhere," said Ochoa, 34, a medical assistant in El Paso.
molly.hennessy-fiske@latimes.com
Twitter: @mollyhf
---
UPDATES:
6:15 p.m.: This article was updated with comments from Emmerson Buie Jr. and Lee Smith.
This article was originally published at 11:05 a.m.
Sign up for Essential California for the L.A. Times biggest news, features and recommendations in your inbox six days a week.
You may occasionally receive promotional content from the Los Angeles Times.