'El Chapo' jury deliberations will stretch into a second week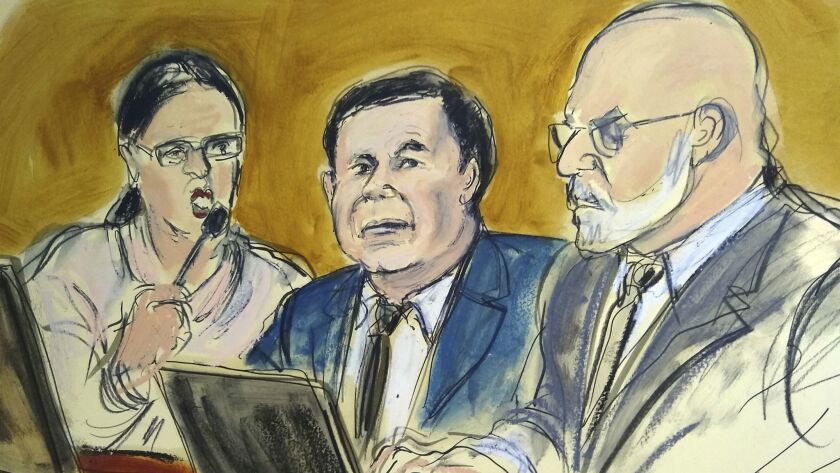 Reporting from New York —
Jurors deliberating the federal case against Joaquin "El Chapo" Guzman in Brooklyn came to a decision Thursday: They were done — for the week.
On their fourth day hashing out the 10 complex criminal counts against the notorious Mexican drug kingpin, jurors decided they'd keep to the schedule they had during the sweeping 12-week trial: done by 4:30 p.m., and no court on Fridays.
U.S. District Judge Brian Cogan has gently reminded them they can stay as late as they like and encouraged them to work through the week, if they could; but about 4:15 p.m. Thursday, their minds, at least on this issue, were made up.
When the judge asked if they were certain they couldn't return Friday, it was clear. "Lots of nods, OK," the judge said to the bobbing heads on the panel.
Aside from wanting to leave, there was another jury request that suggested these deliberations would stretch on. Jurors wanted, and will get next week, a large portion of testimony from a key government cooperating witness, former Colombian drug lord Juan Carlos Ramirez Abadia.
The jury wanted testimony related to the tons of cocaine the man known as "Chupeta," or "Lollipop," sold to Guzman's Sinaloa cartel, one of the world's largest narco-trafficking empires.
Over this week, jurors have appeared to be scrupulously weighing the charges — which cover accusations that Guzman sold and manufactured hundreds of tons of cocaine, meth and heroin; conspired to murder a host of rivals; and helped run one of the world's largest international drug cartels. The panel has requested the full testimonies of some the government's most essential witnesses, former cartel higher-ups who detailed the inner workings of the vast drug network.
Guzman, who faces life in prison, looked in high spirits at the news of deliberations pushing ahead when he was in court briefly at the end of the day to hear the jurors' requests.
'El Chapo' jurors could face a long-term threat: PTSD »
Wearing a dark blue suit, light blue shirt and navy tie, Guzman offered waves and smiles to his 29-year-old wife, Emma Coronel. He gave a bear hug of sorts to one of his lawyers, and a fist bump to another.
For all those hours before the jurors appeared in court, as lawyers and restless journalists waited for any word from the 12 men and women hashing out the case, there was a bit of courtroom drama.
A man claiming to be a relative of Guzman's ended up leaving the courthouse in handcuffs. After he acted belligerently with U.S. Marshals in court, they discovered he had warrants for his arrest in New York, on harassment charges.
According to Guzman's lawyers, the man, who told reporters a variety of tales before he was kicked out — he was from Milan, his family owned properties around the world, he was going to the Oscars — was just an "impostor."
Plagianos is a special correspondent.
---
Must-read stories from the L.A. Times
Get the day's top news with our Today's Headlines newsletter, sent every weekday morning.
You may occasionally receive promotional content from the Los Angeles Times.