Pentagon bars China from joining naval exercise in the Pacific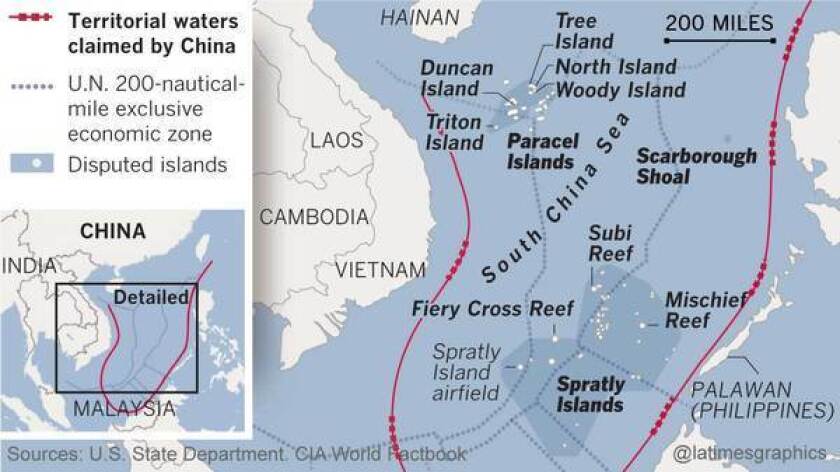 Reporting from Washington —
The Pentagon on Wednesday withdrew an invitation to China to participate in a major Pacific naval exercise, citing Beijing's "continued militarization" of the South China Sea, adding another irritant to relations between the two nations as they jostle over trade and North Korea.
The Trump administration move comes days after China landed bombers for the first time on a man-made island it controls in the Paracel Islands, one of several South China Sea archipelagos claimed by multiple countries in the region.
The Pentagon said it also had "strong evidence" that Beijing has installed anti-ship missiles, surface-to-air missile systems and electronic jammers in the Spratly Islands since it launched a crash reclamation effort in 2014 to build five man-made islands from tiny reefs and shoals.
The latest tension in the regional hotspot comes as President Trump has alternately praised and complained about China's role before his planned June 12 summit with North Korean ruler Kim Jong Un, and as the White House has threatened to impose massive tariffs on Chinese imports to help stem the U.S. trade deficit.
Defense Secretary James N. Mattis made the decision to withdraw China's invitation to take part in the Rim of the Pacific, or RimPac, naval exercises after consulting with the White House about Beijing's military moves, according to a U.S. official.
China has participated in the last two RimPacs as part of a U.S. effort to draw its military into a more cooperative relationship. The biennial exercise is organized by U.S. Pacific Command and involves naval forces from multiple Asian countries. It takes place in waters around the Hawaiian Islands and Southern California.
This year's exercise is scheduled from June 27 to Aug. 2 and includes 46 ships, more than 200 aircraft and 26,000 personnel from 26 countries. Half the participating ships are U.S. Navy vessels.
China was planning to bring four ships, including a hospital ship, and a salvage diving team.
Analysts said the decision to exclude China is another zigzag in the Trump administration's relations with Beijing, which has veered from controversy to accommodation, sometimes day by day.
"This is a big deal" that signals "intensified competition in the relationship" between Washington and Beijing, Abraham Denmark, a former Pentagon official responsible for Asia in the Obama administration, tweeted Wednesday.
The Pentagon blamed China's offshore military buildup for the dispute. U.S. officials say that China is developing a military capacity to threaten U.S. naval vessels that operate in the South China Sea and to choke off shipping through a vital waterway in the event of war.
"China's continued militarization of disputed features in the South China Sea only serves to raise tensions and destabilize the region," Lt. Col. Christopher Logan, a Pentagon spokesman, said in a statement. "We have called on China to remove the military systems immediately and to reverse course on the militarization of disputed South China Sea features."
The South China Sea has heavily traveled shipping lanes, rich fishing grounds and potential oil, gas and other undersea mineral deposits. China claims the area's waters and its islands virtually in their entirety, though Vietnam, the Philippines, Taiwan, Malaysia, Indonesia and Brunei also have overlapping claims.
The United States does not take an official position on the competing sovereignty claims. But the Navy regularly sails through the area to assert freedom of navigation and to contest claims by China and others that the islands lie within their territorial waters.
Chinese President Xi Jinping said at a White House news conference with President Obama in 2015 that Beijing "did not intend to pursue militarization" of islands it controlled in the Spratly chain.
As Beijing continued to build runways and install radar equipment on the islands, Chinese officials said the military equipment was meant for defensive purposes and did not constitute "militarization" of the islands. The Pentagon made clear Wednesday that it rejects that claim.
"While China has maintained that the construction of the islands is to ensure safety at sea, navigation assistance, search and rescue, fisheries protection, and other nonmilitary functions, the placement of these weapon systems is only for military use," Logan said.
The bombers that China flew last week to the Paracels included an H-6K, which is capable of carrying nuclear weapons. China did not identify the location where the aircraft landed.
The Pentagon identified the location as Woody Island, which has been under Chinese control since 1956 and is also claimed by Vietnam and Taiwan.
China views its RimPac participation "as a sign of its international legitimacy," said Rep. Mike Gallagher (R-Wis.), a member of the House Armed Services Committee. "This move sends a strong signal [to Beijing] that its reckless behavior in the South China Sea carries with it real consequences."
Chinese Foreign Minister Wang Yi raised the issue with Secretary of State Mike Pompeo on Wednesday during a working visit to Washington, calling the decision a "very unconstructive move."
"It's unhelpful to mutual understanding between China and the U.S.," Wang said at a news conference with Pompeo. "We hope the U.S. will change such a negative mind-set."
Dismissing what he termed the "so-called militarization" of the South China Sea, Wang said China is "only building civilian and some necessary defense facilities on our own islands.… It is a normal deployment and has nothing to do with militarization, just like the U.S. has military presence in Hawaii, in Guam."
Pompeo said the Trump administration had "expressed consistent concern about militarization" of the South China Sea.
Times staff writer Tracy Wilkinson contributed to this report.
Twitter: @davidcloudLAT
---
UPDATES:
2:50 p.m.: This article was updated with comments from China's foreign minister.
This story was originally posted at 1:35 p.m.
---
Must-read stories from the L.A. Times
Get the day's top news with our Today's Headlines newsletter, sent every weekday morning.
You may occasionally receive promotional content from the Los Angeles Times.