Recounts ordered in Florida's U.S. Senate and governor races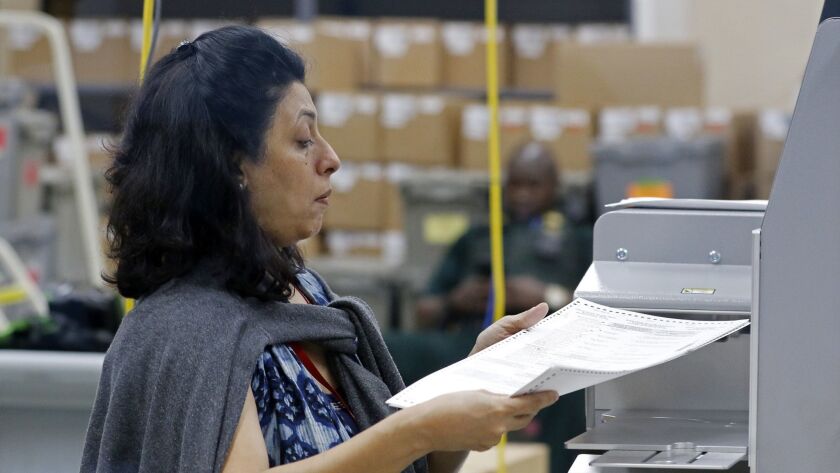 Reporting from Orlando, Fla. —
Florida's secretary of state Saturday ordered statewide recounts of both the U.S. Senate and governor's elections, an unprecedented review of two hotly contested races in which the early leads of the two Republican contenders have shrunk dramatically as mail-in and provisional ballots were counted.
The results of both now fall within the threshold for state-mandated recounts, Secretary of State Ken Detzner announced, under laws put in place after the chaotic 2000 presidential election, in which a U.S. Supreme Court decision on Florida's vote resulted in George W. Bush winning the presidency over Al Gore.
In the U.S. Senate race, Republican Gov. Rick Scott held a lead of 12,562 votes, or 0.15%, on Saturday over Democratic Sen. Bill Nelson, a three-term incumbent. In the governor's race, Republican U.S. Rep. Ron DeSantis had a 33,684-vote lead, or 0.41%, over Democrat Andrew Gillum, the Tallahassee mayor who is seeking to be the first black governor in the state's history.
The recounts were ordered because the margins of victory were 0.5% or less, which trigger machine recounts. If, after that, the margin in either race falls at or below 0.25%, a manual recount would be ordered. The machine recount is to be completed by Thursday, and if manual recounts become necessary, they are to be completed by Nov. 17. There has never before been a full recount of an election for statewide office in Florida.
One more set of results — of overseas ballots — is due to come in. These ballots, cast by military members, embassy workers and students studying abroad, among others, are to be counted if they arrive by Friday.
The reaction to the recounts was swift and predictable.
"It's time for Sen. Nelson to accept reality and spare the state of Florida the time, expense and discord of a recount," said Chris Hartline, a spokesman for Scott. Under Florida law, a candidate who is behind can ask that a recount not take place.
Nelson didn't see it that way.
"We have every expectation the recount will be full and fair and will continue taking action to ensure every vote is counted without interference or efforts to undermine the democratic process," Nelson said in a statement. "We believe when every legal ballot is counted, we'll win this election."
In the governor's race, Democrat Gillum, who had conceded after early results showed him trailing significantly, held a news conference in Tallahassee on Saturday to discuss his evolving position.
"I am replacing my words of concession with an uncompromised and unapologetic call that we count every single vote," Gillum said. "And I say this recognizing that my fate in this may or may not change."
At the center of the election controversy is Broward County, a Democratic stronghold that includes Fort Lauderdale. Scott sued the top election officials in both Broward and Palm Beach counties to allow public representatives to be present when ballots are being reviewed. A judge in Palm Beach County agreed to the request Friday.
"I will not sit idly by while unethical liberals try and steal this election from the great people of Florida," Scott said at a hastily called news conference on Thursday night. He also announced that the Florida Department of Law Enforcement would investigate what he described as potential voter fraud in those counties.
A spokesman for the department said the agency was not actively investigating anything because it has not been provided any evidence of fraud.
Nelson has also filed suit asking that absentee and provisional ballots not be rejected if signatures don't match up. It's expected both sides will file additional suits in coming days.
Broward has a special and unwanted place in the history of Florida elections.
In 2002, Gov. Jeb Bush removed elections supervisor Miriam Oliphant and appointed current official Brenda Snipes. But her tenure has not been smooth either. This week, Broward County mixed about a dozen rejected ballots with 200 valid ones, a canvassing board discovered. And it was the last of Florida's 67 counties to report its preliminary results.
"None of this would have happened had there been a more realistic look at what votes were still out there," said Susan MacManus, a University of South Florida political science professor emeritus, about the slow reporting from Broward. "The size of the last [vote] posting is what triggered a lot of this, on top of the history of problems in the county. Otherwise we would have just thought it was another close election in Florida and there would have been a recount."
Steve Schale, a strategist for the Democrats, used a local sports analogy, comparing Broward County to the Jacksonville Jaguars' beleaguered quarterback Blake Bortles.
"It's not as if Blake Bortles wants to throw interceptions," Schale said. "He's just not good at throwing a football."
Ron Pierce, a Republican consultant and lobbyist, said Broward's problems are due to "incompetence," but also questioned why Gillum conceded so quickly.
"This is what I don't understand," Pierce said. "How could on Tuesday night Gillum concede the election without someone from that office calling to find out how many votes were to be counted. I don't know how they could do that with so many votes left."
Mac Stipanovich, a Republican activist and lobbyist who was at the center of the 2000 Bush-Gore recount, thinks things have changed since then.
"The atmosphere was very different," Stipanovich said. "Neither side [in 2000] accused the other side of fraud. There were hard elbows and punches to the mouth. It couldn't have been any more intense. But no one accused the other of illegalities."
The next legal challenges will probably involve the state's deadline for vote counts, especially for manually counting ballots. At this point, all adjusted results are due by Nov. 18, when the unofficial results are to become official, according to secretary of state's office.
"The Florida Supreme Court is currently dominated by a liberal majority," Stipanovich said. "And those liberal justices will decide if those dates will hold or move."
One thing that many agree on is that the recounts will probably not change the outcomes, except perhaps in a third statewide recount, for agriculture commissioner, in which Democrat Nikki Fried was leading Republican Matt Caldwell by 5,326 votes.
"These recounts are very unlikely to change the outcome," Democratic consultant Schale said.
"But hopefully this can lead to some changes with how we count ballots. There are 67 different ways it's handled," he noted — one for each county. "In order to go forward, there needs to be some standardization."
Cherwa is a special correspondent.
---
UPDATES:
3:10 p.m.: This article has been revised for updated details and quotes.
This originally posted at 11:20 a.m.
---
The stories shaping California
Get up to speed with our Essential California newsletter, sent six days a week.
You may occasionally receive promotional content from the Los Angeles Times.